If you've come here, it's probably because you've got the daunting task of writing a project proposal, and you don't know where to begin. Am I right?
A project proposal is one of many documents necessary for project managers. It's the initial document that should get prospective clients and decision-makers to buy into your project. Other important documents include the project charter and the operational plan. But you only need to worry about those once you've got this one out of the way.
Don't panic. We're here to help you understand everything you need to know about project proposals and show you some examples. You'll understand how to structure them and determine what information you need and what you don't.
Let's get started!
What is a project proposal?
A project proposal is a critical document in project management that outlines all the necessary details of a project to would-be contributors and stakeholders. It's a relevant document for any project manager and is usually aimed at external and internal stakeholders.
The primary focus of project proposals is to convince outside contributors to invest in the proposed project or give it the go-ahead. It will define the purpose of a project and outline the project approach, goals, and objectives and identify approximate financial requirements. A good project proposal should also get people interested in making the project a reality.
You would generally create this document before starting the project. In the proposal, you would offer a project timeline and budget estimates.
Different types of project proposals
Let's explore the different kinds of project proposals commonly used in business. There are different types of proposal documents that are appropriate in specific settings. Each has different sets of project goals and comes with its own requirements.
Solicited project proposal
A formally solicited project proposal is when someone sends a Request for Proposal (RFP) document outlining client demands and needs. Solicited project proposals are structured and defined by the person sending the RFP. It's practical, as it's less likely there will be miscommunications since the client has outlined exactly what they are expecting from the project. The project proposal is drawn up in response to the RFP and sent to the client.
Unsolicited project proposal
In contrast, an unsolicited project proposal is the opposite. This is where a project proposal gets written, not based on any predetermined client needs and requests. It has less structure as there are no specific requirements that must be followed, and in these scenarios, there would be no RFP document. It's similar to a cold calling option. Nobody has requested the proposal, but if you're looking for an outside contribution, you could draw one up anyway and send it around to your target audience and see if anyone is interested.
Unsolicited proposals need to be more convincing as you're trying to coax people into the proposed project. That requires additional research and the use of persuasive language.
Continuation project proposal
A continuation proposal provides an update on an ongoing project. So it's simpler than the previous two kinds because you'll already have a base project proposal to build from. A continuation project proposal could be to update the audience about a new phase and secure more project costs, or it could just be to give an update on the current stage. It's like a checkpoint for ensuring everything is running to the project schedule.
Supplemental project proposal
A supplemental project proposal is when the project is already going, but additional resources are required to complete it. Not all projects run to plan, things may take longer than initially proposed, and prices can change, so project budgets need to be amended. The primary purpose of a supplemental proposal is to provide an updated project timeline and put in an official request for additional resources. Then you can give a more updated project roadmap considering the new developments.
Renewal project proposal
A renewal proposal refers to when a project has been stopped or canceled, and you're trying to get it running again. This can happen when investors pull out, or the project is no longer viable. In a renewal proposal, the main message is to reaffirm that the return on investment will be greater than the costs and convince people that the project is worth restarting. Or, if it's not a monetary issue, you would focus on the future benefits of the project deliverables to provide a reason in support of beginning the project again. It could be a case of returning to the original funders or trying to bring some new people on board.
Structure for an example project proposal
Before you even start writing a project proposal, you should know everything about your project. Think about your audience's questions and how you'll answer them. Questions like:
What is the purpose of the project?
Where will it be carried out?
How long will it take?
What tools and resources will be needed?
How much will it cost?
What will the process be?
The answers to those questions belong in the project proposal in different sections. Let's look at the individual sections of an example project proposal, so you know how to structure one.
Executive summary
Don't begin writing the executive summary if you haven't written the rest of the proposal yet. This part of the project proposal should be written last, even though it's the first one a prospective client will read. An executive summary provides a project summary in no more than a few paragraphs. Its purpose is to draw the reader in, giving them a snapshot of the project details, the problem and proposed solution, the project budget, and costs.
It should be short, simple, and to the point.
Here are some helpful hints about executive summaries that we've already covered so that you can write the best executive summary for your perfect project proposal.
Project approach
In this section, you will cover the project background, goals, and project objectives. You can also cover how the project team will be organized and the process. You'll want to start by outlining the problem your project addresses and then confirming the proposed resolution method.
Essentially this section should cover the project's core value proposition and make project stakeholders understand why it needs to be carried out.
Project plan
In the planning phase of the project proposal, you'll cover a breakdown of tasks needed to see it be a success. It would help if you created a project schedule, creating a list of the functions and their time estimates. Naturally, since you're writing all of this before the project begins, all costs and time allocations can only be estimations.
This section allows decision-makers to see you've considered the necessary resources to complete the project and have an understanding of the workforce required. The more prepared you come across in your project plan, the more likely you'll get your proposal approved.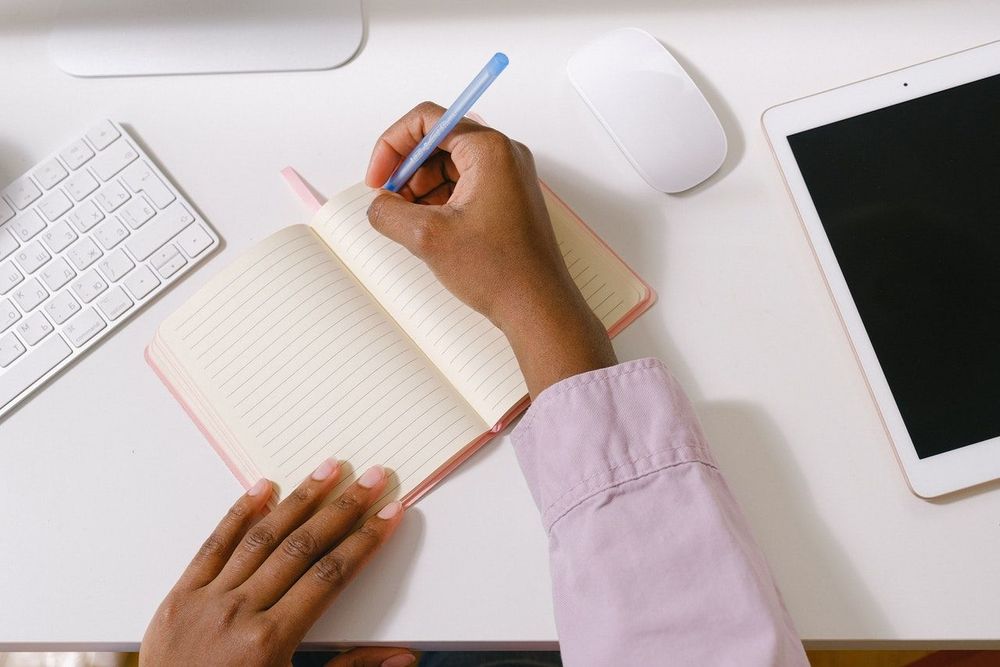 End result
You've already set out the plan at this stage, so it's time to show stakeholders what the project deliverables are. In this section, you'll outline what project success looks like. It's going to be different for everyone depending on the project. It could be a new product making its way onto the shelves or having a greater following on social media after a rigorous marketing campaign.
When you create your project deliverables list, ensure you provide an estimated delivery date, so that prospective clients understand the project timeline.
Risk
Every project has risks, and it's important to acknowledge the risks in your own work. Not all projects run to plan, and not everything works. Stakeholders are aware that there's a possibility of risks cropping up during the execution of any project. It's part of business. Sometimes things go wrong, so taking the time to identify potential risks before starting a project is crucial to the overall result.
Don't be afraid to recognize risks and discuss them. You'll come across more prepared, and any good project proposal has a section discussing the potential risks. Create a plan for minimizing the likelihood of risks throughout and develop ideas to counteract risks if they do appear.
Finances
This is the section that can be tricky for everyone. You want your project to have an investment return for all the project stakeholders, and so do they. In your finance section, you'll want to outline a project budget with the estimated cost for materials and the workforce necessary to see the project through.
Your budget should be a detailed itemized list, breaking down all potential costs and their current market rate, so investors understand what they're getting into. It would be best to break it up into categories such as travel, staffing costs, supplies and materials, labor, etc. Anything that feels relevant for your project.
An additional proposal document to add would be financial statements from your organization for investors to see revenue, income, and outgoings for the business. This lets them understand if your company is viable.
Finish with a strong conclusion
Finally, you're going to summarize the whole document with a brief conclusion that is short and snappy but ends with a strong argument. It should be no longer than a few paragraphs, taking the major points from each section.
Once you've finished writing this, you can go back and do the executive summary, which again is an introduction to the proposal document that outlines the key points and engages readers immediately.
Appendix
The appendix is where you'll place any additional documents like financial statements for the business, customer feedback and reviews, a list of contacts, testimonials, and a site map for the website. There could be anything here, but it all has to be relevant to the project.
Tips for creating a perfect project proposal
Now that you know all about the project proposal format, it's time to look at some general tips and tricks to support you when creating any proposal document.
First and foremost, when writing project proposals, there's no need to reinvent the wheel. A specific project proposal format is followed for a reason: don't go outside the box and do something different when it's already a tried and tested method.
Here are some other project proposal tips to help you with your proposal writing.
Use data and graphs
Facts, figures, statistics, and graphs will add substance to any convincing argument you're trying to make in your project proposal, whether to show decision-makers why the problem your project addresses is severe enough to require a solution or indicate the budget necessities.
As part of your research, you can look up previous projects in similar fields and determine their success or lack of success. Always read the ones that were not completed or unsuccessful because you don't want to make the same mistakes.
Know your target audience
Understanding your audience is key to proposal writing. It would be best if you got into the mind of the person you're trying to convince. Think about what questions they'll have as they read your proposal, and ensure to answer them in the text. Make sure to use terms and a tone that will be familiar to them. Don't get too technical.
While writing your proposal, you can research the potential investors, look up their company websites, and stalk their social media profiles. Get to know them as much as possible so you can tailor your language style and content to their preferences.
Proofread
An absolute rookie error would be sending out your project proposal without proofreading it and then spotting a typo in the title. Immediately your work comes across as shoddy and unprepared if it's littered with grammatical and spelling errors. Have the entire project team read through it to catch any potential errors, correct them, adjust the document and proofread again.
Another excellent tip is to try reading the entire document out loud. If you stumble over words or sentences, your structure isn't working and needs to be rewritten.
Stick to the facts
Don't make anything up as part of your project proposal. You'll quickly be found out. It's also not a place for you to insert your own opinions. When trying to convince someone to fund your project, it's best to stick to the cold hard facts. It doesn't matter if you think something isn't right. What do the customers think?
Use persuasive language
When you're proposal writing, all the language in the document should be convincing and persuasive. You're trying to urge someone to invest in you, and if you're not thorough enough, they won't be interested.
Use historical documents, interview the public to get market data, discuss other projects, and emphasize your expertise and qualifications to get them to buy into you. You're selling yourself too, and why you're right to be the project manager.
Keep it simple
A simple project proposal template is the best option to follow. You don't want it to be full of complicated and technical jargon that nobody will understand. Everything on the project proposal should be relevant to the project details. There's no sense in having additional sections that are not important to the project deliverables currently being set out.
Project proposal examples
Standard project proposal template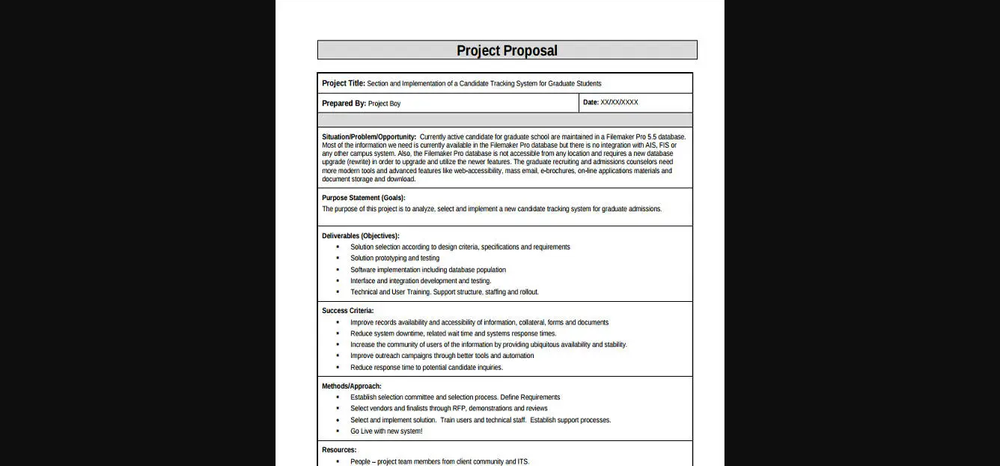 Image Credit: Template
This project proposal outline is well researched and covers all the necessary details to get buy-in from potential investors. The writer clearly outlines the steps they will take to complete the project and covers the required resources. The problem is quickly identified initially, offering project value, followed by objectives and how to measure the project's success.
While it's missing an executive summary, that wouldn't fit on this page and could have been on a separate page attached to the document.
Project proposal outline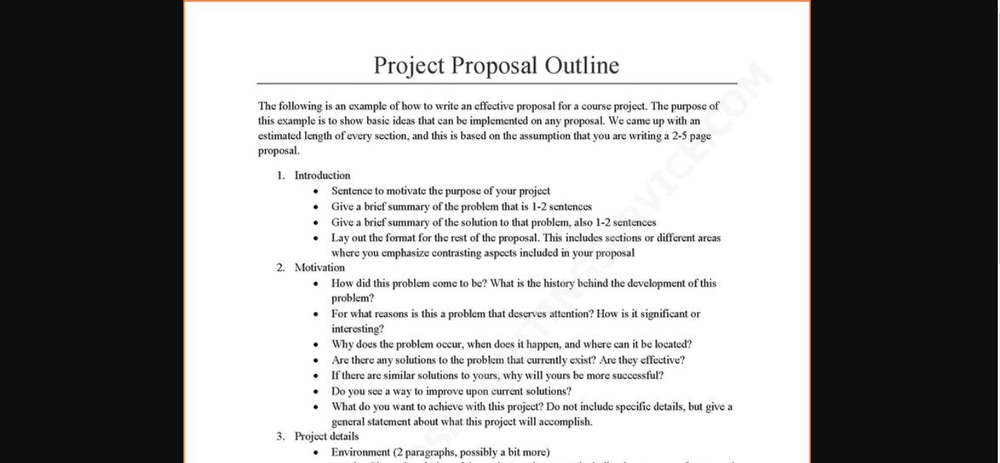 Image Credit: Pinterest
This project proposal example is the perfect outline to cover all the relevant information in a proposal document. If you need a structure to follow, use this sample project proposal outline as your guide, and you will be well on track to creating an excellent piece.
Software engineering project proposal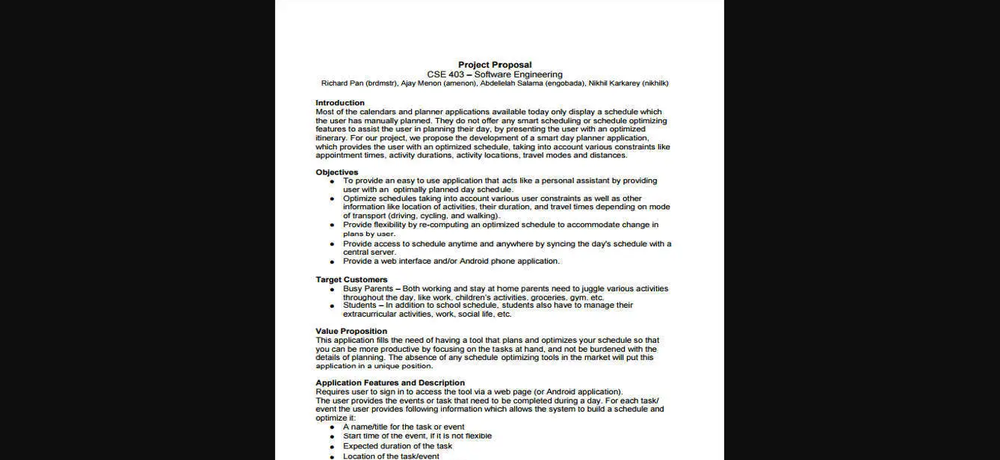 Image Credit: Template
This is a practical project proposal that clearly defines the value proposition of the project, as well as identifies the target audience, and covers the project objectives. It has all the relevant information in an easy-to-read document. Software engineering and creating apps can be highly technical, but the writer has kept the language simple so everyone can understand.
Detailed project proposal template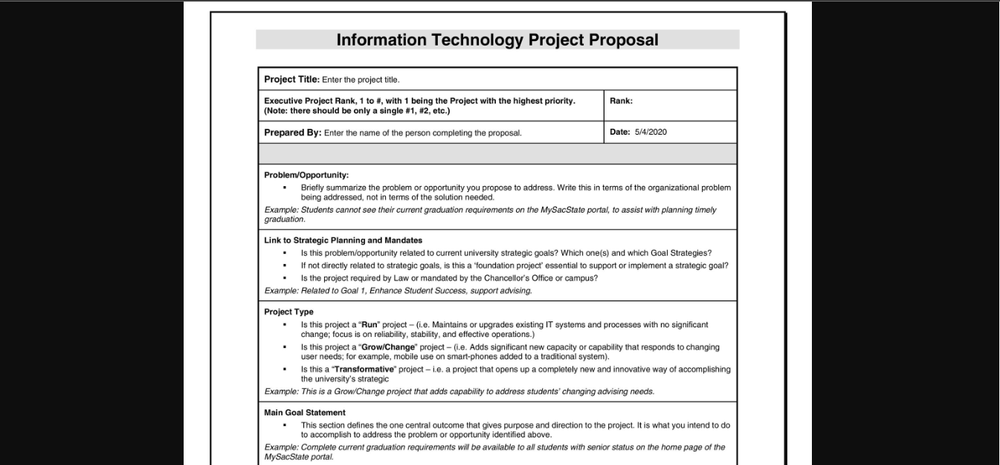 Image Credit: TemplateLab
This detailed project proposal example outlines everything needed to create an effective project proposal. The problem and opportunity are right at the beginning, followed by clearly defined steps to turn it into a reality. The document also covers who the project manager shall be and all the relevant people involved.
PR project proposal template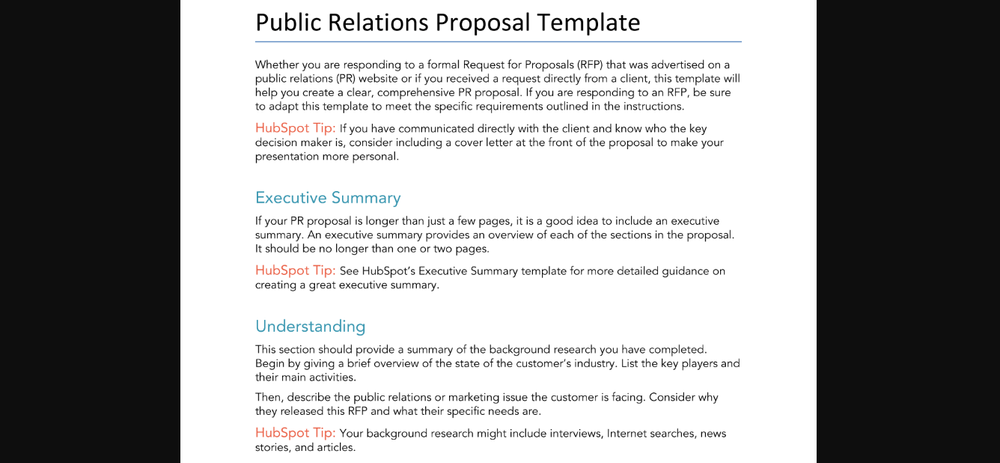 Image Credit: Hubspot
This project proposal example is full of helpful proposal tips to support you when you're writing one. You can follow the structure to help create your project proposal.
Final thoughts
Now that you've finished this article, you should have everything you need to create the perfect project proposal. Remember, there are different project proposal formats, so if you're making one for your client's needs, then tailor it to their specifications. In contrast, if you send an unsolicited project proposal, you'll need to be more convincing.
You should always research your potential project stakeholders before sending any documentation to ensure the project is relevant to them and use the language and tone they are used to. Keep it simple and don't overcomplicate things while ensuring everything in the project proposal is relevant.
It's also important to remember that a project proposal does not equal a signed contract. Your proposal is the initial document you send out to get people interested in your idea, but the contractual obligations come later.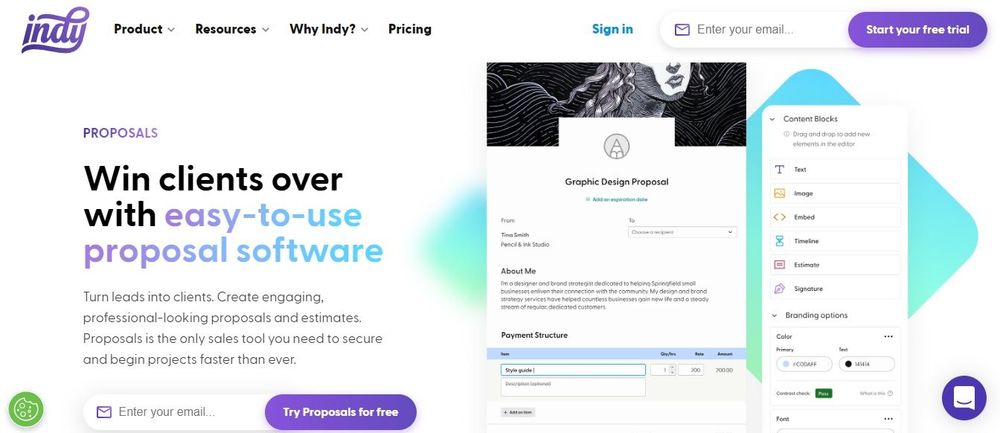 If you're looking to use some project proposal templates, you can join Indy to find suitable project management software that will support you with proposal templates and help you with other project documents.