Why do you need free task management software? Did you know that spending 10 to 12 minutes planning your day will save you from wasting at least 2 hours throughout the day? Also, 7o% of people use to-do lists to ensure they do all their important tasks.
Those are just a few basic facts that show how useful task management software can be, but what is even more important is to make sure you have the right software. This article will help you choose the best task management software by comparing 23 top options you can use for free.
1. Indy - Best Overall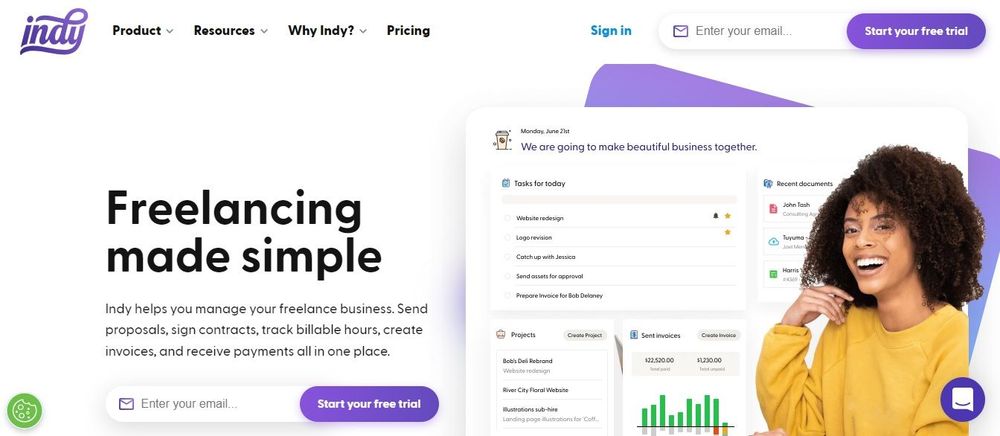 Indy offers some easy-to-use task management tools that will ensure you can easily manage all your activity and projects from one central location. What gives their tool the edge over the many other options out there is that the software is simple but still highly powerful.
The task manager gives you multiple views as you can use both boards and lists. Also, it will allow you to link to all the projects you are running. And you can get a quick overview of all the tasks and prioritize what you want to finish first.
Wity Indy you have complete control over how your tasks appear as you can drag and rearrange them and add tags to ensure you do not lose track of any tasks when you have a lot of them.
Overall, you get to create a task from anywhere, set its due date, link it to your projects, and add tags, which is all many people are looking for in task management software.
Key Features Summary
Kanban board and to-do list views
Integrated with calendar
Tasks overview
Add tags
Filter, search, and pin tasks
2. Teamwork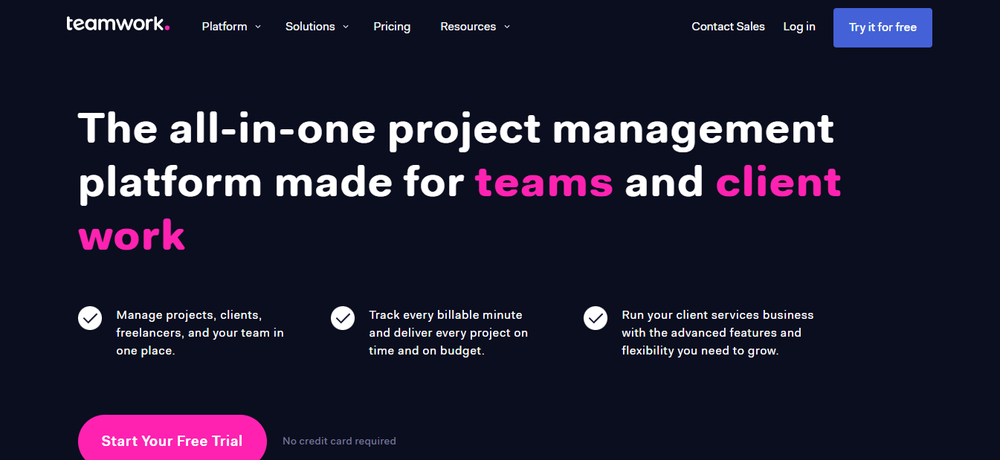 Teamwork offers a powerful task manager with an easy-to-use interface that ensures that even beginners have a less steep learning curve.
More than 20,000 companies already use the tool, and at least 6,000 agencies rely on Teamwork for managing tasks.
Flexibility is also at the heart of Teamwork's design as it allows users to fully customize their experience and workflow. Third-party integration is also possible, making it perfect for agencies looking for a tool they can use to organize tasks for clients and offer them different permission levels.
Also, it can work great for those with a team of remote workers as it has some helpful time tracking and resource management functions.
Key Features Summary
Variety of templates
Gantt charts
Time tracking
3rd party integration
Team collaboration tools
3. ClickUp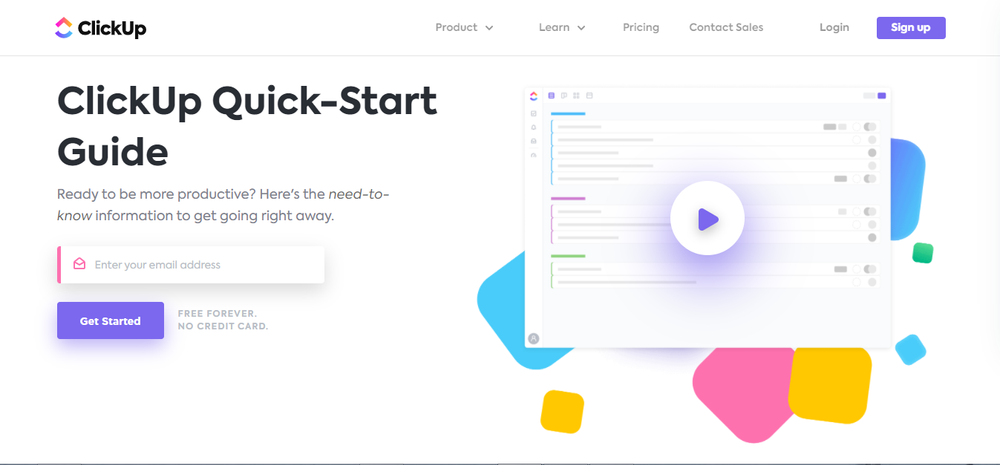 ClickUp is one of the most popular and highest-rated task management tools globally, with the list of its users including top companies like Airbnb and Google. One feature that makes it highly popular is its high adaptability to suit multiple projects and any team size.
The task management tool has some robust features and allows users to customize various functions, including the views and workspaces.
ClickUp gives you more options than most other task managers, but this can have some demerits, like overwhelming first-time users. Also, there is a learning curve before you understand the terminologies and how the system works
Key Features Summary
Multiple task assignments with one click
Filter and search functions
Google calendar sync
Allows task sorting by project
Over 50 native integrations
Gantt Charts and Mind Maps
4. Infinity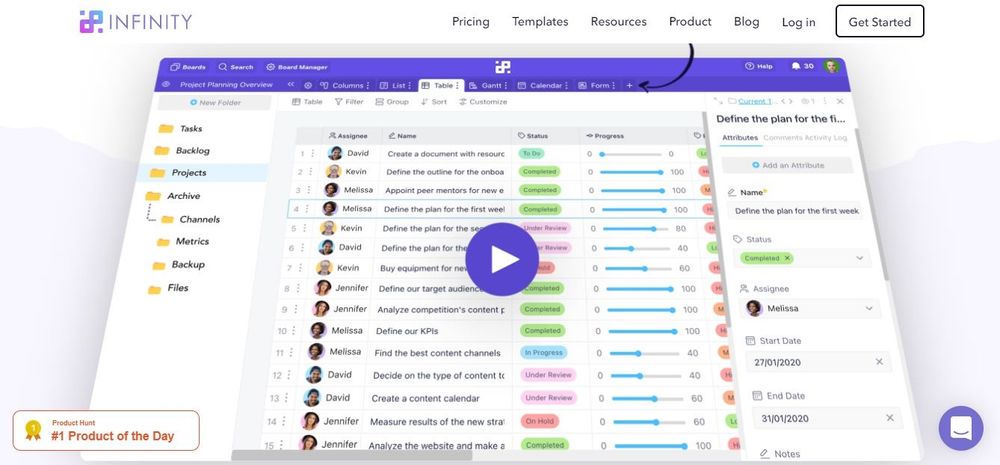 Flexibility sets Infinity apart from the many other task management tools out there. The highly flexible task manager can be adjusted to suit the unique needs of any project.
The flexibility also makes it ideal for both team and client management. Whether you are a freelancer looking for a client management tool or a manager that wants to manage the entire company's team, it should work for you.
The Infinity system is very useful for avoiding clutter, and it is also highly customizable as you can define your boards, folders, and other essential attributes. The software ensures you get all the tools you need to accomplish your tasks with no hassle.
Key Features Summary
Custom attributes
Multiple task views
Attachments and links support
Public boards
Board overview
Over 50 templates
Mobile support (both Android and iOS)
5. Asana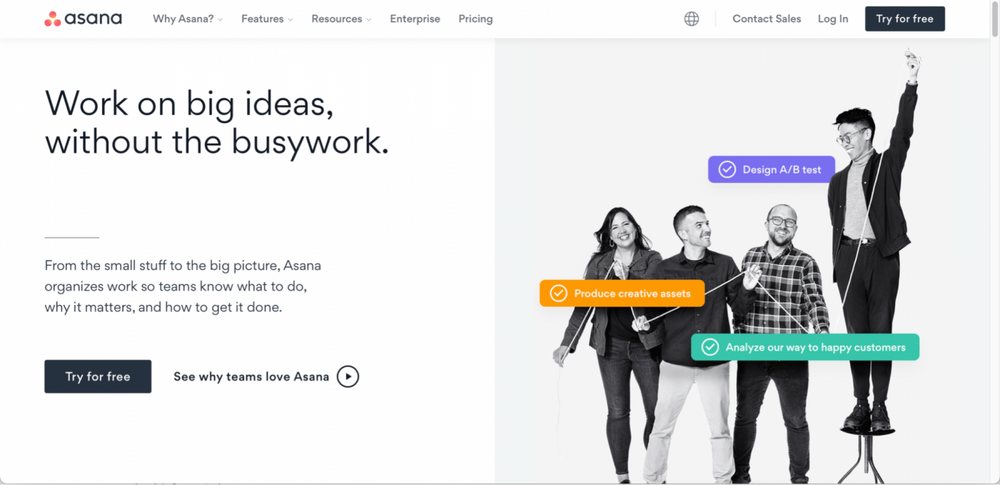 Asana is highly useful for managing tasks if you have a large team. It is one of the most popular task management software, and the majority of people that have worked in a team at some point have already used it.
What gives Asana an edge over its many competitors is its several user-friendly features. They include an offline function that allows you to keep track of tasks when offline and sync them once you get online and a highly intuitive user interface.
Additionally, the project management software allows for the integration of several 3rd party apps like Hubstaff to allow you to do much more from a central point.
Also, it works well for users with multiple projects and several teams as it makes it easy to track each project/team using lists and task dependencies.
Key Features Summary
Multiple views (Lists, Gant, Kaban, and more)
Support for 3rd party integrations
Team collaboration tool
Subtask checklist
Shared and private access
Mobile app
6. SmartTask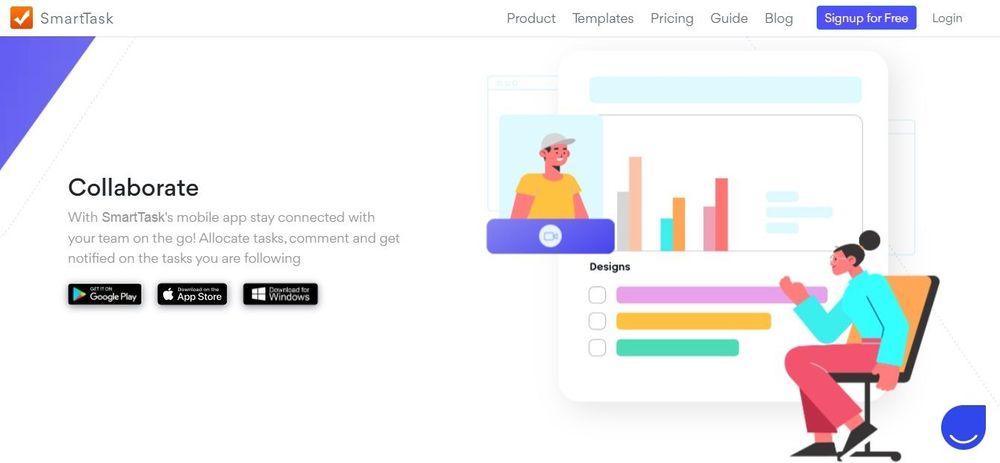 SmartTask is a cloud-based task management software meant for different team sizes. The all-encompassing tool offers more than 30 task management functions and a simple user interface that will not require any training.
Besides task management, the software will also offer project management functions, timer tracking, team collaboration and reporting features.
There are also some readymade templates to get you started, unlike many other apps where you have to build everything from scratch. These templates are available for different functions such as accounting and HR teams.
You can integrate SmartTask with 3rd party apps like Zapier and Slack, which will make workflow automation easy.
Key Features Summary
Task auto-scheduling
Workload view
Custom charts
Custom fields
Multiple project management
Readymade templates
Integration with over 1,000 3rd party apps
7. Todoist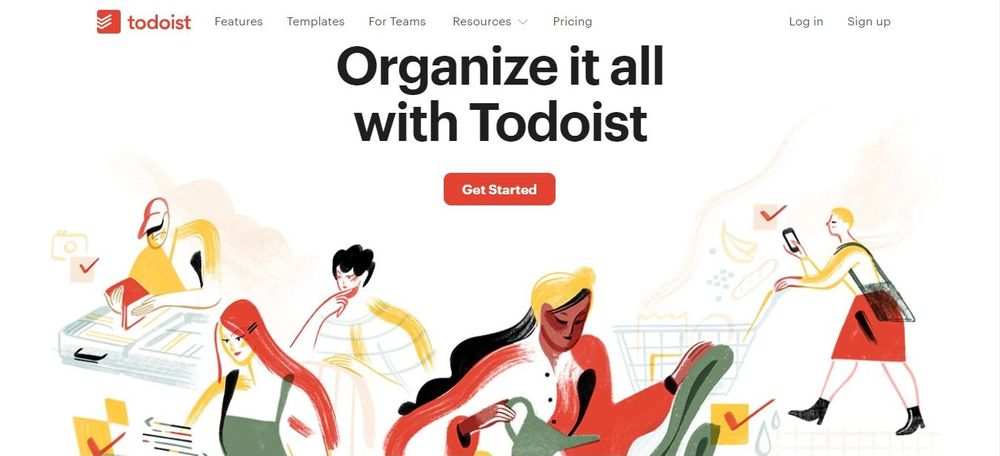 If you are looking for a simple task management software optimized for mobile use, Todoist will be perfect. There is hardly any learning curve, meaning you can start using the software almost immediately.
Todoist works well for both teams and individuals. It will allow you to prioritize tasks, categorize them, assign them to different people, and keep track of their progress.
What's more, Todoist is a highly effective time management tool thanks to the integration of TimeCamp. The reports will be generated automatically, and you can have all the time tracking information you need with just one click.
Key Features Summary
Milestone tracking
Project management
TimeCamp
3rd party integrations
Customizable templates
File sharing
Gamification with Karma points
8. Monday.com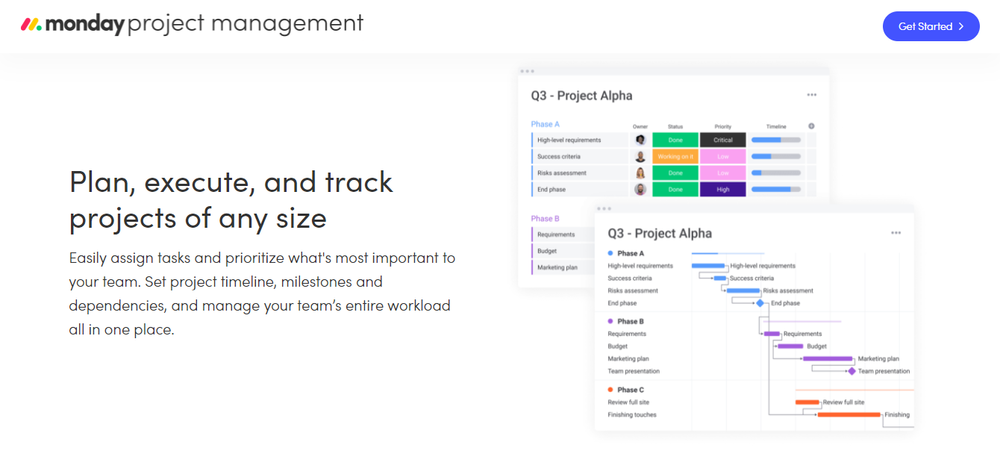 Monday.com offers multiple task management functions and features such as task dependencies, time management, integrations, and automated notifications.
The software has a highly visual user interface and customizable templates that users can use to create a more personalized experience. The interface looks like a spreadsheet, but it is more engaging and practical.
Monday.com is also the perfect tool for you if you are a more tech-savvy individual as it allows you to build apps that you can use for different things like data visualization.
While Monday.com can work for almost any situation, it seems a better fit for individuals and small teams looking for a simple tool they can use to plan and manage workflows.
Key Features Summary
Capacity and task management
Recurring task automation
Resource scheduling
Multiple view options (Gantt charts, Calendar, Kanban board, etc.)
3rd part app integration
Mobile app
9. Any.do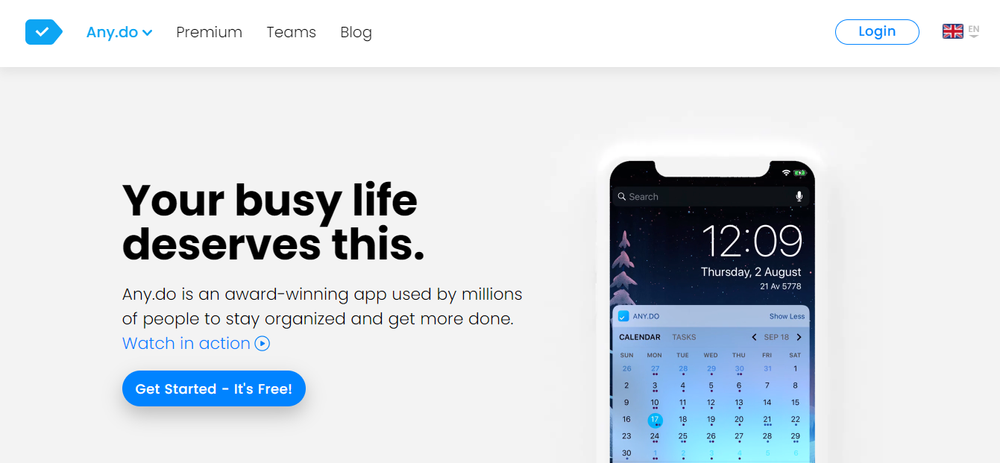 Any.do is a calendar-based task management app that you can use from multiple devices as it syncs across all connected phones and PCs. Also, it can work with virtual assistants like Siri and Alexa.
The task management software has an easy-to-use design and includes a swift and clutter-free interface. Also, it will label the items as today, tomorrow and upcoming to allow for a quick overview.
3rd party integration is also possible with Any.do, and you will not have to struggle to figure out how to do integrations as it comes with clear directions and tips.
Many users will also love the software that has a human-assisted AI that will help you with booking, scheduling, and other tasks.
Key Features Summary
Geolocation and priority tagging
Multiple boards
Checklists
Cross-platform Sync
Recurring tasks
File attachment
Human-Assisted AI
10. Basecamp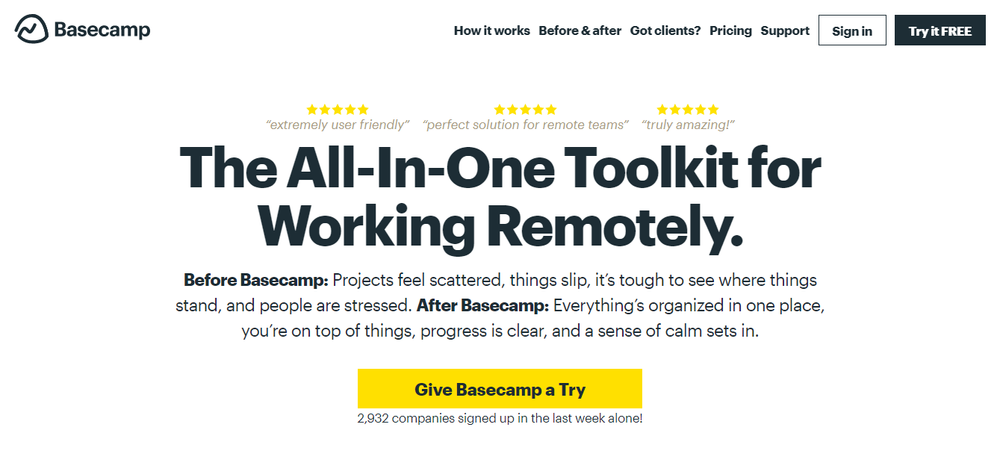 Basecamp is an all-in-one software that is handy when you want to keep all your work in one place instead of having it all over on multiple tools.
It is a reasonably simple task management software with only one dashboard that every team member can see. Also, it has all the essential tools you need to manage tasks and projects, such as to-do lists, schedules, message boards, and file storage.
Like most other task management tools, the actual features you get will depend on which Basecamp version. However, the free version still has everything you need to manage tasks for a small team or an individual.
Key Features Summary
Project templates
To-do lists
Recuring tasks
Deadline reminders
Third-party integrations
Scheduling functionality
11. Trello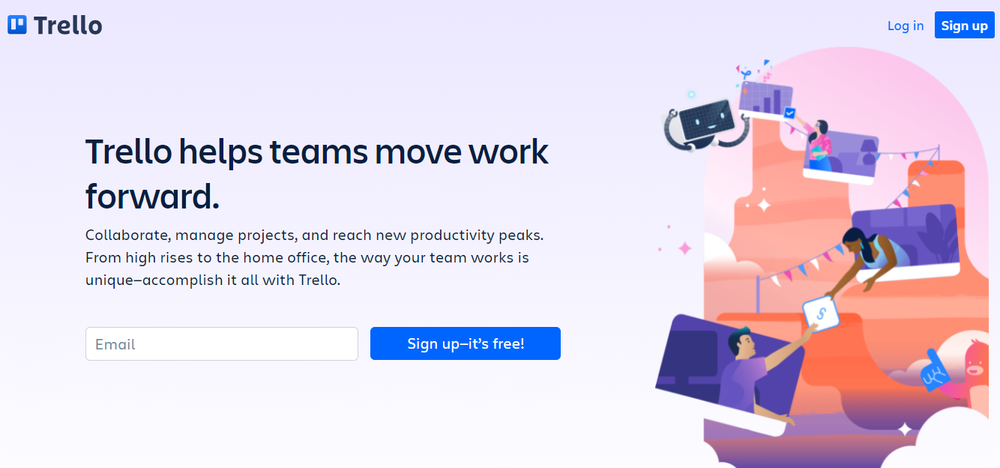 Trello is a perfect tool for small-scale projects. However, this visual task management software can still handle multiple tasks as it still has all the basic functionalities like task assignment, deadline scheduling, and file uploading.
Trello has an iconic drag-and-drop kanban board that you can customize quickly by moving the cards around. Also, you can create various boards with several task lists for different teams, comment on the tasks, and share files.
You will also get a variety of power-ups on Trello that you can use to enhance collaborations. Using these power-ups can improve task management and automate tedious tasks.
Key Features Summary
Kanban boards
Calendar view
Scheduled commands
Templates
Third-party integrations
Bulk data export
Mobile app
12. Nifty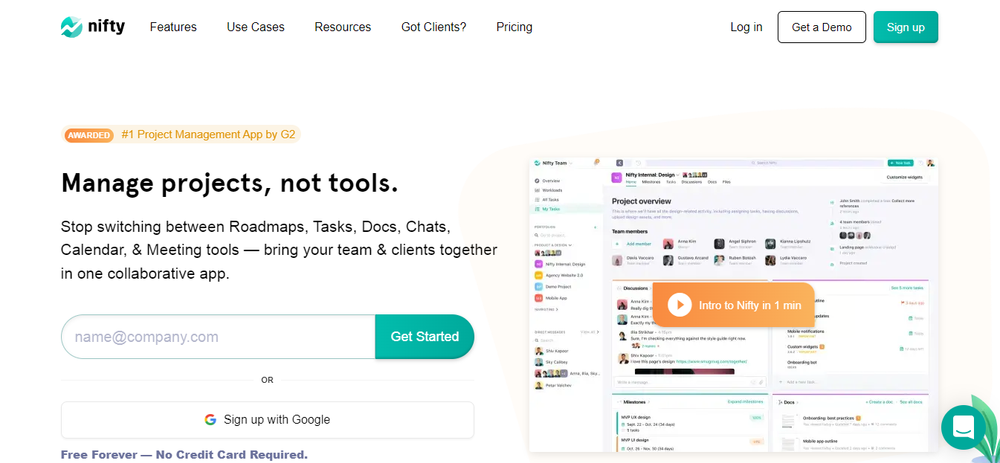 Nifty is more than just a task manager as it is also a highly visual project management tool. What makes it stand out is the forward-thinking design that aims to cater to the needs of the modern workforce.
It includes a simple and user-friendly interface that makes the setup a breeze, and the majority of users will be ready to start using it in just a few minutes.
You can manage tasks on Nifty with both the Kanban board and lists, which ensures it will suit different preferences. Users can also share the boards using public links.
Nifty allows access to time tracking, custom field functionality, and custom tags. Hence you can expect a highly customized experience.
Key Features Summary
Kanban board
List view
Task management
built-in docs
Subtasks
Milestones
13. Flow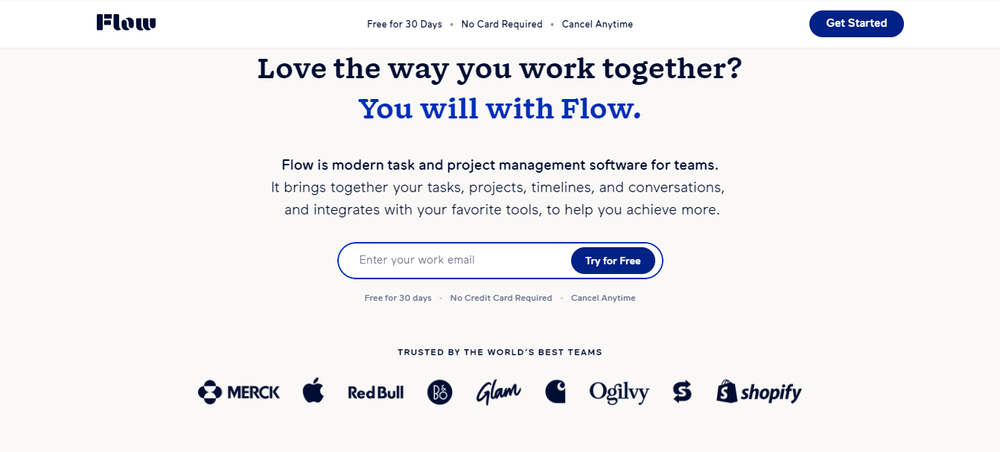 Flow's main highlight is the signature dashboard that allows users to view everything from the to-do lists to deadlines on one screen. However, you can still view the tasks in a structured list while still having access to the top and side navigation.
Since Flow is all about simplifying the workflow, it does not overwhelm users with other advanced project and task management functions that often complicate things.
However, task managers still get all the tools they need to assign tasks and track progress. And it also allows for 3rd-party app integrations if you need something extra that the tool does not provide.
Key Features Summary
Visual project timelines
Kanban board
Project templates
Task notifications and commenting
Custom themes
3rd party integrations
Mobile app
14. Airtable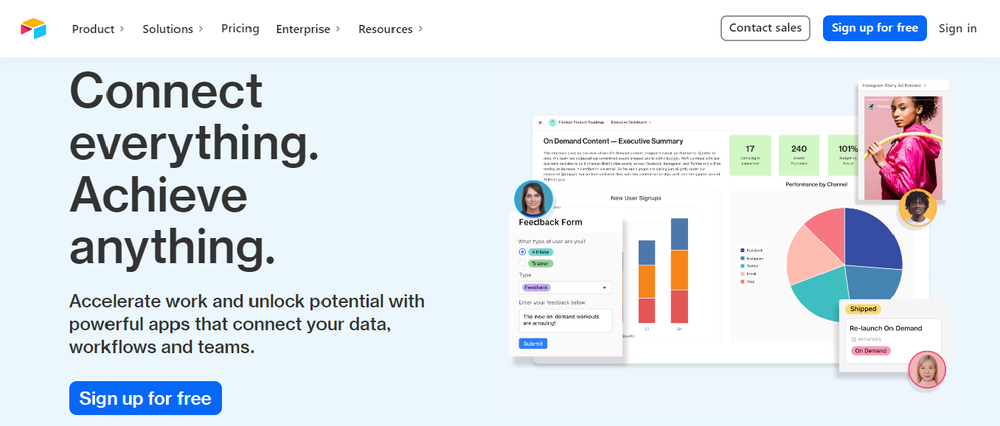 If you do not have an issue using a low-code task management app, Airtable is a good choice. The task management software helps you create collaborative apps that suit all your project needs.
Getting started is easy as you will only need a primary database, which can be anything, including a task calendar. You can then customize it with one of the many views such as Kanban and Calendar view and the more than 50 pre-built apps.
Overall, Airtable seems to fit big teams better than small ones. Also, it is a handy tool for project tasks that involve multimedia and multiple steps.
Key Features Summary
3D model explorer
Geocode and map integration
50 Airtable apps and 150 open-source apps
Task tracker
Form builder
Social media/email and third-party integrations
Mobile apps
15. HeySpace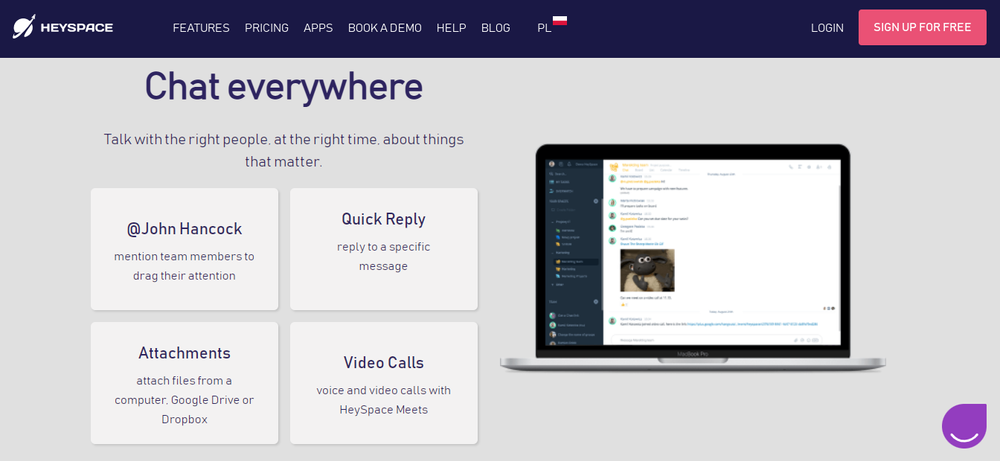 HeySpace is one of the most intuitive free task management software you can get out there. The task and collaboration tool offers a chat function for up to 5 individuals, making task tracking even more convenient.
The task management app has most of the functionalities you get on the popular ones like Trello. However, it also has a few more advanced features to improve communication and collaboration between team members and clients.
HeySpace works best for small and medium teams, but individuals can also use it for task and project management.
Key Features Summary
Ergonomic design
Kanban-style task boards
Adjustable tasks
Workspaces
TimeCamp tracking
16. HubSpot Task Management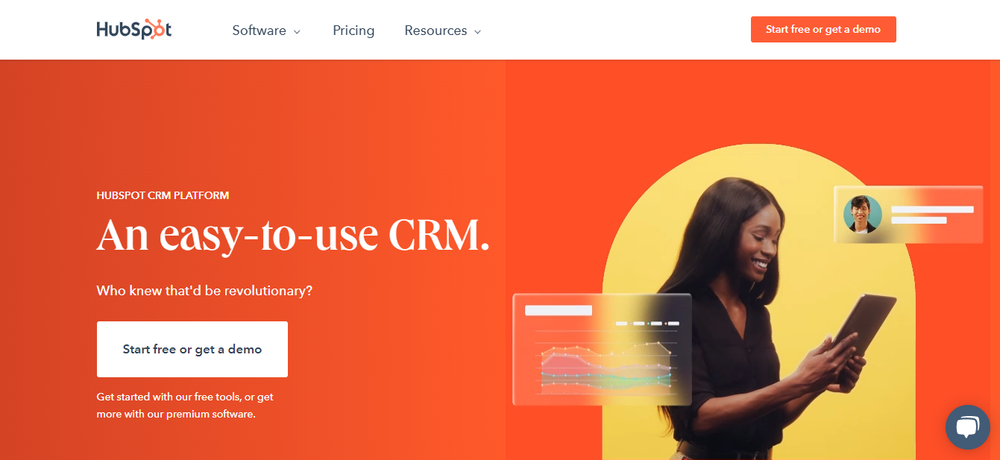 Hubspot offers its task management software as part of the CRM (Customer Relationship Management) suite to improve a user's sales funnel.
The software does not have as many functionalities as others solely dedicated to task management. However, it still has all the basics you need and coming from one of the most reputable companies in business and workforce management solutions, you can trust that it will give your excellent service.
You can use the Hubspot software to automate tasks by creating workflows. Also, you can set reminders, compare task performance, and keep track of everything else you need to know about the task from one central point.
Key Features Summary
Automatic data syncing
Integration with hundreds of 3rd party apps
Task queue
progress tracking
Easy task creation
17. nTask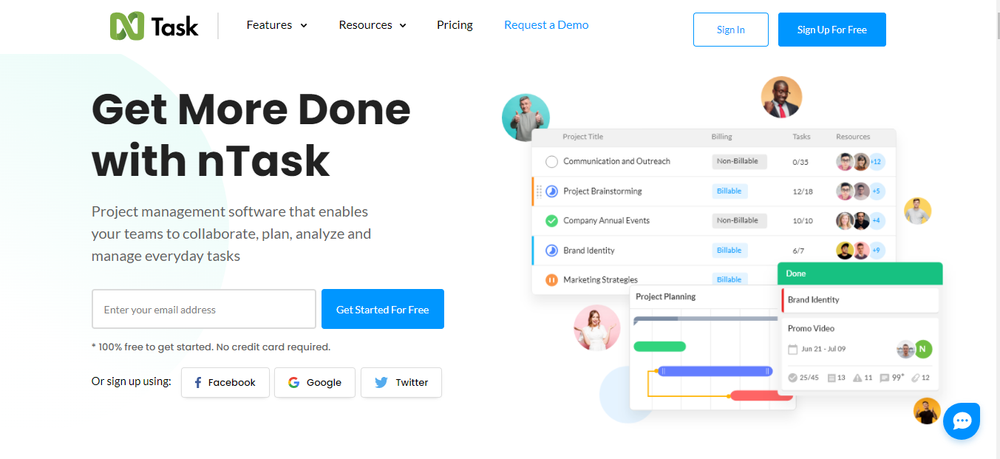 nTask is one of the best task management software for you if you work as an individual or have a small business with a few people in your team.
The cloud-based task tracking software will help you organize your team and individual tasks better by providing various helpful tools. You can use the free task management app to plan and schedule tasks, share files, generate progress reports and create Gantt Charts.
nTask makes it easy to plan and monitor project budgets, and you can also use it to manage or schedule meetings, making it one of the most comprehensive task managers out there.
Key Features Summary
Gantt and Calendar views
To-do lists
Task tracking/scheduling
Meeting management
Time tracking
Mobile apps
Task export
18. Taskworld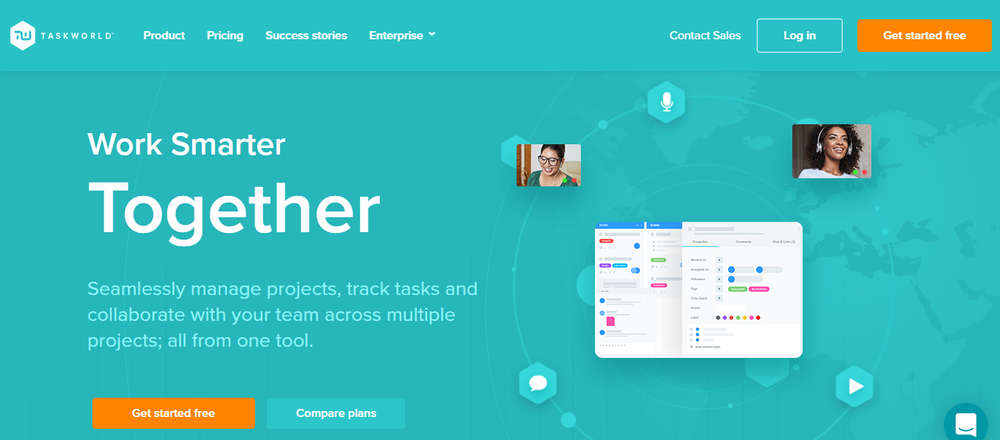 Are you looking for a smart way to plan your tasks and projects? If so, Taskworld is a perfect fit for you. Its features and functionalities like the burnup and burndown charts make life easy for you as they allow you to track all the outstanding tasks.
Like other popular task managers, it allows you to create tasks, set their deadlines, and assign them to your team. Also, you can use the tool to track the progress of each member and measure their productivity, which is crucial for ensuring your business gets value for money
Taskworld will allow you to group tasks, create subtasks when you want to break down the job into milestones, and create recurring events.
Users also get 4 different views for displaying the tasks: board, calendar, timeline, and table. There is also an interactive calendar that will sync with Google calendar and other apps like Outlook.
Key Features Summary
Time tracking
Team messaging
Performance reports
Table view
Project templates
Repeating tasks
Advanced privacy settings
19. Bordio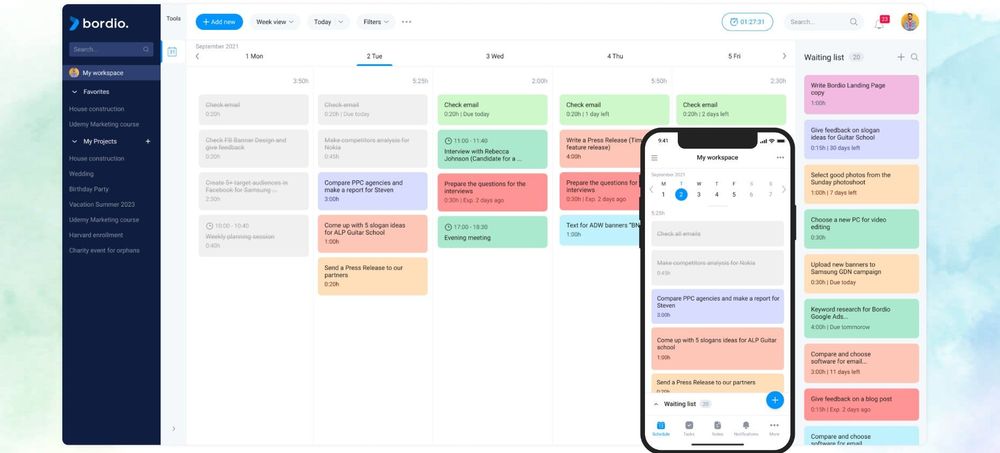 Those invasive, indiscriminate, and random thoughts at night whenever you commence learning a new language, start yoga the next Monday, have to call back your old high-school best friend, or need to find the motivation to finish the tasks you've been avoiding for months, have to be cleared up before its actual implementation.
If you're willing to conquer peaks but are always on the go, Bordio is an absolute life-saving tool. Perfect for laptop and smartphone users, the software meticulously organizes all of the tasks you schedule and gives you an incredible opportunity to eliminate already completed assignments. Every time you look at the finished list, you're eager to add more and more tasks to achieve your long-term goals step-by-step.
Key Features Summary
Available as a Web app and Mobile app
A waiting list for not yet scheduled tasks (backlog)
Both tasks and Events on one single board
Week view to manage all your to-dos
Online daily planner included
20. Chanty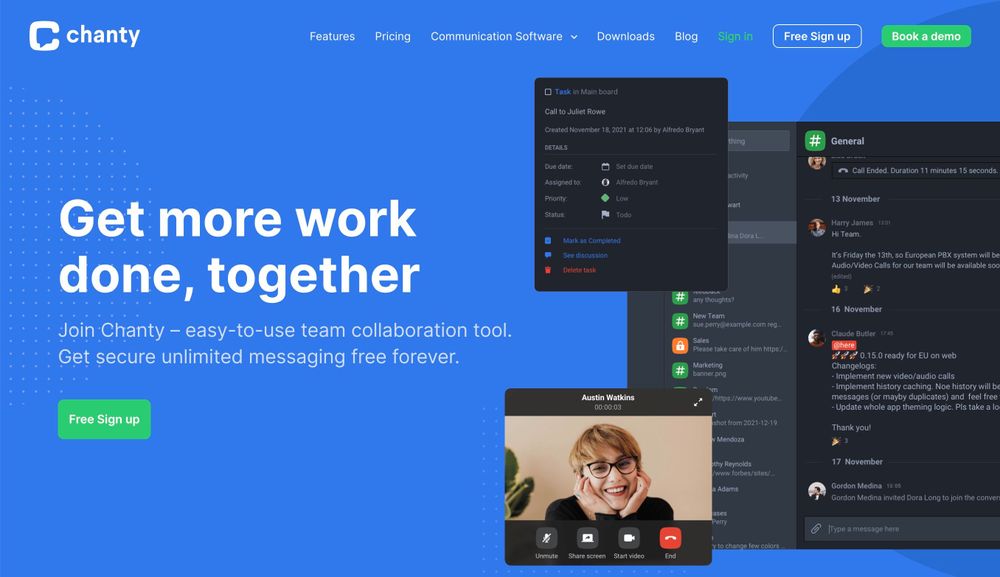 Although Chanty has tools for project management, the platform heavily focuses heavily on collaboration with its messaging functionality, audio calls, and video calls. While these tools make it easier to collaborate with teams, they can also be used to streamline communication between freelancers and clients.
Like other project management software, Chanty has kanban boards and file storage to manage projects.
However, with its emphasis and communication tools, Chanty is missing some key features that freelancers need, such as time tracking, invoicing, contracts, forms, and proposals.
Key Features Summary
Audio and video calls
Public and private conversations
Voice messages
Screen sharing
Built-in task management
File storage
21. Hitask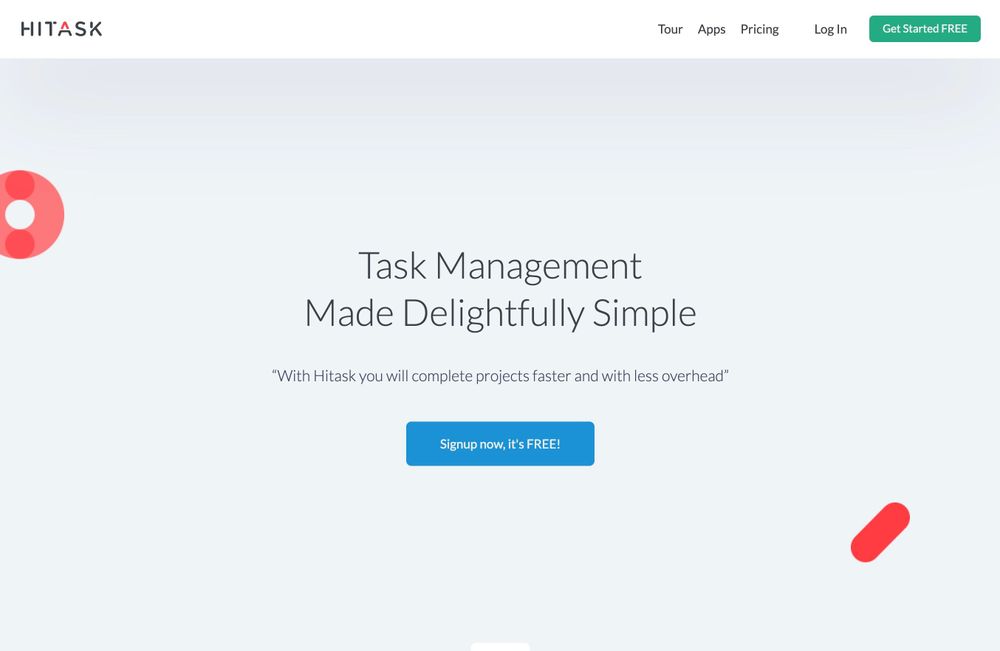 Hitask has task management software for managing all your projects. With a central dashboard, you can view all your tasks and arrange them by project or due date. You can also add comments and assign tasks to other team members if you are working with a partner or managing any subcontractors.
Like other project management platforms, there's time tracking, file storage, calendar sync, and a mobile app.
But for all its emphasis on task management, Hitask is missing kanban boards and custom workflows, which are important tools to help freelancers manage multiple projects and clients at once.
Key Features Summary
Create repeating tasks
Subtasks and hierarchy
Add task comments
Progress reporting
Document storage
Time tracking
22. Quire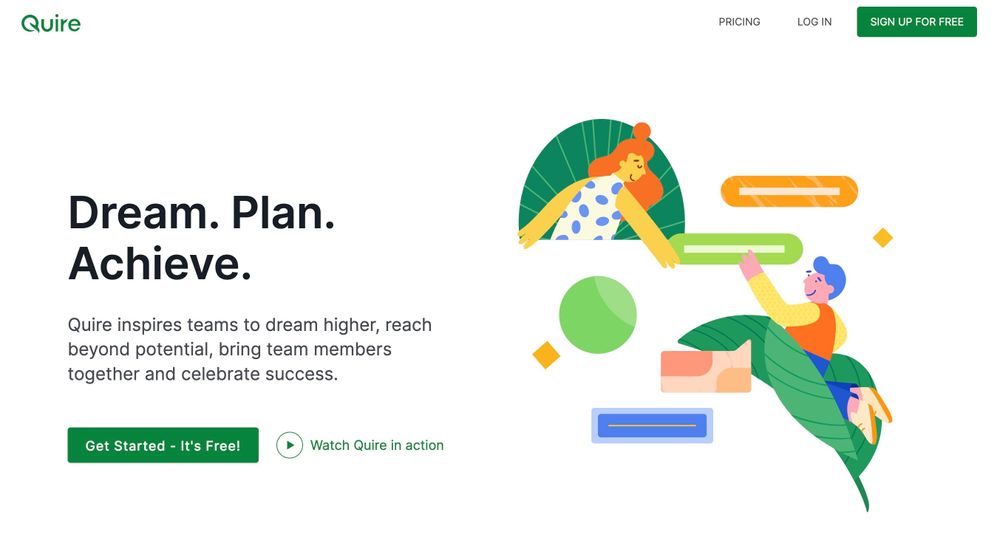 Quire uses a technique called "nesting" to break down large projects into smaller, more manageable tasks. This helps you see which are the most critical tasks to complete first.
You can nest cards within other cards so that with each card completed, the next most important card will appear. This makes it easier to tackle your to-do list. But if kanban boards are more your style, you can also use Board views.
While these task management features can be found on Quire's free plan, managing tasks isn't all you do as a freelancer. You also need access to time tracking and calendars, which can only be found on their paid plans.
Not to mention, Quire lacks other important features like invoicing, contracts, and proposals.
Key Features Summary
Nested task cards
Kanban boards
Project overview
Folder
Section
Permission control
Mobile app
23. Taskque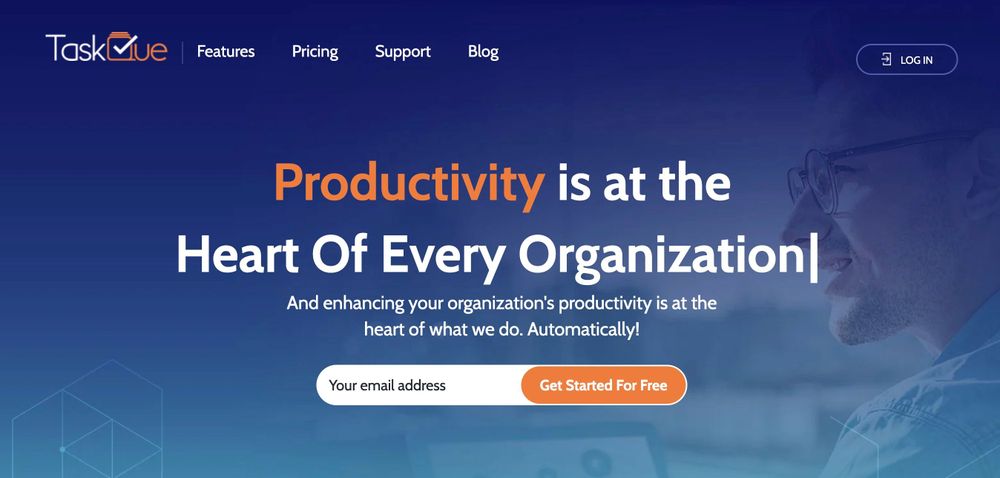 Taskque is designed mainly for teams, but freelancers can still get use of its productivity and task management features. The platform uses smart features to pass assignments off to the next available team member. This can be useful if you're collaborating on projects with other freelancers or have grown your business to the point where you're managing other subcontractors.
Although these features make Taskque a pretty powerful to-do list app, it's missing key features like time tracking, contracts, invoicing, and proposals.
It's clearly designed for teams and with its lack of features for a freelance business, it shows.
Key Features Summary
Kanban boards
Task movement
Queue manager
Task comments
Auto tasks assignments
Set task priorities
Project workload
Calendar view
Why Do You Need a Task Management Tool?
Did you know that people who work in unorganized spaces spend an average of 1 ½ hour looking for misplaced items? This translates to wasting 7 ½ around hours every workweek, which can affect your productivity.
Failing also to manage your tasks properly will lead to even more time wastage. Besides looking for misplaced items, you will also spend a lot of time figuring out the tasks to do. A good task management tool can help change all this, and here is why you need one.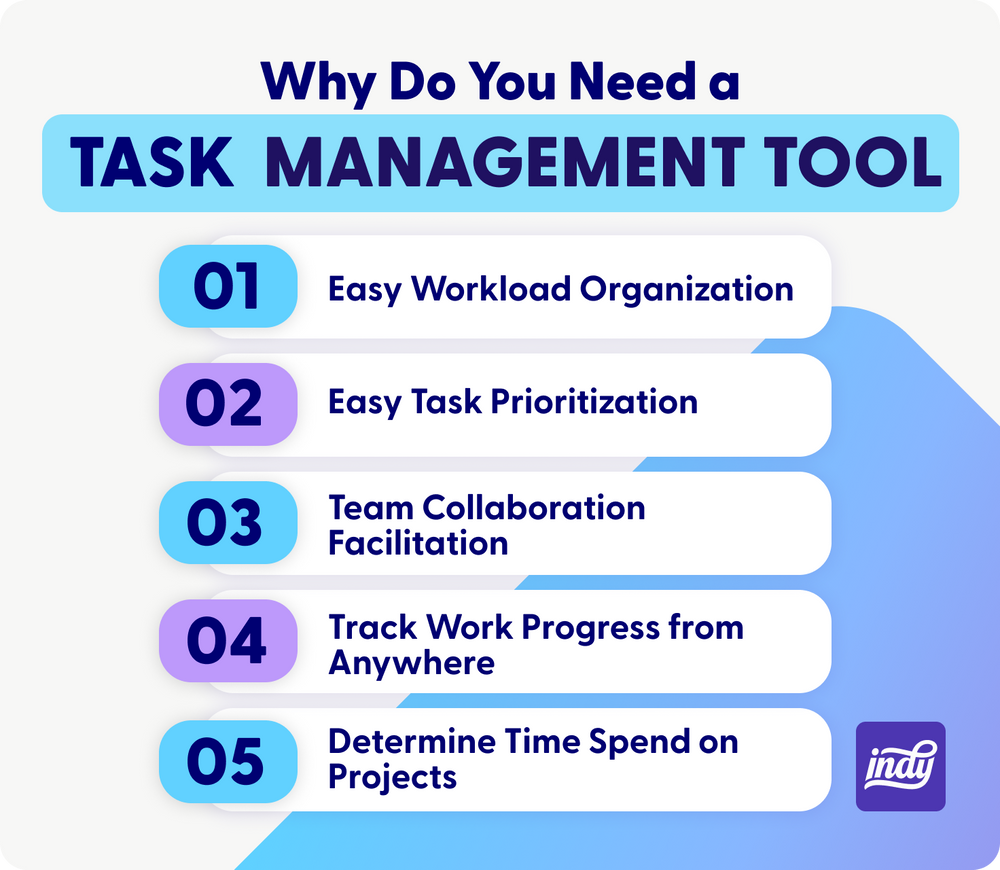 Easy Workload Organization
A task or project management tool will allow you to manage your workload easily from one place. Having to switch between several tools can reduce your productivity.
Using one task management platform allows you to keep your workload organized, and you can gather all the info you need to accomplish them and store it in one central place.
Task Prioritization is Easier
It is essential to prioritize your tasks to ensure you do not miss deadlines. A task management system will make prioritization easy by helping you determine the high priority tasks that require more time.
In many instances, people will start with low-priority tasks as they are often more manageable, but they can consume too much time. With task tracking software, you can keep track of all the tasks and arrange them according to their priority level.
Team Collaboration Facilitation
If the tasks at hand require some team collaboration, as with many projects, a task management tool will make things easier for you
You can assign tasks to other team members with just one click. It is also easier to determine what each member needs to do and even keep track of their progress.
You Can Track Work Progress from Anywhere
Task management solutions make it possible to access data from anywhere. Therefore, you do not need to be in the office to manage tasks or keep track of progress.
With a good task management app on your phone, you can access the database on the go, provided you have an internet connection. This feature can be very useful in ensuring you do not miss deadlines.
Allows You to Determine Time Spend on Projects
It is vital to keep track of the time spent on tasks and projects. Keeping track of time is essential when calculating how much to charge for the project or employee remuneration.
With a task management solution, you can tell how much time is spent on each task and measure employee productivity by the amount of time they spend on the tasks.
Features of a Good task Management Tool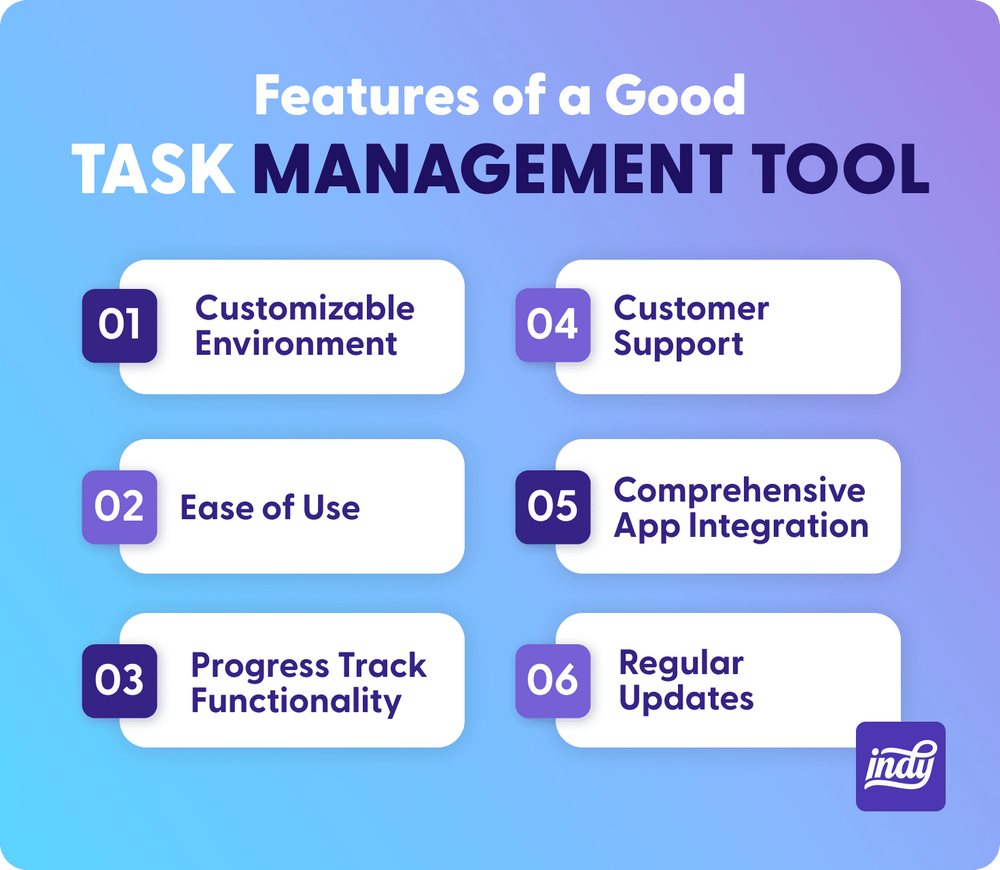 Here are some key features you need to look for in a task management tool for the best experience:
1. Ease of Use
You should spend more time planning and managing your tasks and not figuring out how to use a task management platform. An easy-to-use task management tool is ideal for beginners and expert project managers.
2. Customizable Environment
A task management tool that allows you to customize the tasks according to your system will serve you well. The software should allow you to adjust your preferences and flexibility. Those that include customizable templates are also preferable as they make getting started easier.
3. Comprehensive App Integration
There are several other apps you need to manage tasks, and so the best task management software should integrate them to allow you to manage everything from a central point. These apps include Google Calendar, Salesforce, Zapier, and Slack.
4. Progress Track Functionality
Does the online task management software allow you to see the stage the tasks are at and how each team member is performing? Progress tracking is essential as it allows you to determine member dedication and helps with accountability.
5. Regular Updates
Task management software is constantly changing as better technologies and features come up. Any software you choose should offer regular updates to ensure you benefit from the advancements in technology. Regular updates are also essential for dealing with bugs and integrating user suggestions and feedback to ensure the best experience.
6. Customer Support
Even if you are using free task management software, it should still offer responsive customer support for speedy issue resolution. Look for software with a dedicated customer support center that includes tutorials and other helpful resources. Also, availability across multiple social media platforms is excellent for customer support.
Conclusion
You should now have a clear idea of the best free project management software for your business or individual projects. If not, or you are stuck between a few of them, you can always give them a try to narrow down your options.
But also remember to keep these 3 tips in mind when deciding what to use:
Any task manager you choose should be intuitive and easy to use for you and your team
A good task management software should have customizable functionalities to ensure it will work for your specific situation.
Always pick software that is backed by a sound customer support system to ensure your tasks and projects do not get stuck in case you run into difficulties.
We believe that Indy is the best option if you're a freelancer. Its core tools are free to use and give you everything you need to manage your freelance business in one place, from contracts and task management to invoicing.
FAQs
What is the best way to keep track of tasks?
Task management solutions provide the best way to keep track of your tasks and projects. They offer multiple tools like time tracking, status tracking, prioritization, and workflow management that make things easier for you. Doing it manually or using regular spreadsheets can be quite hectic and will not work well if you have large teams and many tasks.
How can I organize my tasks for free?
You can do it using free task management software. The 18 above are just a few of the best ones. There are dozens of others out there, and you only need to look for what suits your specific business and needs. Also, note that most online task management software will have a free package for starters, but this often lacks features as it typically only has the basics.
Does Google offer a free task manager?
Google always seems to have a solution for everything given their ever-increasing number of products, and yes, they offer a free task manager, Google Docs. Everybody knows about Google Docs, and with proper utilization of its many functionalities, you might not need any other online task manager.
Google Docs will allow you to track all the documents and know what each team member is doing as everything is saved in real-time. You can also use Google Workspace to get even easier access and more integration options as it accepts various add-ons.
Which free task manager is the best?
The best free task management tool for you will largely depend on what you are looking for, as there is hardly one that suits everybody. For example, Asana has the functionality to handle large businesses and teams, while nTask is ideal for smaller ones.
If you're a freelancer, Indy is the best option since it's been designed from the ground up specifically for your needs.
Also, what you want to do with the software determines the right one for you. Do you want something to create and organize tasks? Or do you also want a tool that can support your marketing campaign and help with client management?