As a freelancer, you're often working on your own, without the support of a team or company. So, when you land a job, it becomes overwhelming to collect and organize all information about the project. For example, you need to know the project overview, timeline, and scope. Providing an accurate quote or estimating how long the project will take can be challenging without this information.
Without an effective system, you'll have to rely on back-and-forth communication, including phone calls, emails, and virtual meetings. It can take up valuable time you can otherwise spend working on the project.
Various types of forms give you a structured system for collecting project information. They help collect customer data, create project briefs, and gather customer feedback. The detailed information can make all the difference in completing a successful project.
Gathering the required project data upfront ensures that both parties are on the same page. Plus, it helps avoid any potential misunderstandings or disputes down the line.
4 Essential forms for collecting information from clients
Every freelancer should have a few elemental forms in their toolkit. Here's a rundown of the most important ones that make collecting client and project information as seamless as possible:
Lead capture form
A lead capture form collects contact information from potential customers or clients. The dataset can help you contact the user later or keep track of their interest in your product or service.
The lead generation form can be placed on your website or a landing page specifically designed for collecting leads. Visitors can put basic information on the form fields, such as name, email address, and phone number. There could be extra slots for additional information, such as the service they are interested in, company name, or website address, but the fewer fields, the better.
Many businesses offer freebies, including a discount code, e-book, or printables, to the visitors in exchange for their data. As a freelance service provider, you can capture leads by offering them quotes for customized packages or discounts for the first 100 customers. Or, you can just ask them to fill out the form to request more information about your services.
Source: Prospecting / Wikimedia Commons
The information that you collect from a lead capture form can be used to generate sales leads. You can contact these people directly or add them to your email marketing list. Creating a targeted marketing campaign for a specific pool of visitors is also possible.
If you are a freelance service provider, you can use a lead capture form to collect information from potential clients. Filling up the form indicates that they are interested in your service. So, you can later pursue them with special offers to see if they become paying customers.
Lead capture forms are an essential tool for any business. The gathered information can help you better understand your customer base and make effective decisions about future marketing and product development. Not using it means you are missing out on a valuable opportunity to grow your business.
Why should you use a lead capture form?
There are a few reasons why a freelance service provider should use a lead capture form. The data collected through the forms can be used in various ways:
The form is an effective way to collect contact information from potential leads. So, you get a chance to follow up with these leads and convert them into paying customers.
You can segment your leads from the data collected through the form, allowing you to tailor your marketing and sales efforts to the target audience. For example, if you know that a lead is interested in your sales report or business proposal writing service, you can send them targeted information about that service. It's much more effective than sending generic information to all of your leads.
The collected customer data allows you to track the leads. It's important because you can see which marketing efforts are working and which are not. As a result, you can change the marketing strategy to attract more leads and make better conversions.
You can nurture the leads by building relationships through email marketing. It has a higher chance of converting them into customers at some point.
If you're not using a lead capture form, you're missing out on a powerful tool that can help you grow your freelance business.
Client onboarding form
As a freelance service provider, you know that providing excellent service to your clients is paramount to keeping them happy and ensuring repeat business. But what happens when you're juggling multiple clients and projects? How can you keep track of everyone's preferences and expectations?
Enter the client onboarding form.
It initiates the client onboarding process. You can use it to outline a client's requirements, preferences, and goals. It can also familiarize new customers with your company's policies, services, and procedures.
This form can be used for new and existing clients and helps ensure that you provide the best possible service. It allows your clients to communicate their expectations and requirements.
We recommend creating a client onboarding form if you're not already using one. It's a simple way to improve your freelance business and keep your clients happy.
Why should you use a client onboarding form?
There are a few key reasons why having a client onboarding form is so important:
It allows you to get to know your clients better. This way, you can tailor your services to their specific needs.
A good onboarding form builds the client's confidence in your service. When they feel like you understand their needs, they are more likely to trust and feel comfortable working with you.
It can save you time in the long run. If you have all the necessary information from your clients upfront, you won't have to waste time going back and forth trying to get clarification later.
The form helps you keep all your client information in one place. This way, you can easily access everything whenever you need it.
Scope creep is a common problem in freelance work. It happens when the scope of a project starts to creep beyond what was originally agreed upon. A well-designed onboarding form helps you avoid scope creep by ensuring that you and your client are on the same page from the beginning.
Overall, a client onboarding form is essential for any freelancer. It helps you to understand your clients better, build trust, avoid misunderstandings, and save time. So be sure to include one in your freelancing business.
Project brief form
As a freelancer, you know how important it is to understand your client's project objectives. After all, you're the one who's going to be responsible for that project's success.
A clear project brief must outline the project plan and related resources. It will help you understand the project timeline, budget, scope of work, and deliverables. Without understanding the project goals, you may get distracted and deliver something the client isn't happy with.
Many freelance service providers find it challenging to keep track of all the different projects they are working on. That's where the project brief form comes in. This form is a way for you to keep track of all the necessary details of a project in one place.
The project brief form should include the following information:
Project name
Client name
Project description
Deliverables
Timeline
Budget
The form will help you gather details of a project and keep track of them so that you can deliver a high-quality product to your client. It is also a helpful tool to use when pitching new clients. Having all the key details of a project in one place allows you to quickly and easily explain to a potential client what you can do for them.
Why should you use a project brief form?
You can use a project brief form in various ways, including:
Writing proposals. When writing a proposal, it's important to be clear about what the client wants and needs from the project. The project brief form can help by stating the project goals.
Scoping out projects. Once you've been awarded a project, you must clearly understand what's expected. The brief form provides an outline of the project requirements.
Staying on track. It's easy to get sidetracked when working on something, but you can always check the project goals from the form to remember what needs to be done. Use it as a reference point throughout the project.
Feedback form
As a freelancer, you always look for ways to improve your business and provide the best possible service to your clients. One way to achieve this is to use a feedback form.
It's a simple form to collect your clients' feedback, including their ratings and comments. Feedback forms can be used to evaluate various services, including project management, service packages, customer service, and even website design.
And you should always use a customized version to best suit your needs.
When creating a feedback form, include questions that will help you understand what your client thought of your work. Was the task completed on time? Was the quality of the work up to par? Did the client feel like they were able to communicate effectively with you?
Asking for feedback can be tricky, but it's important to remember that your clients are the ones who ultimately determine whether or not you're successful. By using feedback forms, you can get valuable insights into how you can improve your business and provide better services to your clients.
If you're providing a service, whether it's freelance writing, web design, or consulting, it's essential to look for ways to improve constantly. And feedback forms can make the process easier by pointing out your strengths and weaknesses.
Why should you use a feedback form?
If you're running a freelance business, getting feedback from your clients is important. Feedback forms help you do this by giving you a structured way to collect feedback.
There are many benefits to using feedback forms, including:
Collecting objective feedback. This is valuable because it can help you identify areas of your business that need improvement.
It shows that you value what the clients think. You're not just interested in getting the job done, but you care about their opinions and want to ensure they're happy with the final product.
Using a feedback form indicates that you are open to making changes to the service based on your client's feedback. If you're constantly seeking feedback and making changes accordingly, it shows that you're committed to providing the best possible service.
Feedback forms help you build trust with your clients. When you show your clients that you're interested in their feedback, they're more likely to trust you.
A feedback form shows that you are interested in building long-term customer relationships. It assures customers that you are not just looking to make a quick buck but are interested in providing a lasting service. This can be a fantastic selling point when trying to win over new business.
A form creation tool every freelancer needs
An effective form system can save you time and hassle when collecting client project information. You can use Google Forms, but Indy's Forms tool could be a better option for all tech-savvy and non-techy users. It streamlines your workflow with a good balance of intuitive and practical features.
The tool is handy in capturing leads, organizing projects, and keeping track of all information. Whether you need a simple contact form or a more complex intake form, it offers everything.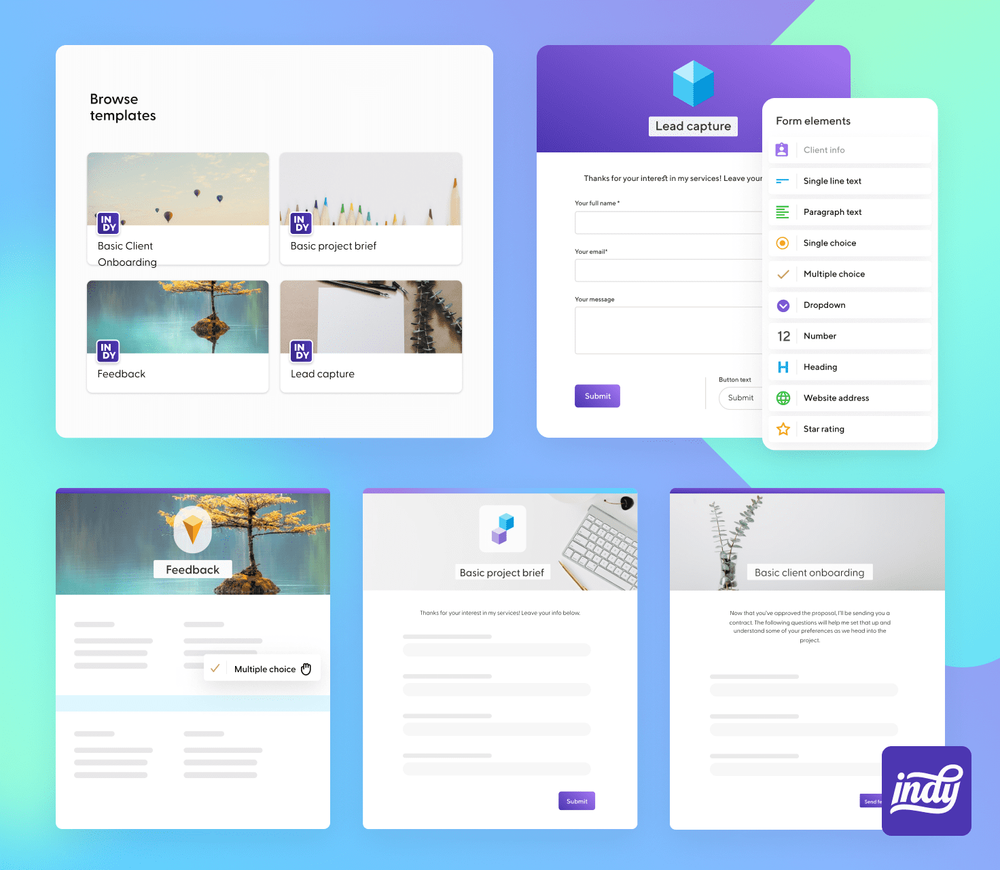 What's more, the tool is flexible and easy to use. With its drag-and-drop interface, you can quickly create forms that look great and work the way you want them to. Plus, some easy-to-use popular templates make it a snap to create forms you can use repeatedly.
But that's not all. Indy's Forms tool can also help you turn leads into contacts. With the handy Lead Capture feature, you can easily add leads to your contact database.
And without feedback, how would you know if you're doing well? Well, the Forms tool has a Feedback option too. The feature collects ratings and reviews from clients and notifies you whenever a new response comes in. You can see all responses from a user in the same window and add leads to your contact list with just a click.
The tool also has a Share & Embed option to make the entire process more intuitive and user-friendly. Share the forms with anyone through links or embed them on your website or blog.
The forms you use for your freelance business should have a clean design and are easy to navigate. It's not a good practice to overwhelm clients with too many questions or confusing language. Indy's Forms are the best options for serving these purposes.
The final words
As a freelancer, you must have a system for collecting all necessary information from your clients. The data-collection process should include using various forms to make everything streamlined and easy to handle. The forms you need will depend on the project you're working on, but the ones mentioned in this post are essential for every freelancer. With their help, you can collect the data required to better understand your business needs and clients' expectations.