A successful UX designer is a professional who's not only capable of visualizing ideas on a screen, but who also knows how to create a proposal and define scope of their work.
Putting it simply, a UX/UI proposal is a chance to show potential clients that you've listened to their expectations, understood their problems, and that you (or your company) got exactly what's needed to improve their user experience.
A winning proposal will not only set your design services apart but will also make sure that everyone who's involved in the project knows exactly what's going on, so all departments can effectively communicate to ensure that everything is carried out and processed efficiently and to the highest quality with minimal risk of mistake.
Tips for Writing your UX/UI Proposal
First of all, to ensure that you are writing a proposal that clients will read, keep it in mind that a good UX proposal should be thorough enough that the client knows exactly what to expect and when but short and simple enough that it can be read in one sitting and used as a reference guide. A few things to have in mind:
Keep the proposal short. Overwhelmingly long proposals aren't read and end up creating questions, not answering them. Focus on simplifying the message and make sure your everything you add supports the goal you want to achieve.
Customize your proposal for the client with relevant facts. While Ready-to-Use-Templates will save you time and prevent you from leaving important pieces out of your proposal, make sure to customize it according to your client's business. As an example, instead of using general statements such as "the system will display the most popular tracks", show the client you really studied their product/service by being specific: "the system will display tracks sorted by the most played, downloaded, and shared".
Presenting your Proposal: If possible, present your proposal in person or through a video call. That way you can avoid the waiting/follow-up game as well as handle any objections immediately and adjust your proposal as needed. Yet, we know: this is not always possible or applicable. So if you send your proposal through email, make sure to put as much attention as you have, by this point, put into your presentation.
How to Structure your UX Project Proposal
Although UX/UI proposals will vary from project to project, there are definitely key sections that you can use to structure it, such as: Introduction, Process, Proposal Scope, Timeline, & Acceptance.
Introduction
Cover page
If you choose to use one, that's going to be the first thing that your client sees. Make sure you do it right! That simply means having a sophisticated front cover with a simple, professional design.
Here's an example of a successful cover page that have done a great job conveying their information: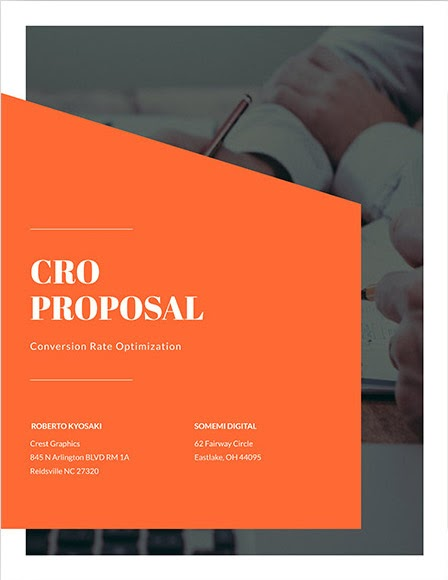 Source: https://visme.co/blog/report-cover-page/
Table of contents
A breakdown of your UX project proposal sections with page numbers for easy access.
Project overview
An executive summary of the project based on your conversations with the client. Use the client's own words to avoid misunderstandings. If their definition of the project is ambiguous, you need to clear this up before starting the proposal.
Objective
This should be measurable and clearly defined (e.g., increase conversions). If a project has more than one objective, make sure you and the client agree on which takes priority.
Explain Why You're the Right Fit
If you already have a relationship with the client and they're not considering multiple candidates you don't need to include the 'Why Me'. Often by this point, whether it's a referral or an ongoing relationship, the proposal is to show what you can provide and how much it will cost.
In case you're still in the processing of showing the client that you're the best person for the job, and considering they've probably seen your work already, use this section to explain your unique design qualities, methodology you follow and capabilities you have, the awards to prove your worth and explain why you're the right fit for their UI-UX needs.
Highlight why you are interested in working with this business and how your skill-set allows you to solve their problems. You can also include some short but impactful testimonials from previous clients and additional (yet relevant) information about your design services.
UX/ UI Proposal Scope
The Scope is the center of your proposal, and likely the most important section. It is where you'll be able to outline what you'll execute on and how much it will cost.
Here you can clearly define the limits of what you'll design for the client as part of this project and budget and show them how'll make this project successful by providing all the necessary details of your deliverables.
Defining the scope in the user experience proposal will help you present the extent of the project and set realistic expectations. Write a comprehensive list of what you'll deliver the client by the end of the project and make sure they know that anything extra will require adjusting the budget and scope.
We've included a list of common scopes for UX & UI Designers:
Audience Research
A/B Testing
Persona Creation
Conversion Rate Optimization (CRO)
Timeline
This section will clearly outline the time you will require to deliver the UX design project to your prospective client. This is an important aspect of the proposal, since a clear timeline brings transparency and demonstrates confidence in your capabilities. Don't try to impress your client here. Present a timeline that's realistic. Remember: people rather have something done right than done fast. If you're an experienced designer, you probably have learned that it's always good to leave more time than you think you'll need, as this gives you breathing space if there are complications.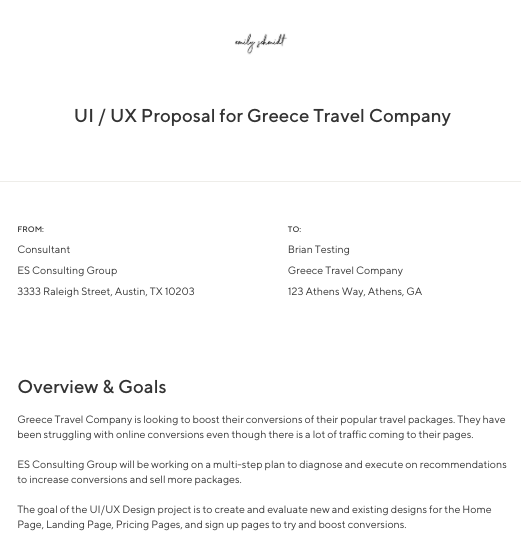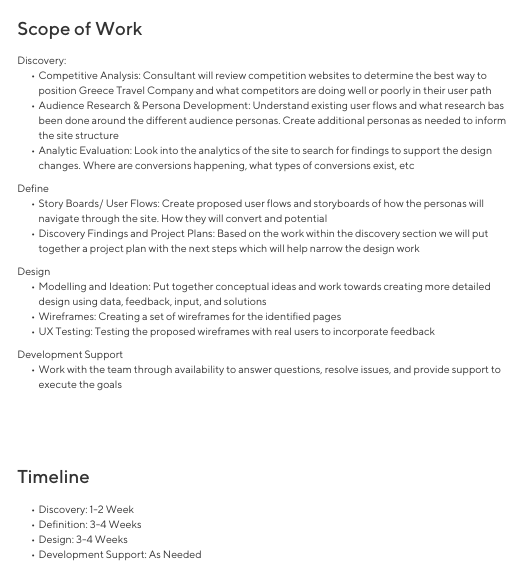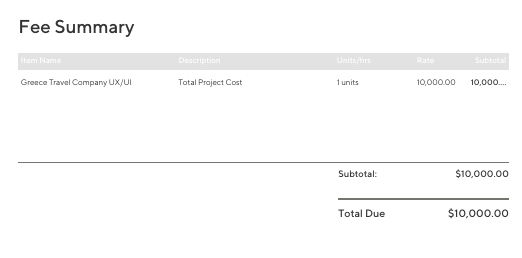 Acceptance, Terms & Conditions, and Online Signature
Including acceptance and terms and conditions within your UI/UX proposal is optional. Sometimes we recommend including this information, other times we save it for the contract. A proposal is a starting point for a conversation around next steps, so don't worry too much about this during this phase of bringing on a client.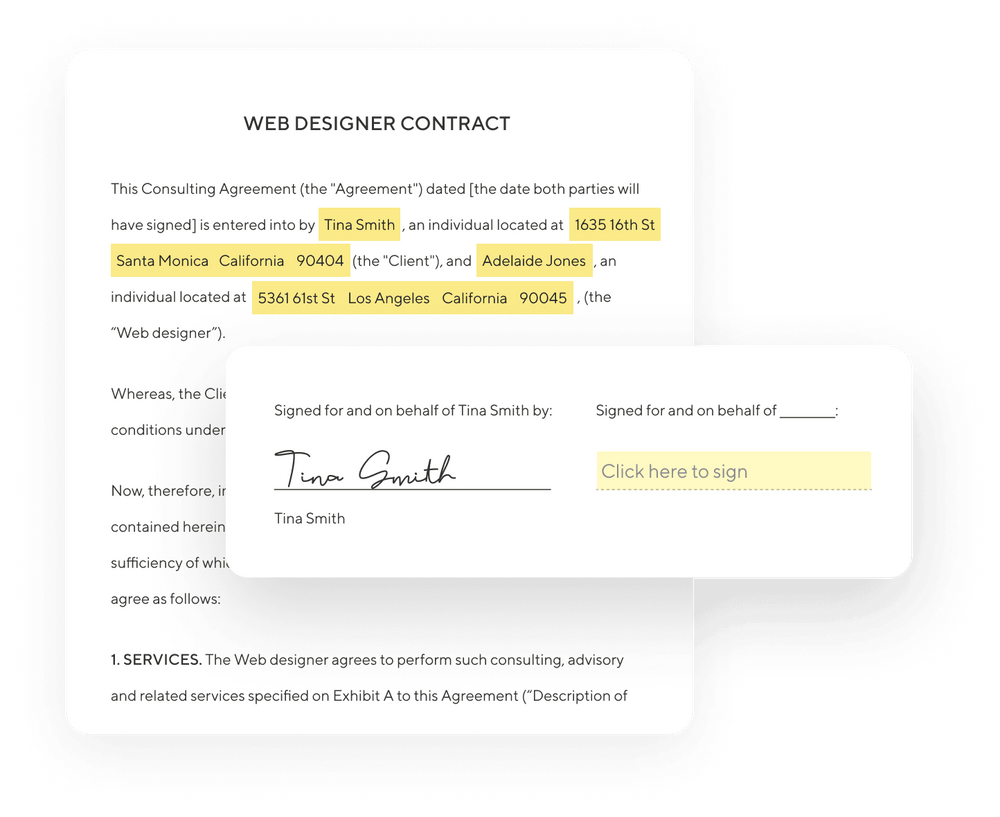 Ready to sign your next client?
You can build trust with the Contracts tool from Indy. Start with an industry-specific contract template, add your own terms, and send it off to be signed.
Try Indy for free
If you need proposal templates, If you do choose to include an area where I client can sign and accept, make sure to include an online signature. Many tools, including Indy's include e-sign for your ease and convenience.