81% of freelancers believe business training is important to their work. 92% of freelancers think these business skills would make them more successful.
You're a freelancer offering digital marketing services. What kind of business training would help you the most? One of the most common queries from freelancers is about contracts.
So, let's show you how to develop and use a digital marketing contract as an independent contractor.
What Should a Digital Marketing Agreement Include?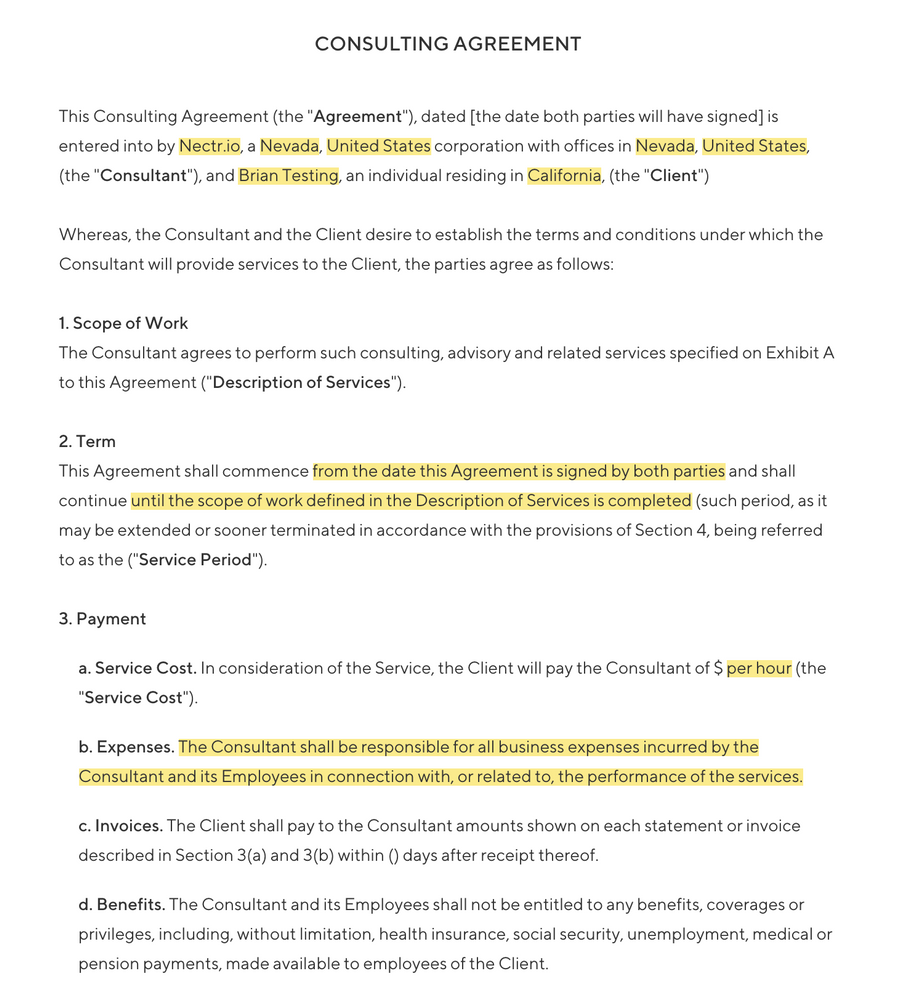 Now let's cover what you should include in every digital marketing agreement. Before we begin, we recommend you do two things:
Create a digital marketing contract template you can keep and change as needed for each new job.
Take legal advice about the terms you have included in your digital marketing agreement and any items you may have left out.
By doing these two things, you will provide yourself with a legally sound contract template you can update quickly when you need it.
Now, here are the items you should include in a marketing contract template.
Project Overview, Statement of Work, and Scope of the Project
At the beginning of your digital marketing agreement, add these three general items. Here is what they mean:
Briefly describe what the parties agree about the job. The overview should cover the entire agreement in broad strokes. It should also include the name and address of both you and your client's business.
Write a general statement of work. This should describe the marketing services you will provide, where they will be used, and the general outcomes you will produce.
The project scope outlines what you will do for the other party. It can also state what you will not do during the contract.
Being clear about the general items, especially the scope of the project, helps avoid scope creep later. Writing a brief description also makes sure everyone agrees about the contract.
The Specific Clauses You Need for Your Agreement
It's time to talk about the details of the project now. These detailed sections show what the marketer agrees to do and what the client agrees to provide during the contract.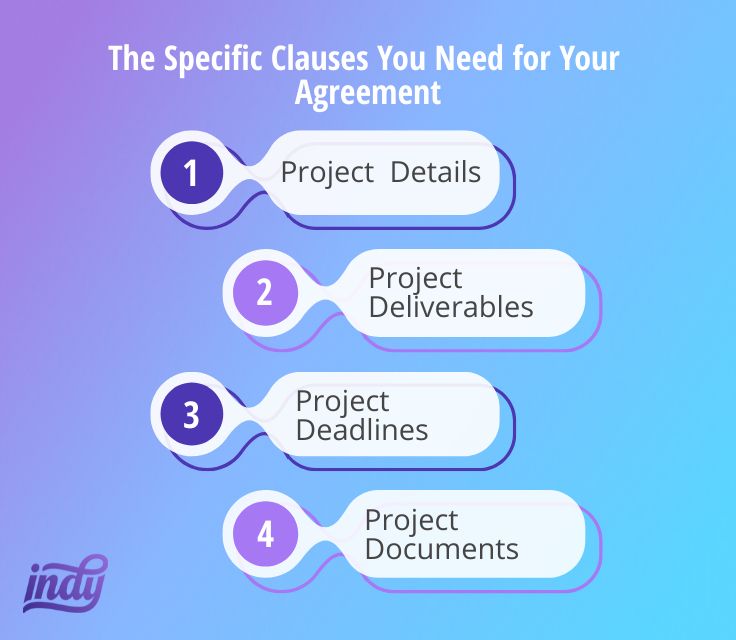 Project Details
In the details section of your contract, you want to list the specific things the client is asking you to provide. Here are some examples:
Effective date for starting the contract and completing work
Any outcomes, such as social media posts or advertising campaigns, you will deliver
There is some overlap in these sections, but the idea is to include details here that you collect during your initial consultations.
Project Deliverables
You should make a list of the things you will do for your client. These are the services you will offer during the contract. However, it is unwise to include specific results. Do not promise results you cannot deliver, including, but not limited to specific search rankings, website traffic increases, and revenue gains.
Project Deadlines
Include specific deadlines where applicable. Digital marketing is usually a longer term proposition, so you may want to include what you will be doing on a day-to-day basis. Don't restrict yourself too much, though, or you will feel like the client owns you.
Project Documents
Your freelance contract will probably involve passing documents and files back and forth. In the contract itself, you should specify at least two types of documents needed for the freelance work:
List any documents you need from the client. This may include media files related to branding, logos, and advertising campaigns.
Include a list of any files you will send to the client. This may also include any specific reports your will send about the progress you are making.
The idea for this section is simply to ensure everyone knows the files and formats required for the project to flow correctly.
Freelance Contract Terms About Your Client Relationship
Your freelance contract template needs a section about your relationship with your client. By this, we mean there are some essential elements in your working relationship. Let's look at these in a little more detail.
Intellectual Property Rights for Your Work
We connect intellectual property to what you produce and what you include in your work. There are two aspects to this area of your freelance contract:
Your client should receive rights to what they have paid for and their rights should be clear. Any campaign or media you produce for them may become their exclusive property at the end of the contract.
You should retain rights for what you have created where this is appropriate. This may include intellectual property, such as marketing collateral.
This is a complicated area and the governing law varies by industry and location. Even if you have to pay legal expenses, finding someone who can provide legal advice and has competent jurisdiction may save you trouble and make your services more valuable.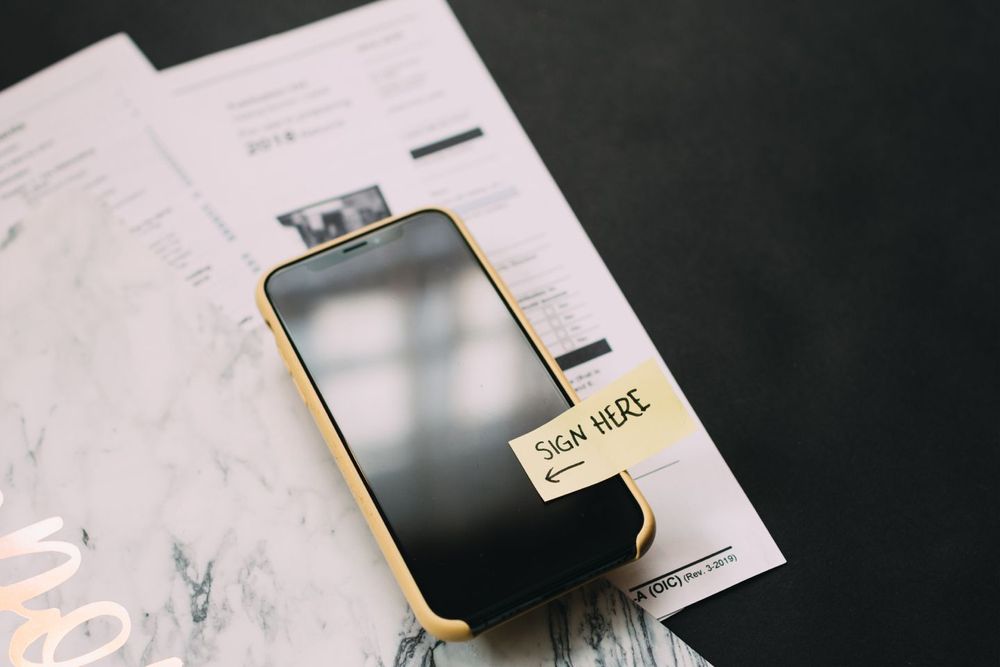 Confidential Information from Your Client
Your client will probably share confidential information with you. Their marketing strategy, customer research, and company proprietary information, may all be confidential and should not be shared.
Limitation of Liability
What could happen if something goes wrong? You don't want to be exposed to punitive damages if the results don't match what your clients expect. Your contract should outline who is responsible for the outcomes and to what extent.
Non-Compete Agreements
One of the most important things to look at within a contract is if there is anything included about non-competes. Preserving your ability to work with multiple clients is an important part of your agreement.
Some states, like California, don't allow non-competes and protect the independent contractors living within the state, however, removing this from contracts or being aware of what you're signing up for is something that can be valuable for self-protection in the future.
Payment Terms and Payment Schedule
Before you sign contracts, iron out the payment terms. There are a few things to consider:
Milestone Payments
Longer digital marketing contracts, should have milestone payments. These help your cash flow by bringing in money during the contract.
Late fees
Clients who pay late may need be fined for their tardiness. This is optional, but might be important if the client is new or has a history of late payment.
A Digital Marketing Agreement Protects You When Something Goes Wrong
Sometimes, things happen that are outside of our control as digital marketing freelancers. You deliver your client analysis, and they decide to cancel your contract. Or they don't want to continue forward. If this happens you want to make sure you're covered and will be paid for the work done. Or if you need to cancel the contract, you want to make sure you'll be paid as well.
Cancellation: This includes information of what would need to occur for a contract to be cancelled. What fees would need to be paid, and what are the other repercussions?
Dispute Resolution: The dispute resolution details what happens if something goes wrong during your contract and the steps that will be taken. This can include which the third party may be utilized for resolution or any additional processes pre-determined.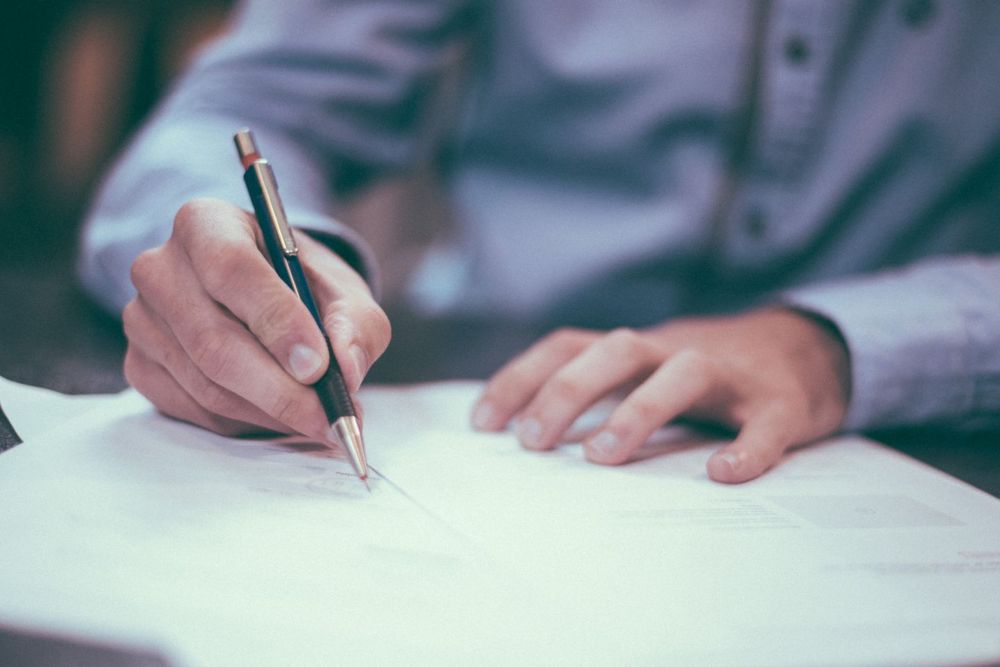 What do we do once the task is completed?
The last area we'll mention is renewals. You need to ensure that once a contract is completed there is a clear determination of what steps would take place to renew the contract, or if it is automatically renewed after a period of time.
Renewals: Renewals are the information that is outlined to determine what happens when a contract ends. If the contract is renewable and the processes for continuing forward with the existing contract.
How to Offer Digital Marketing Services with a Contract
If your client isn't providing the contract for review, there are a few things to consider when choosing a digital marketing contract template.
First of all, you need to ensure that you have the rights to use the contract and it's not previously copyrighted. We suggested going through a tool or service to download a contract to ensure that a larger organization has done the research and is backing the contract.
We provide a free contract template that you can customize based on your specific needs. To learn more about contracts, click here.
If you're interested in learning about virtual assistant contracts and graphic design contracts we've outlined all you need to know in the links provided.
Conclusion
Digital marketing agreements are one of the most essential documents you need as a freelance digital marketer. It's the only way that you can keep your business (and your work-life balance!) protected from clients. Above, we outlined the key information that needs to be in your contracts, including the scope of work, deliverables, information about your marketing services, timelines, intellectual property rights, the payment schedule, and your and your client's signature.
With Indy's Contracts tool, you can create contracts with just a couple of clicks. Just choose the contract template you need, fill in your personal details, and it's ready to send. All of Indy's templates have been legally vetted and are designed for independent workers, so you can have confidence that your work will be protected. See how Indy can help you manage your business, and get started today!
FAQ for Contract Digital Marketing
Q1: What Is a Digital Marketing Contract?
Digital marketing contracts are legally binding agreements between you and your client. They define the terms of your working relationship, including the scope of work, deliverables, timelines, the payment terms, limitations of liability, and other important clauses that keep you protected. Contracts are a necessity for freelancers, as it's the one way that you can ensure that you'll be safe from getting hit with a bunch of additional work or revisions that you didn't initially agree upon. Digital marketing agreements can even help you prevent late payments by requesting a direct deposit upfront and adding late fee penalties into your contracts. Contracts are also important for establishing who owns the work that will be produced. Clients may request that any work becomes their sole and exclusive property (they retain full rights). Or, you may request permission to use parts of your work in other projects.
Q2: How Long Is a Typical Digital Marketing Contract?
Contracts can vary in length depending on the scope and complexity of the project, or the size of the company you'll be working with. Typically, a contract is no longer than a page or two, but it's all in how specific you want to be with the clauses you use. Indy's Contracts tool takes the guesswork out of writing contracts and has every clause you need to ensure that your business will be covered.
Q3: Can a Digital Marketing Contract Be Modified or Amended?
Yes, but only if both parties agree on the change in terms. If you decide to request changes, be sure that your client agrees. Document the changes in writing and have it signed by both parties.
Q4: What Happens if a Digital Marketing Contract Is Breached?
If either party breaches the digital marketing agreement, the other party can seek legal action or damages. This is why it's important to have a resolution in your contract that details how any disputes will be resolved. any disputes.
Q5: Can a Digital Marketing Contract Be Terminated Early?
Yes, but only if both parties agree or if the digital marketing agreement has been breached by one of the parties. Every marketing contract template should have a termination agreement that details the process for termination, including specific reasons for when a contract can be terminated early.