Only 71% of freelance invoices are paid on time, and 29% are paid at least a day late. What's more shocking is female freelancers are 7% more likely to get paid late than male freelancers. While reasons for late invoice payments can vary from client to client, it boils down to an inefficient invoicing process.
Invoicing is one of the most critical skills you can develop as a freelancer to make sure you get paid on time. Here is a comprehensive guide to creating an invoice for freelance work.
Importance of invoices for freelancers
As a freelancer, billing your clients is an essential part of your work. It could be biweekly, monthly, or on a per-project basis.
One way to bill your clients is by simply asking them for the amount they owe you.
"Hey, John. I have completed and sent the designs you wanted me to create. You owe me $540. Please transfer the amount in two weeks."
Following this approach has two drawbacks:
It makes you look less professional.
It can lead to inconsistencies and confusion between you and your client.
For example, a client may claim that you have charged them for services you didn't offer or have calculated more hours than you worked. An invoice ensures that both parties are on the same page. You take some extra steps to avoid discrepancies, such as:
That said, let's look at some benefits of creating invoices for freelancers.
Proper invoices make you look professional by producing attractive and thorough paperwork clients expect.
Invoices help you get paid because they provide the details your clients need and can also supply payment options, such as bank transfers or credit card payments.
Invoices are a basic way to track and record your finances for better record-keeping.
Invoices are a part of almost every client's workflow. By creating and sending invoices in a timely manner, you make the workflow smoother for yourself as well as your client.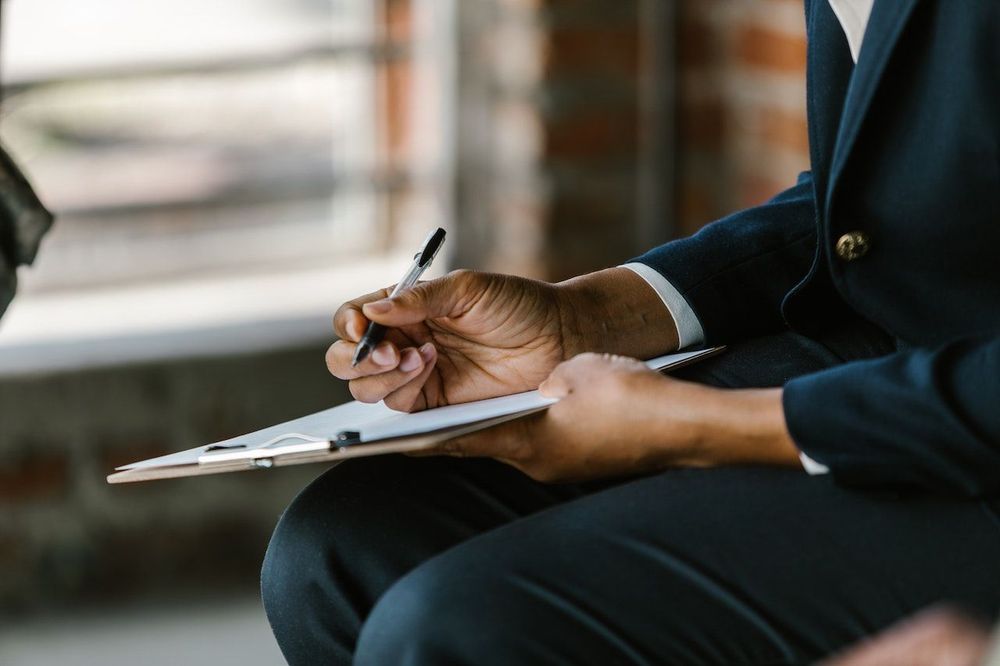 Things to include on your freelance invoice
The key to creating an effective invoice is to follow the right format. You can use a freelance invoice template to avoid any format-related confusion. Many customizable invoice templates are available for free.
That said, here are a few things every freelance invoice should include.
A header
Your invoice should begin with a professional header that comprises your business name and logo. If you don't have a logo and business name, you can include your personal name. Be sure to choose an appropriate font style and size so that the name is easily readable.
Contact information
The invoice should have your name and contact information. This includes your email, phone number, address, website, and any other information you deem important. Ideally, your information should be placed at the top right or left corner of the invoice, but it can vary depending on the free invoice template you use.
Client's information
Next, include your client's information. Mention the same details you included in your contact information: the client's name, email address, phone number, address, website, etc.
Invoice number
The invoice number is one of the most crucial elements of a freelance invoice as it acts as a unique identifier ID. If your client had to locate your invoice among dozens of other invoices, they would enter the invoice number in the database. Hence, include the invoice number on your invoice, and make sure it is big and clear.
Also, it's a good practice to have your invoice numbers in a sequential order to avoid confusion. For example, you can start all your invoices with "1000." Your first invoice number can be "10001," the second can be "10002." and so on.
Dates
Another critical component of a professional invoice is the dates. An invoice should mention the following dates:
Date Issued: The date on which the invoice was prepared
Due Date: The date by which the client needs to pay the invoice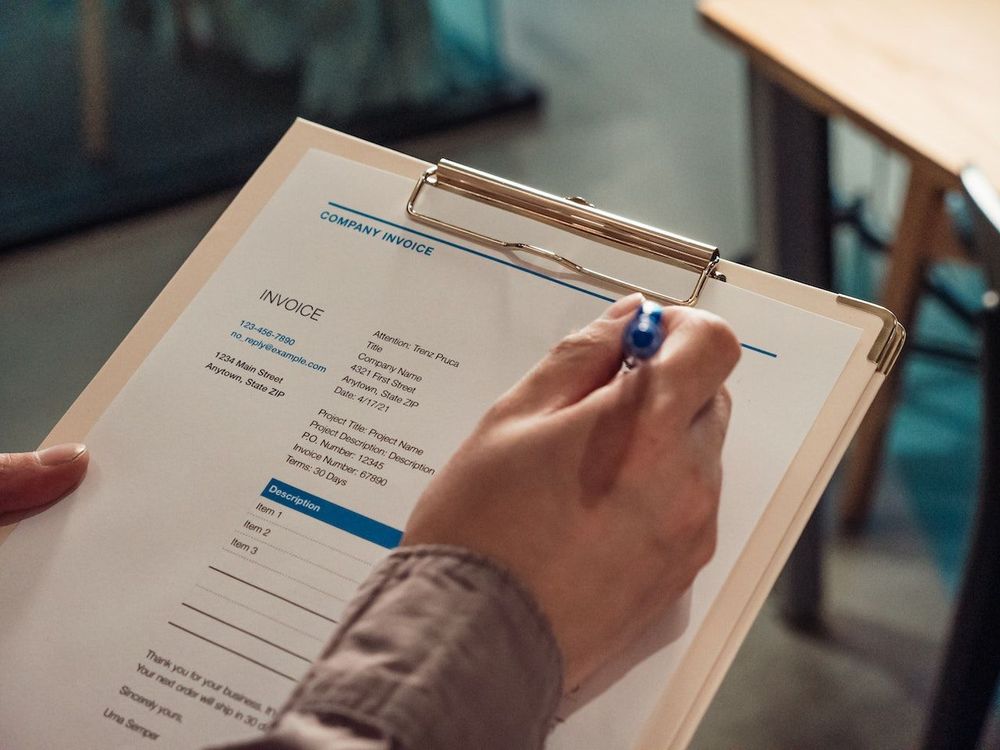 Breakdown of services rendered
Your invoice is an official representation of the services provided to the client. The invoice should break down all the services you offered, the amount charged for each service, and the total amount. This will make it easier for your client to digest what they are being billed for.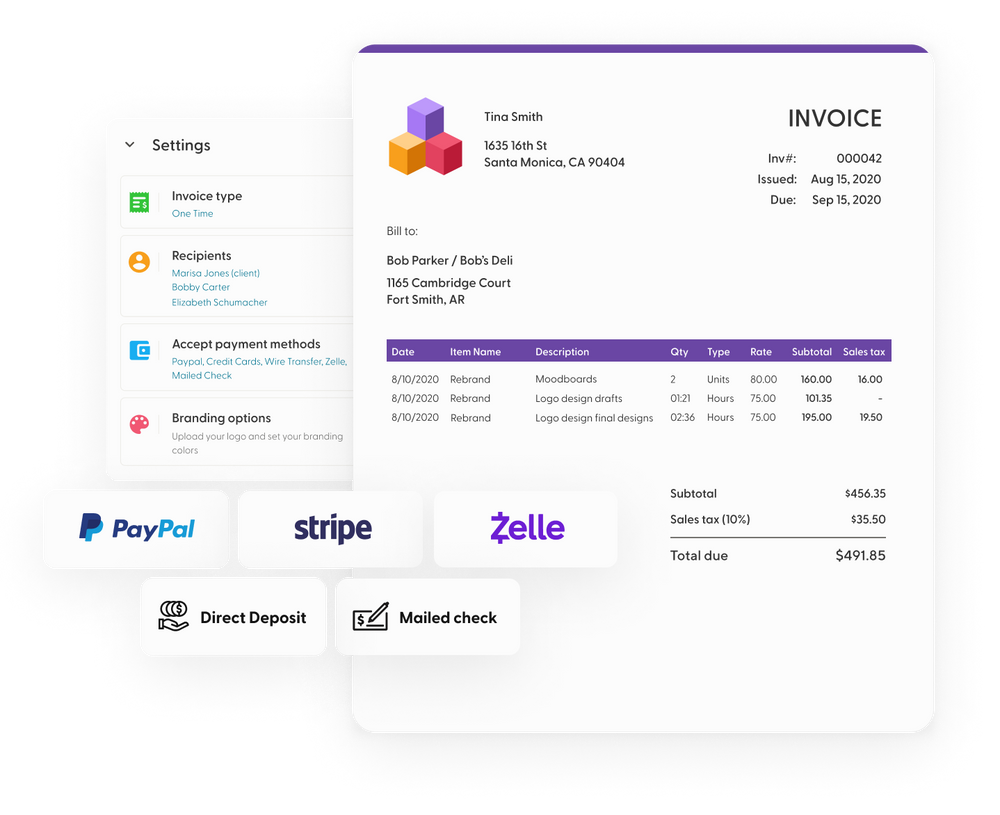 Wishing for an easier way to get paid?
You can bill your clients like a pro with Indy's Invoices tool. Add unbilled hours, autofill client details, and get paid easily with support for multiple payment methods.
Join Indy. Free Forever.
Payment options and terms
Finally, discuss the payment options you accept, such as cash, check, card, PayPal, Stripe, or other methods. Additionally, include all the payment terms and conditions. Will you charge a late fee if the client doesn't clear the invoice by the due date? If yes, then how much late fees will you charge? Do you provide any benefits for paying the invoice by a certain date? Be sure to clearly include all the payment terms.
Want to see how this looks in action? Check out the full breakdown in our YouTube tutorial!
Types of freelance invoices
There are numerous types of invoices that you might have to send to your clients. Let's discuss each invoice type, along with its purpose and when to send it.
Proforma invoice
A proforma invoice isn't an actual invoice, as it isn't a demand for payment from your clients. It works as a pre-invoice that mentions all the services you'll be providing, the price of each service, and payment terms. This is useful for projects with deposits, upfront material costs, and large budget projects. Global projects also use pro forma invoices to help prepare shipments for customs declarations. The pro forma invoice gives your client a clear view of how much the project will cost.
Interim invoice
You send an interim invoice, also known as a progress invoice, for incremental payments for large projects. Suppose you're working on a project that will take six months to complete, and the total amount you're charging is $1,200. Instead of sending a final invoice of $1,200 after six months, you can send monthly invoices of $200 every month.
Final invoice
You send a final invoice after completing a project. If you charge your clients per project and each project lasts for less than a month, you need to send a final invoice once you complete the project.
Recurring invoice
You can use a recurring invoice to charge your clients for ongoing services. Suppose you offer marketing services at a monthly price. You can use a recurring invoice to charge the same amount every month. All subscription-based businesses use recurring invoices.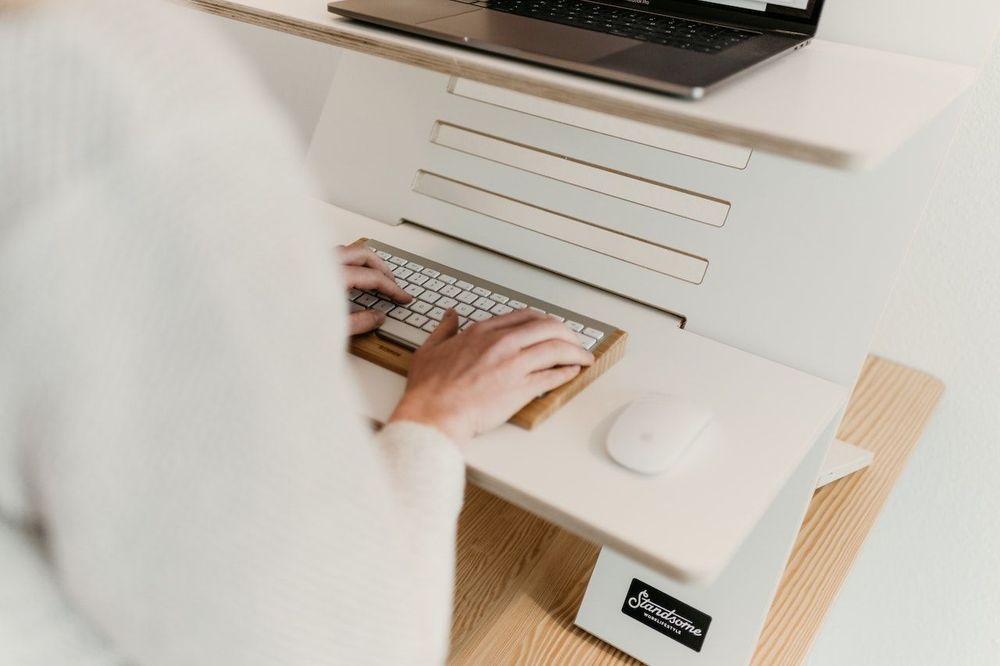 Past due invoice
A past due invoice acts as a reminder for a client who doesn't pay till the final due date. You could either send the same invoice with a revised final due date or create a new invoice and add the late fee.
Follow this detailed guide to invoice types for freelancers to learn about various types of invoices.
Essential invoice tips for freelancers
Having discussed the key elements of an invoice and its different types, let's delve into some important invoicing tips for freelancers.
Review your invoices before sending
Invoice errors are one of the biggest excuses for late payments. Make it a regular practice to send your invoice after thoroughly reviewing it. Check your invoice for any errors, ensuring that you aren't billing your client more or less than the actual amount. Also, run a grammar check to make your invoice looks professional.
Don't hesitate in sending invoices
Asking your client to pay can be difficult, but it is a hurdle you need to overcome. You have given your best and did what the client asked you to do, and it's your right to ask for what is rightfully yours. So, don't shy away from sending invoices.
Another important tip is to send your invoices instantly. Often, freelancers send invoices after a few weeks thinking that sending an invoice too soon would make them look pushy. Get rid of that approach and send an invoice to your client as soon as they confirm they are satisfied with the work.
Send professional looking invoices using tools and templates
Manually creating an invoice can be time-consuming, resource-intensive, and prone to errors. In fact, creating a manual invoice document can cost $15-18, which can cause profit leakage. You can make the invoicing process faster and more efficient by using an invoice template.
If you send multiple invoices every month to different clients, it can be difficult to create separate invoices and keep track of them. Here is where an invoicing solution like Indy's Invoicing Tool comes into play. These tools save you time and money by automating and streamlining the entire invoicing process.
Using professional tools can also help you avoid profit leakage by ensuring that there is no difference between the actual prices and prices on the invoice.
Don't be afraid to follow up
Let's face it. Some clients can be difficult when it comes to making payments. While some clients may have genuine reasons to pay late, others may delay it just because they didn't feel like paying on time. Freelancers should set up a follow-up schedule to increase the chances of getting paid.
Ideally, you should send a reminder 24 hours before the final due date. If the client doesn't pay by the due date, send a past due invoice immediately after the due date passes. Please note that being aggressive in invoicing may hurt your relationship with clients, but it's equally important to maintain a healthy cash flow.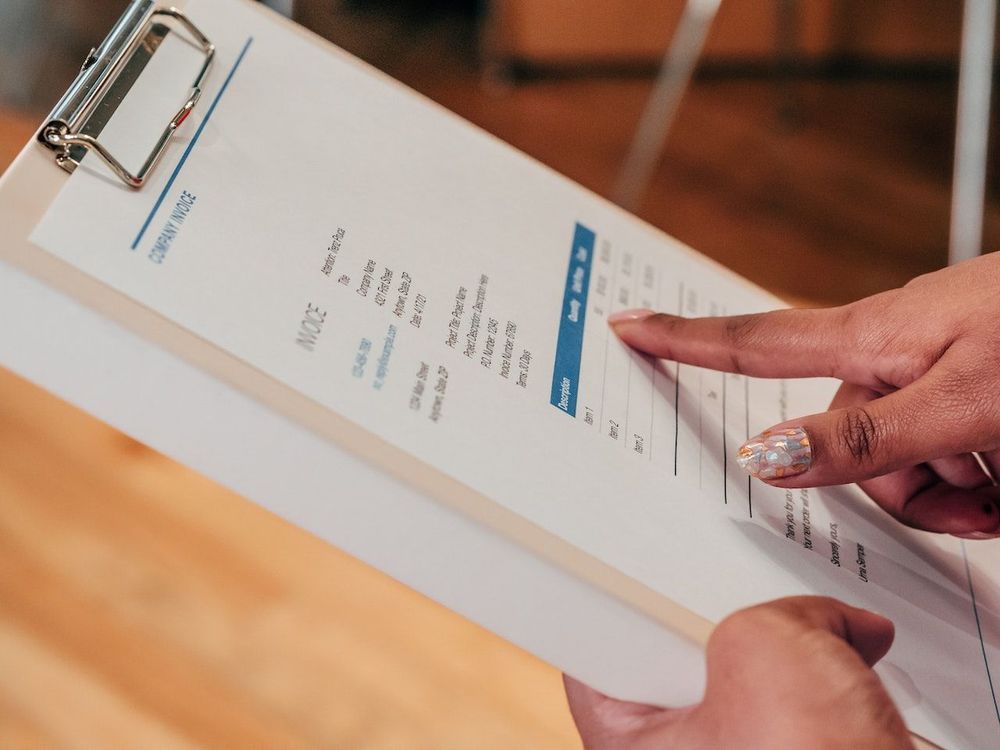 Offer multiple payment methods
Another common reason why clients don't pay is the lack of payment options. For example, if you only accept PayPal but your client doesn't use PayPal, it will affect the payment process. Ensure that you offer multiple payment methods, such as:
Credit/debit card
PayPal
Stripe
Bank transfer
Offer early payment incentives
There are many techniques to encourage your clients to pay you on time. The most effective of them is to offer early payment incentives. For example, you can offer a flat 10% discount on the total invoice amount or a discount on the next invoice if the client pays the invoice before a certain date.
Additionally, don't refrain from charging late payment fees to further push your clients to pay on time. You can also set monthly payment schedules to allow the client to automate their invoice payments.
Wrapping Up
Creating invoices is a common aspect of freelancing, and it largely dictates how often your clients pay on time. When you send accurate, professional, and timely invoices, you are more likely to get paid without any delays. Freelancers can use free templates and invoicing tools to make their invoicing process more efficient and streamlined.
Indy's Invoices tool makes it easy. You can generate an invoice template with just a click, accept multiple payment methods (like PayPal and Stripe), and get notified as soon as a client views the invoice. Check out how Indy can streamline your business, and get started today!