Over 90% of employers believe onboarding experience is critical for new hires' success. Unfortunately, 88% of organizations don't have an effective onboarding process.
Conducting HR intake meetings and using recruitment intake forms help you offer the best onboarding experience. Intake forms enable you to research ahead, set clear expectations, and find the best candidates for a position.
Here's how you can improve your onboarding process with recruiting intake forms.
Importance of a Hassle-Free Onboarding Process
Hiring the best employees is one of the key responsibilities of a hiring manager. However, hiring the right candidate isn't enough. You need to offer a smooth onboarding experience to the employee. Here's why optimum onboarding is a critical element of the recruiting process.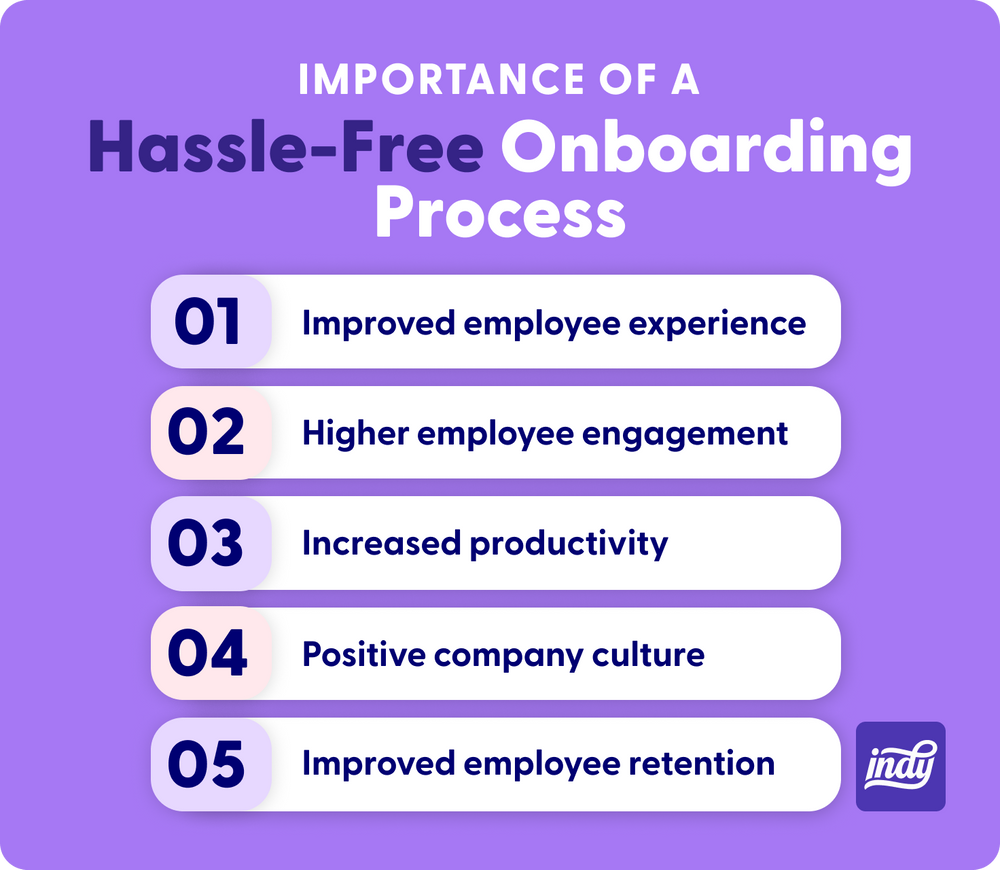 Improved Employee Experience: With new job openings emerging constantly, employees have several options to choose from. If you don't provide them with a great experience, they will be tempted to seek other opportunities. A seamless onboarding process is the first step in creating a fantastic employee experience.
Higher Employee Engagement: A good onboarding process directly correlates with employee engagement. Employees that receive better onboarding are highly likely to be more engaged and perform better.
Increased Productivity: The right onboarding process can increase employee productivity by over 70%. When you ensure smooth onboarding, employees will likely build a deeper bond with the organization, resulting in higher performance and productivity.
Positive Company Culture: HR managers must create a positive company culture. About 70% of companies that invest in employee onboarding notice a clear improvement in their corporate culture.
Improved Employee Retention: Improving your employee onboarding process can improve employee retention by a whopping 82%. Since retaining good talent is the top aim for most hiring managers, investing in employee onboarding can help you achieve that.
What Is a Recruiting Form?
Before delving into what an intake form is, let's talk about intake meetings. An intake meeting happens between the hiring manager and recruiters to discuss the position's title, requirements, candidate profile, salary range, nice-to-have skills, etc. Keeping your hiring manager involved in the hiring process helps you set expectations and find the perfect candidate.
A recruiting form, also known as an HR intake form, comprises a questionnaire provided by recruiters to the hiring manager to ensure they stay involved in the recruitment process. The answers to the questions enable recruiters to understand the hiring manager's needs and find the perfect candidates.
Why Should You Use Intake Forms for Hiring Managers?
Recruiters should give recruitment intake forms to hiring managers at the beginning of the recruitment intake meeting. These forms ensure that recruiters and hiring managers are on the same page, leading to a successful recruitment process.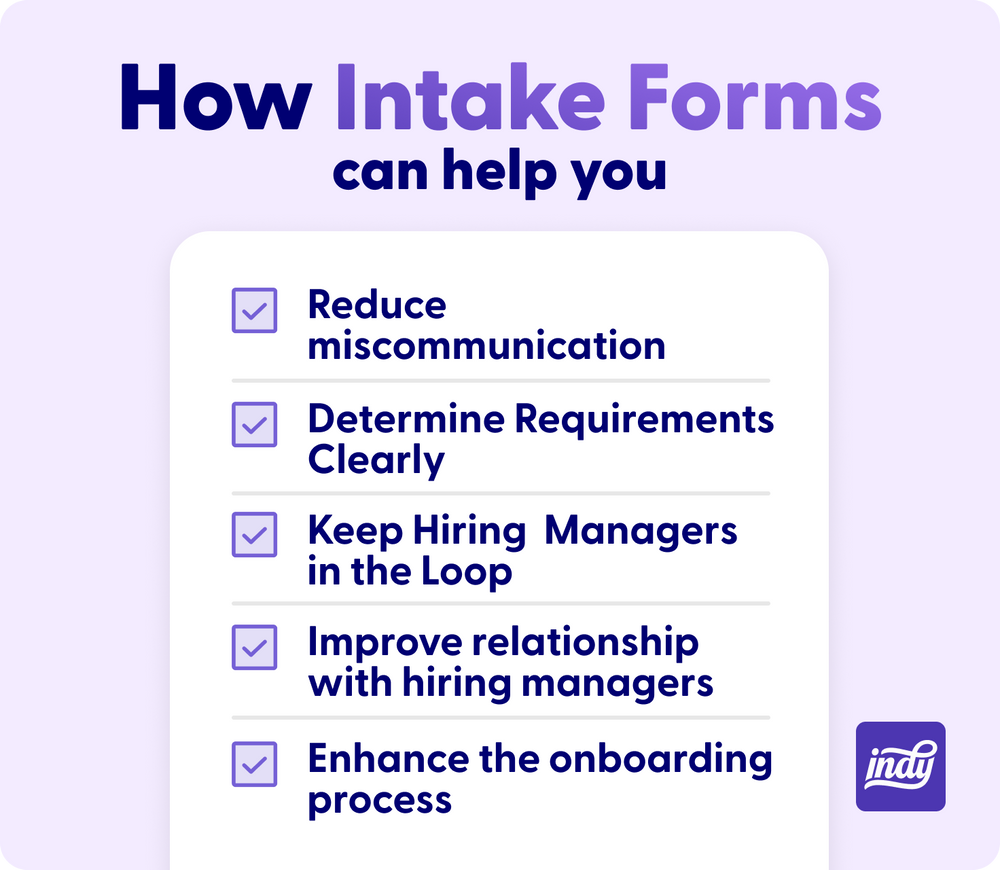 Reduce Miscommunication
Recruiters and hiring managers both play a vital role in the recruitment process. However, they must work together. A recruitment intake form ensures everyone is on the same page, thereby reducing miscommunication and back-and-forth emails, calls, and messages.
Determine Requirements Clearly
Hiring managers know exactly the type of candidate they need, including their skills, experience level, and qualities. They decide the criteria for selection and also the role of the new candidate after onboarding. Recruiters can use intake forms to determine the requirements for the new role. Hence, they can make the hiring process more streamlined and free of mistakes.
Keep Hiring Managers in the Loop
It's crucial to engage hiring managers in the recruitment process. Using recruitment intake forms and regularly conducting intake meetings enables you to keep the hiring team and manager in the loop. You can seek their assistance in preparing the job description, screening calls, interviewing candidates, and more.
Improve Relationship with Hiring Managers
A transparent and robust relationship between recruiters and hiring managers paves the way for a successful hiring process. Recruitment intake forms and meetings boost the relationship between the two parties and improve the overall recruiting process.
Enhance the Onboarding Process
Above all, a streamlined HR intake process helps organizations enhance the employee onboarding process. When employees get a great onboarding experience, they tend to stay engaged and stick with the company for a long time, which positively impacts the bottom line.
How to Create a Recruitment Intake Meeting Form?
You can create a recruitment intake form the same way you make all other forms. Word processors like MS Word and Google Docs have templates for forms. You can use a downloadable template to create a form of your choice.
Many form builder tools like Google Forms and WPForms also allow you to make fillable forms without coding. However, these tools lack customization capabilities. If you want to create forms that stand out and align with your objectives, use tools like Indy.
Indy is a small business management tool that lets you create different types of forms using customizable templates.
Essential Elements on an Intake Form
Unlike other intake forms like client and project intake forms, a recruitment intake form is for internal teams. Hence, you shouldn't bother keeping the form short and to the point. Not that your form should be redundant and unnecessarily lengthy, but it should get answers to all the questions you have for the hiring manager. Let's discuss some questions you should have in your recruitment intake form.
What's the position or job title you are hiring for?
What are the key responsibilities of the new hire?
What contributions do you want the new hire to make in their first 90 or 120 days of joining?
What are the minimum qualifications the new candidate should have?
What is the minimum industry experience the new candidate should have?
What are the essential, should-have, and nice-to-have skills in the new candidate?
What tools, software, programming languages, etc., should the new hire be proficient in?
What are the hiring deal breakers?
What is the salary range for this role?
What is the working schedule for this role?
When do you want the new candidate to join?
What will be the career path for this position?
Conclusion
As a recruiter, you must ensure a seamless onboarding process for each employee, which boils down to collaborating with the hiring manager to set clear eligibility criteria and conduct interviews with the right applicants. Using recruiting intake forms at the beginning of HR intake meetings can help recruiters keep hiring managers in the loop and ensure maximum hiring efficiency.
Frequently Asked Questions
What does intake mean in recruitment?
An intake or an intake meeting is a discussion session between recruiters and the hiring manager to discuss the new position's title, eligibility criteria, ideal candidate profile, salary range, experience, and more. It's usually the first step in the recruitment process.
What do recruiters ask hiring managers?
In HR intake meetings, recruiters ask hiring managers about the type of candidate they want to hire for an open position. The questions revolve around the qualification, skills, and experience of the candidates. The questionnaire helps recruiters learn about the exact requirements of the hiring manager.