Microsoft Project has been used on thousands of projects by some of the world's largest companies. But if you're a freelancer, it may feel too complex for your needs. Thankfully, it is easy to find a project management tool that will replace Microsoft Project. Many of these alternatives are cheaper, easy to use, and better suited for freelance work.
Want to know more? Let's get started.
What is Microsoft Project?
As you've already worked out, Microsoft Project is a project management tool created by Microsoft way back in the 1980s. It was the only option in the industry in its early years and a leader in the market for a while.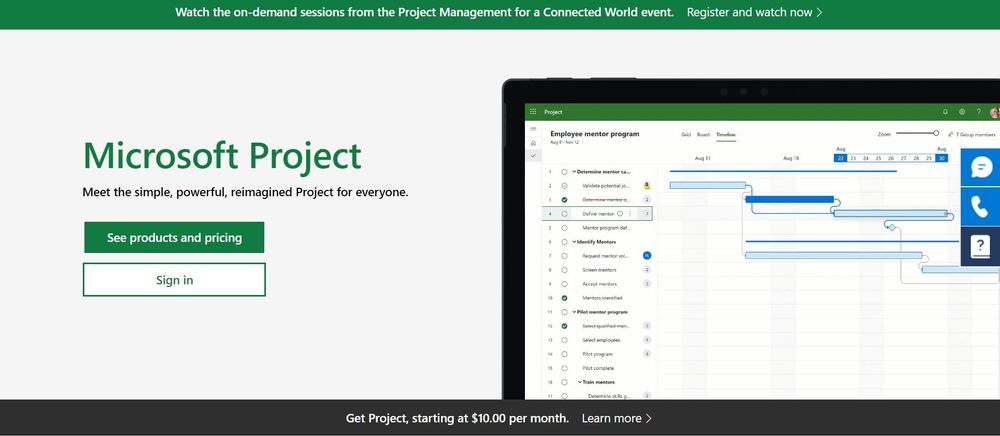 Recently, Microsoft Project alternatives have grown, and the oldest project management tool faces very tough competition.
However, there are still great features in Microsoft Project. You can read our full Microsoft Project review to learn more.
Dynamic scheduling
Project planning is simplified with the help of dynamic scheduling, which takes into account variables like the required time and manpower, the total length of the project, and the number of people working on it.
Business Intelligence visualization
Using Power BI* visualization, you can build dynamic dashboards to track the general health of your projects and programs and dive into their specifics.
Custom interface design
Create customized web and mobile applications with little effort. All on a scalable, secure platform based on Azure, the corporate cloud of choice throughout the globe.
Why you might want a Microsoft Project alternative
Even if it has its flaws, Microsoft Project may serve as a useful tool for project planning and management. Users of Microsoft Project are looking for substitutes for a variety of reasons. Fortunately, Microsoft Project isn't the only project management system available; there are plenty of others. These will follow after we've discussed the most common complaints about Microsoft Project.
Hard to learn: Microsoft Project's complicated UI isn't for beginners. If you have a project management degree, excellent, but the rest of us will require a lot of practice and education.
No integrated team communication: Microsoft Project fails to meet expectations in the area of team communication. You'll need to use one of Microsoft's other messaging apps like Teams, Outlook, or Skype if you want to quickly contact your team members.
Few integrations: Microsoft Project is compatible with other Microsoft programs, but not with many other third-party applications. Therefore, you may get dissatisfied and seek Microsoft Project substitutes if you need to connect with Salesforce, Slack, or any other apps.
Pricing: Microsoft Project has a hefty price tag, which might be tough to fit into a freelancer's software budget. Thankfully, there are low-cost and even free alternatives to Microsoft Project available.
Proprietary file formats: Microsoft Project makes it difficult to share information amongst team members who don't use this software. Microsoft Project files are .mpp, which is only used by this program. Apple users or other project management tools might struggle to share files.
For all these reasons, people look for Microsoft Project alternatives. Now, let's take a look at the best ones for freelancers.
Top 10 Microsoft Project alternatives
Now, we're going to show you 10 alternatives to Microsoft Project. We've included a quick list here so you can jump ahead if you want.
Indy
ClickUp
Monday
Smartsheet
Wrike
Bitrix24
Zenkit
Asana
Trello
Merlin
1. Indy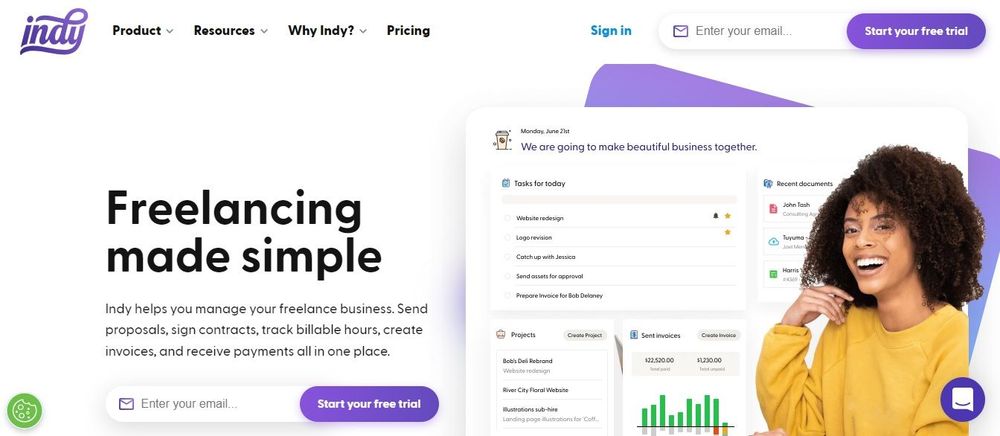 Indy is a comprehensive project management platform designed for freelancers. It features an easy-to-use interface, clear task management, integrated time tracking, and the ability to fully manage your independent business from proposal to invoicing.
Here are some of Indy's key features:
Proposal and contract management: Indy comes with proposal and contract management tools built into the platform. Freelancers can kick off projects with ready-made templates that make it easy to create and send contracts and proposals to clients in minutes. Signatures can be tracked easily with the integrated e-signature function.
Comprehensive project management for freelancers: Indy comes with a project management module that integrates with a few other key functions to make projects run smoothly. You can chat with customers using the lightweight CRM tool, manage tasks with boards and to-do lists, keep track of time, store and share files, and use an intuitive calendar app to schedule meetings and monitor everything that's due.
Invoices and forms to finish projects: Getting paid and receiving feedback are key project management features freelancers need. Indy has an integrated invoice tool that can turn time-tracked hours into an invoice with just a couple of clicks. This makes getting paid faster. Once it's all done, create and send a feedback form to grow your customer success stories.
With Indy's Free plan, you can use all basic tools as much as you want each month, free forever. For unlimited access to more advanced features, you can sign up for Indy Pro for just $9/month when billed annually.
2. ClickUp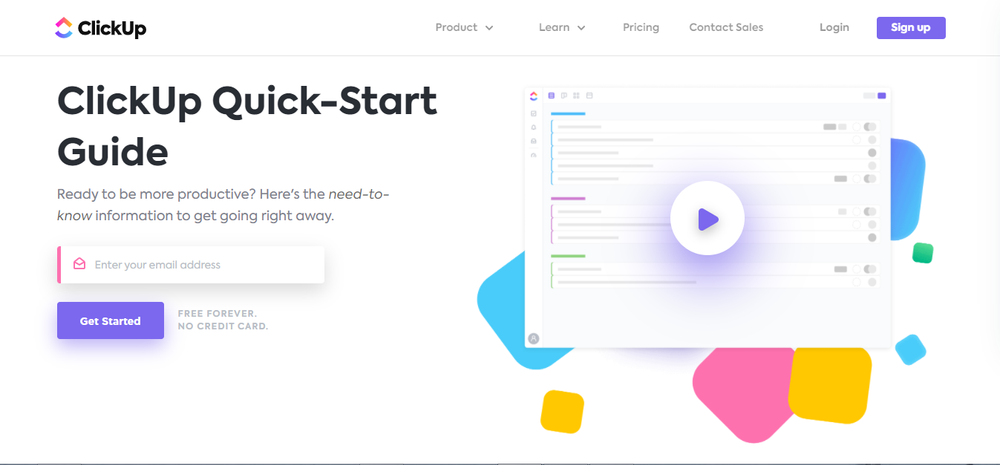 ClickUp is one of the more recent entrants into the market for project management software because it was established in 2018. In a short period of time, it has become one of the most adaptable and user-friendly solutions for managing work, with weekly upgrades and new features being added to it.
To put it more simply, ClickUp gives customers access to free software that manages projects comprehensively. It has an intuitive user interface and provides you with all the tools you want to efficiently plan, manage, and collaborate on projects. You may sync nearly any app with ClickUp since it has over 1,000 native and third-party connections.
Here are some of its key features:
Everything view - In Everything view, you may see all of your Spaces and Lists' tasks at once.
Spaces, folders, lists - Create a visual structure of your work by separating teams and departments into Spaces, organizing large projects and initiatives into Folders, and breaking down individual tasks into Lists.
Automation - Use over fifty different actions, triggers, and conditions to fully automate your mundane tasks and procedures. Make use of already-created automation recipes, or tweak them to better suit your requirements.
Freelancers can use ClickUp's generous free plan. However, if your independent business is rapidly growing, then the lower pricing tiers are affordable for a small team, starting at just $5 per team member per month.
3. Monday.com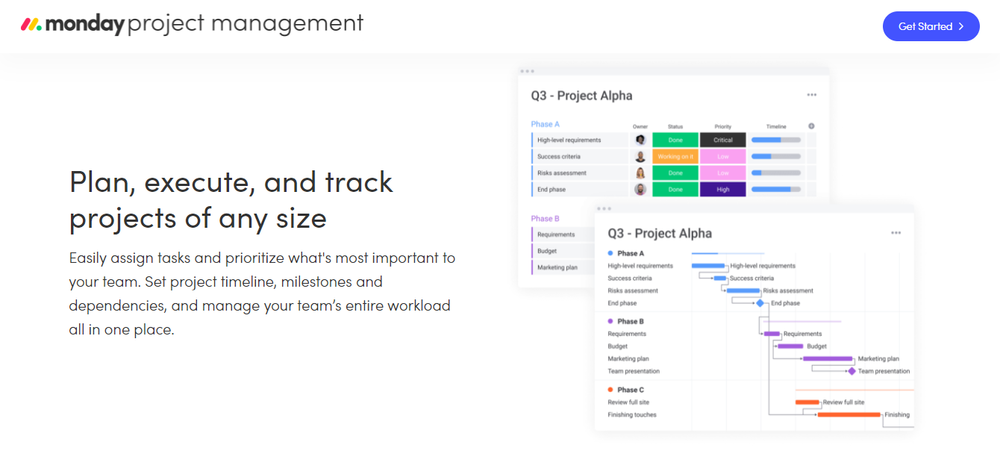 This software is a wonderful Microsoft Project alternative since it works like a spreadsheet, but without formulae. It provides more than a simple spreadsheet by showing your projects as spreadsheets, lists, maps, and Kanban boards. Users may post files, remark, and mention colleagues.
Here are some of Monday.com's key features:
Scalable planning in one place: Assign and prioritize tasks. Manage project schedules, milestones, and dependencies in one location.
Seamless collaboration: Work together smoothly across teams and departments to see how your work is coming along. Keep everyone on the same platform that they like to use to make sure things run more smoothly.
Customizable workflows: One project can be run in many different ways. Make your workflow work for your team, no matter the project, process, customer, or department.
Monday.com offers a free forever plan and several pricing options for the more advanced features. These range from $7-$14 per month.
4. Smartsheet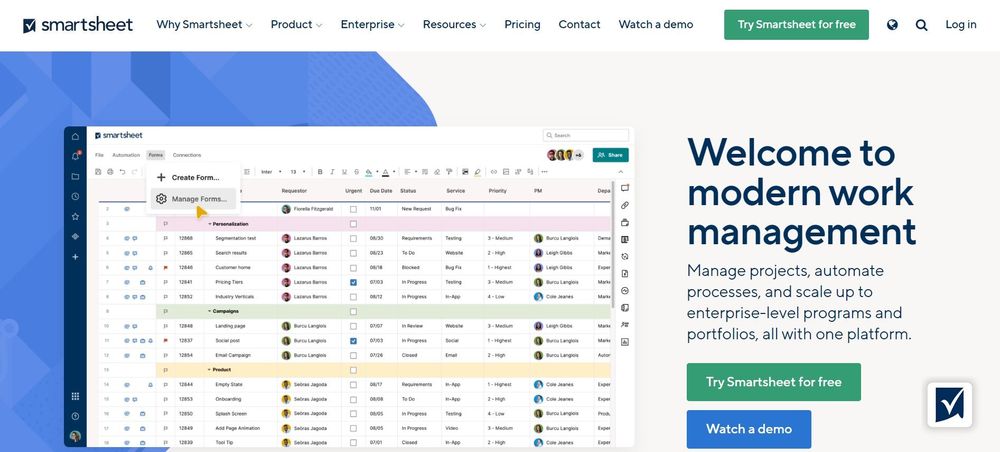 Smartsheet lets you manage projects, grids, calendars, dashboards, portals, forms, and more. They offer configurable fonts, colors, "% Complete" and "Assigned To" columns, and more. It provides process automation and Gantt, calendar, and card views. The platform delivers shared views, detailed histories, activity logs, automatic notifications, reminders, and status reports to keep everyone aligned and informed.
Here are Smartsheet's key features:
Customizable: Smartsheet delivers configurable views, processes, reports, and dashboards to monitor plans, resources, and timelines.
Integrations: Connecting data and processes across platforms is a strength of Smartsheet that may help you collaborate and make better decisions across your whole technology stack.
Collaborative: Make it simple for people to work together as a team, no matter the task or location, whether they're within or outside of your business.
Smartsheet is a dynamic solution because of its customizability and integrations. These make it suitable for complex projects as well as smaller work plans.
Smartsheet has a free trial, but their normal plans are $7 or $25 per user per month.
5. Wrike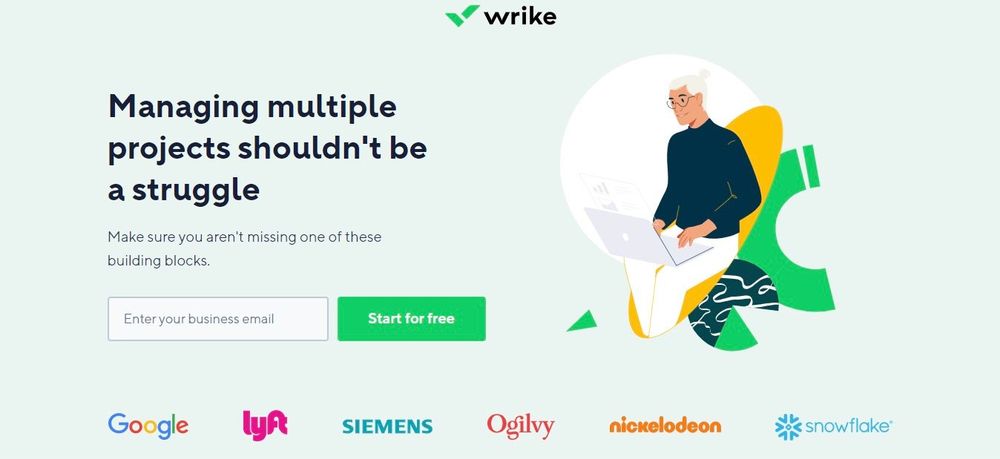 Wrike is an enterprise-grade system that provides a comprehensive range of project management capabilities while being easy to use, scalable, and customizable. Workflows, dashboards, reports, request forms, and other tools may all be altered to fit the needs of teams of any size.
Here are Wrike's key features:
Dynamic Gantt charts: Use Gantt charts to get the big picture of your projects. Use a simple drag-and-drop UI to set up dependencies.
Kanban boards: Agile teams may now go through each phase with the help of collaborative Kanban boards. Schedule your work accordingly.
Effective templates: Accelerate tasks like event management, product delivery, and team onboarding with the help of Wrike's pre-built workflows.
Wrike is a powerful platform. Its customizable charts and templates make many aspects of managing projects much easier.
Wrike also has a free trial. After the trial period, prices start at $9.80 per user per month.
6. Bitrix24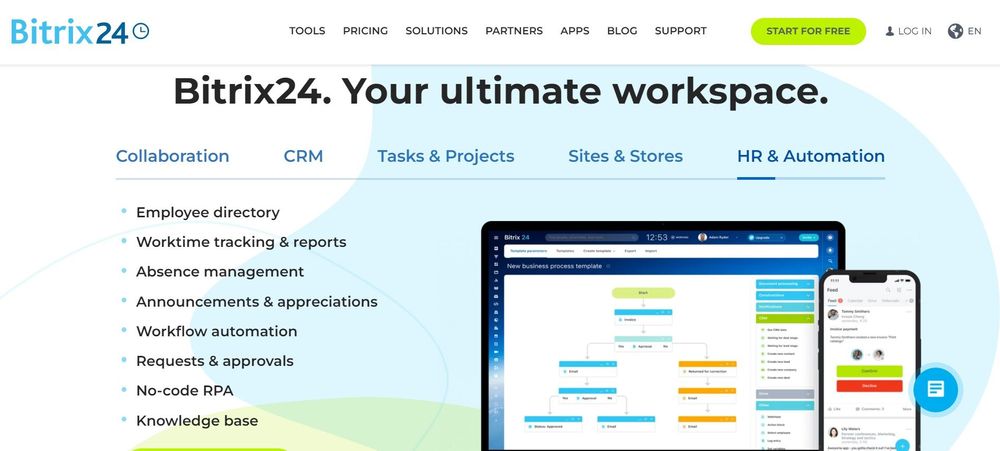 If you're looking for free project management alternatives, you might be interested in Bitrix24. It is optimized for social engagement between you and the other members of your team. The primary function of the program is to create workgroups and a centralized news feed for the purpose of information sharing among the members of the team.
Here are the key features of Bitrix24:
Activity stream: Workflow updates and modifications are tracked in an interactive activity stream.
Collaboration: Team members may communicate with one another about a current project or activity by using the chat function inside the activity stream.
Workgroups: Team members may use workgroups to discuss project goals, organize their work, and keep tabs on their progress.
Boards: Flexible Kanban boards for tracking progress and displaying data graphically.
Bitrix24 is a great option for working together on specific tasks and collaborating closely with your clients.
Pricing starts with a free forever package. After that, annual plans cost about $7 per user per month.
7. Zenkit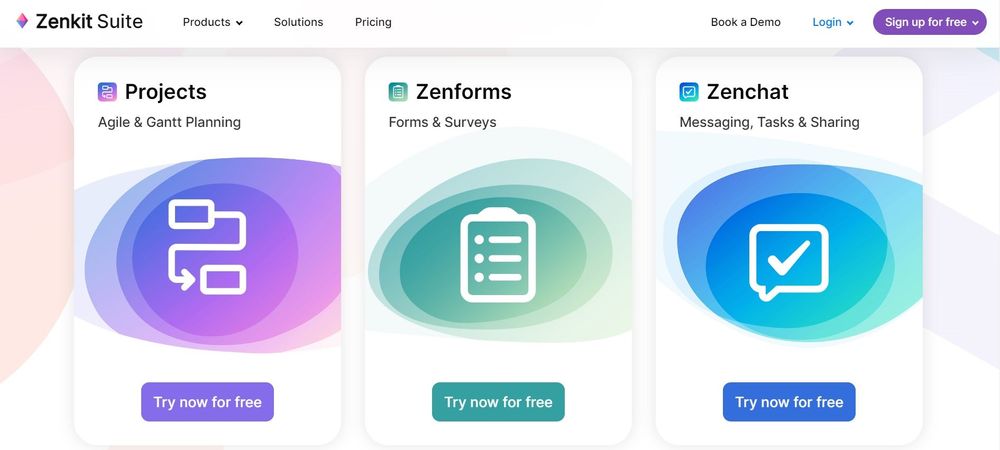 Another free, user-friendly, and task-management-friendly alternative to Microsoft Project is Zenkit. The program has a variety of features you may use to accomplish goals. Zenkit provides a wide variety of services for businesses, including project management, customer relationship management (CRM), support, and more.
Here are Zenkit's key features:
Plan schedules: Prioritized schedule creation and maintenance with user input.
Inboxes: Email inboxes for teams to use for systematic task management and update reporting.
Lists: To-do lists tailored to your specific requirements, so you never lose sight of what needs doing.
Multiple views: Kanban, lists, and calendars are only a few of the many perspectives for managing work.
Assign labels: Labels for each job that indicate its importance and completion.
Get feedback: Use in-task comments to get consistent feedback from the team.
Zenkit is great for those who want to customize every part of their experience. Integration with Zapier also provides excellent automation opportunities.
There is a free Zenkit Projects plan available. The full plan is much less limited than the free plan and starts at $9 per user.
8. Asana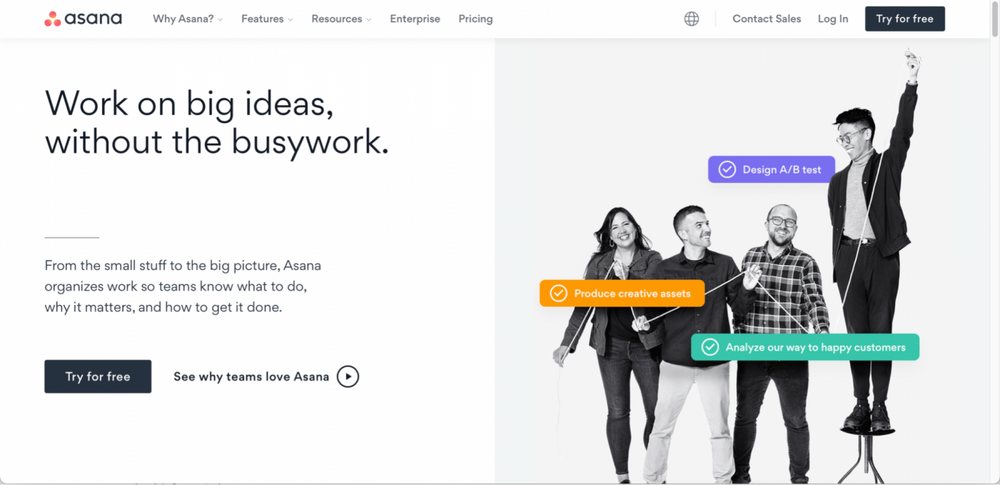 Asana is a web-based program that may be used to organize and keep track of tasks, projects, and other obligations that are associated with a team. It is useful for organizations of any size or complexity to coordinate their activities and maintain control over the various moving components of their situation via the use of this tool. Users have the ability to create their own customized workflows, views, and procedures. Asana is a platform for project management that makes it easier for teams to accomplish goals like completing work, growing their client base, increasing productivity and income, and developing better products.
Here are some of Asana's key features:
Boards: Use Asana's boards to quickly assess progress, pinpoint future actions, and maintain momentum.
Timeline: Create a plan that illustrates the interdependencies of your project's components and keeps you on track even when circumstances evolve using Timeline.
Universal reporting: Know where your team stands in terms of their work at any given moment. Evaluate how each project is coming along. Determine the source of the issue right away. And do it all in one convenient location to avoid losing momentum.
Forms: Forms allow you to easily create a standardized intake document. Facilitate others' job requests and collect the necessary information in advance.
Asana can facilitate multiple projects, team collaboration, and portfolio management.
Pricing starts at $10.99 per user if the free version is too limited.
9. Trello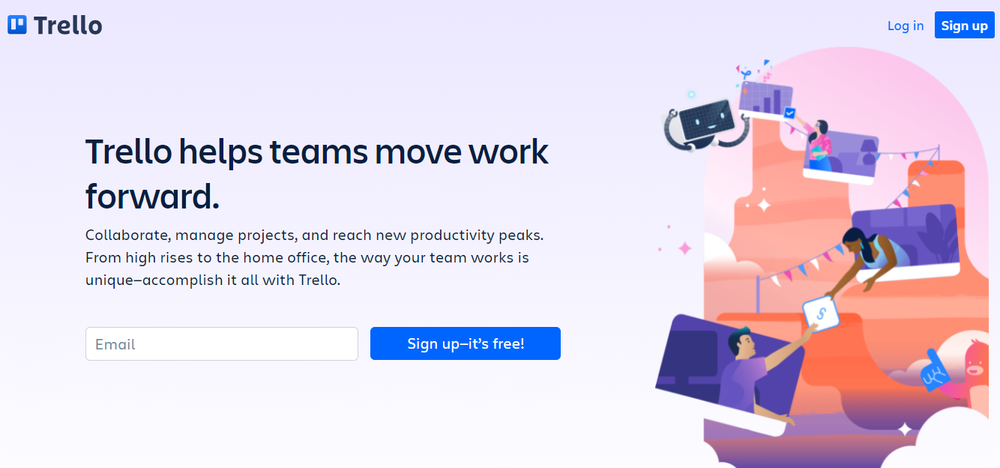 Trello is a great Microsoft Project alternative because of its easy-to-use Kanban board system. While it is a powerful tool, most people will be able to use all the features within a short time of learning the software. Moving tasks from one card to another makes it easy to see the critical path of a project and the project progress at a glance.
Here are the key features of Trello:
Boards: Boards are useful for organizing and keeping work on track in any endeavor. Everything from "to-do" lists to "oh yes, we did it!" can be added to boards.
Lists: Break down the steps involved in completing a project. You can add lists to boards with just a click.
Cards: Tasks are represented by cards, and each card may include all the relevant data required to complete the task successfully. Progress may be shown by shuffling cards between lists.
Integrations: Easily connect to the tools your team already uses, such as Slack, Dropbox, Outlook, Gmail, Salesforce, InVision, Jira, and a whole lot more. Using Power-Ups, you can transform Trello into a robust CRM, help desk, social media calendar, and more, depending on the specific processes you need to implement.
Trello is a great Microsoft Project alternative for freelancers because of its simplicity and visual project tracking. It is easy to log in, check your progress, and get started with the right task.
Trello has a free plan that might work great for freelancers. After this, the plans start at $5 per month with an emphasis on adding better reporting and tracking as the price increases.
10. Merlin Project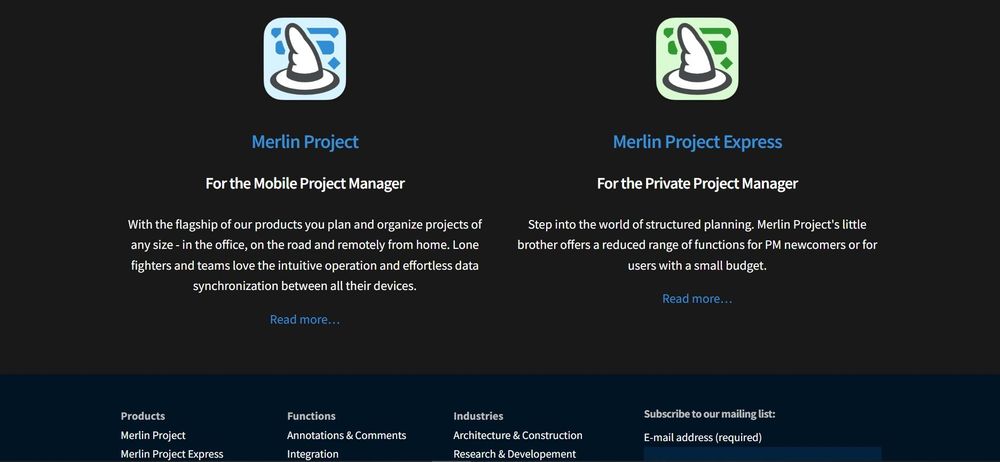 The most advanced professional program for managing projects available for OS X is called Merlin Project.
If you want to plan more involved projects on your Mac, a straightforward list of tasks won't get you very far. When you do good planning, you should ask yourself questions about the interdependencies of the activities, the effect of delays on the completion date of the project, and how to plan your budget.
These are the exact solutions that can be found for your projects inside Merlin Project, and they can be accessed with only a few clicks of the mouse..
Here are Merlin's key features:
Project preparation: With Merlin Project, you can establish task flows, set durations and dependencies, and define milestones. You'll be astonished at how rapidly a project plan forms.
Mind mapping: Brainstorm in a mental map. Branch out your ideas from your main theme. Merlin Project automatically updates the work breakdown display. Complex plans may be turned into exquisite mind maps with a few clicks.
Hybrid project management: Kanban simplifies project management. Add tasks to the left-hand column. Move them right as the project proceeds until they reach the Completed column. When you move between kanban and work breakdown, magic happens: auto-filling Gantt bars.
While Merlin is a solid tool, its greatest strength is simply its OS. There aren't many options for Apple users, and this one ticks all the right boxes.
Pricing starts at $4.99 for Merlin Project Express and goes up to $16.99 for the full Merlin Project experience.
Conclusion
Choosing one of these Microsoft Project alternatives isn't going to be easy. Here are a few suggestions to help you narrow down your options:
Try a few free Microsoft Project alternatives before committing yourself to a full subscription.
The best Microsoft Project alternative will probably be determined by your most common tasks. Jobs such as resource management, time tracking, and risk management may require more specialized options.
Be prepared to pay if you need more advanced project management features. The costs can be offset by the extra income from complex projects.
If you're working alone as a freelancer, many of these platforms have free plans with all the basic project management features you'll need. If you're working together with multiple team members, you may need a paid subscription.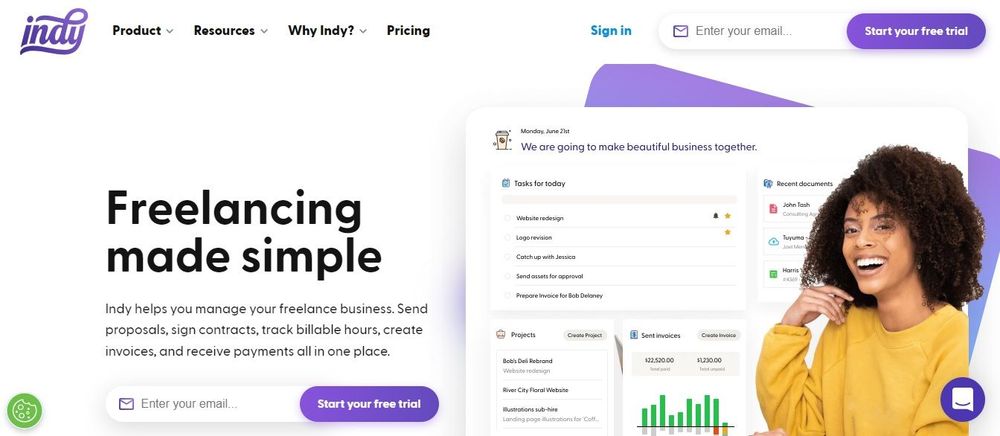 We may be a bit biased, but the best place to start is with a trial of Indy. This project management toolkit is built specifically for freelancers and has all the tools you need to manage your independent business from beginning to end. Get started today for free with an alternative that is designed for freelance work.