Clubhouse is the hottest new social app. While it's still invite-only and only available for iPhone, it's growing in popularity and is the perfect place to find your next freelance opportunity and grow your network.
What sets Clubhouse apart from other social media channels is that it is all audio-based. You can join chats, host chats, and participate wherever you are and however you are. Since Clubhouse focuses on conversations instead of produced content, it feels more casual than other social platforms. Instead of a heavily filtered Instagram photo or a perfectly crafted Twitter hot take, it's a free-flowing conversation. Many see it as a leveling of the playing field.
You can join the same chat as Mark Zuckerberg, Elon Musk, and a roster of high-profile names just as you can have chats with potential clients and connections. As a freelancer you might be wondering how you can use Clubhouse to further your career. While Twitter or LinkedIn are pretty straightforward when it comes to finding freelance jobs or connections, Clubhouse takes a little bit more savvy.
With some experience it can be the perfect place to find your next freelance opportunity, connect with others, gain notoriety in your field, and improve your knowledge.
However, there are also some downsides of Clubhouse, the strength of the room (the term for Clubhouse chats) relies on the moderators, and it can be a little chaotic. There have been reports of harassment and bullying, but as long as you find good meets and follow good accounts, you should stay in the clear.
The basics
Let's start with the basics. When setting up your Clubhouse, make sure to link it up with your other social apps and be certain that your bio contains relevant information. I'm a music journalist, so I make sure it's clear what I cover and that I'm available for work.
Your "hallway," similar to your feed on other apps, is specific to you. It's based on who you're following and the groups you're following. In the same way, your clubhouse-suggested chats and groups are based on who you're following, so it's important to follow the right people if you want to know the most relevant chats.
Search for any relevant groups: Freelance Writers & Creators do support chat every Sunday. Freelance Social Media Pros helps with running a business as a freelancer. Whether you're in tech or a creative, there's plenty of groups that can help with anything. It's easy to search for clubs that interest you and then find the people in those clubs you'd want to follow.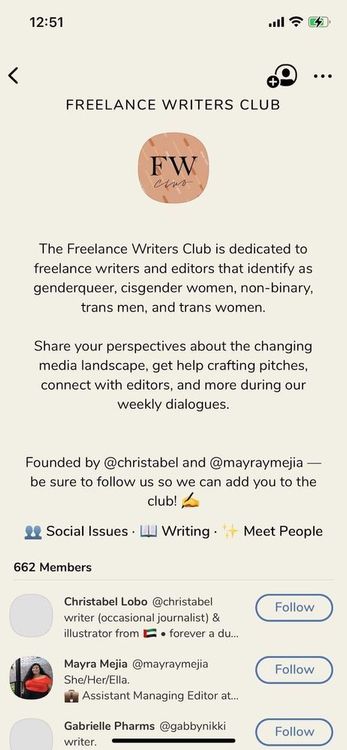 When you're in a chat, click on the bios of the moderators and see if they'd be a good connection. You never know who you'll find! Joining chats and interacting with moderators is the best way to build your connections. Clubhouse isn't the best place to share links to your work, it's all about learning and connecting.
Interacting in chats
A week ago, I listened to one of my favorite New York Times podcasts host a live session, and I was able to chat with my favorite editors, and now they follow me and invite me to their chats and ask me for my opinions. That's NOT something you can do in an email or a DM. Having that personal connection really solidifies a relationship.
You might be nervous to participate, but don't be! Just raise your hand to ask a question. You can find the icon at the bottom right of the screen and wait to get called on. Even just giving one solid piece of advice or asking a good question can get people interested in you. Don't overthink it! A huge benefit of Clubhouse at the moment is that it is still a relatively small social media. You are less likely to get lost in the shuffle like you might on Twitter or Instagram. Before you know it, Clubhouse might get really popular like those other social apps and you won't have the same opportunities to participate in these kinds of chats so take advantage while you can.
Hosting a chat
Don't be shy! Host a chat! There's no better way to prove your knowledge than hosting a chat. The best ones have multiple moderators, structure, and ask the audience for questions. I like to prepare any questions for my moderators ahead of time to ensure there aren't too many awkward pauses.
When it comes to picking a theme for your chat, think about what you would want to listen to and how you can add value to the conversation. You also want to choose something that will attract potential clients and build up that relationship.
Use your upcoming meets to invite potential clients, anyone you want to work with, to be moderators and share their advice. If you've always wanted to build a relationship with someone but couldn't find a way in, this is the perfect opportunity. Everyone on Clubhouse is still trying to figure it out, and they're looking for ways to expand their network. Being invited to moderate is an opportunity people will jump at right now.
Potential ways to use chats
Use chats to get feedback and gather resources for projects. It's so easy to get expert advice on anything you're working on since you never know who will pop into your meets. You can even collaborate with your peers and get a group chat started to get trusted feedback on a project.
Start your own club! Make it specific to your niche and establish a following, all based on your knowledge. Host a weekly chat around your topic and invite people to moderate and participate. It doesn't even need to be a lot of people, just two people is enough, and you can invite others to join as the conversation gets going.
Improve your skills
Clubhouse can basically double as a freelancing support system. The weekly chats can help with any snags you're facing, and you now have an entire network of freelancers you can ask for advice and help with your professional growth.
Clubhouse can basically double as a freelancing support system.
I've joined chats about writing comedy from The Onion, how to market a pop song from Scooter Braun, all the details on NFTs, even chats on mental health and self care that can be crucial if you've been stressed with your piling deadlines and facing pandemic burnout. Anything you can imagine, there's a chat about it.
Clubhouse is still fairly new, and we're all still figuring it out and how to use it to the best of our advantage, but jump on it now before it gets too oversaturated, or you might miss your next opportunity!
Interested in promoting your work? Create a free Indy profile today!