One of my all-time favorite tools to use as a writer - both professionally or personally is Write or Die. Write or Die is a tool that helps 'kindly motivate' you to keep writing non-stop. You're able to set goals for yourself both the number of words you want to write and the amount of time you want to write for.
For example, if I'm working on a 600-word article, I can set the tool to include the number of words I need to write. The tool is very simple and doesn't have any room for distraction. There's no formatting capabilities, different fonts, sizes, or other ways to procrastinate, simply the cursor, your words, and your progression towards the set goal.
Here's the kicker - by default it has a setting that if you stop typing for more than 12 seconds the screen slowly turns red on you and starts screeching. It's an unpleasant stimulation that gets you back to typing and is a reminder to get back to your goal - consistent writing. You're able to adjust the tool to have different consequences, such as having the tool erase your words if you stop typing for too long, or you can have the amount of time increase or decrease for when the consequence kicks in. It's a fantastic tool to try to get some words on paper.
Applications of the Tool
Many of my favorite writers talk about the power of a 'shitty first draft'. The shitty first draft is what you write out that no one is going to read. Tools like write or die encourage you to write your shitty first draft and give you permission to be bad. If you're just writing without stopping you're not focusing on whether it needs to be the best or not, all you're focusing on is keeping your metaphorical pen to the paper. For those of you who practice mindfulness, it's a great way to be present in the process of writing and in the moment.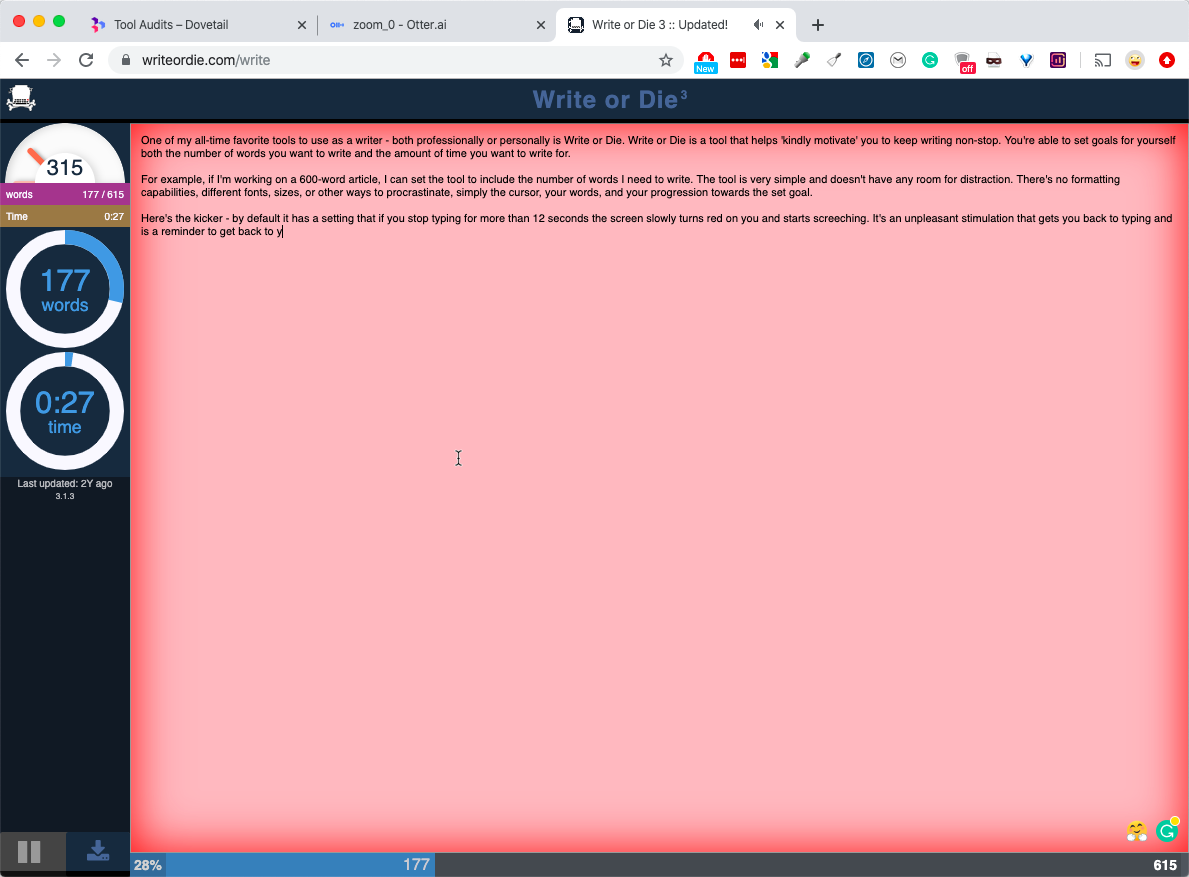 If you're writing for work that's going to be published, once you've completed your first draft, now's the time to move it out of the Write or Die tool and into the word processor of your choice. I will copy over my work and add it into google docs to edit, revise, and improve upon it. I have enough words on the paper, where oftentimes, the hardest part is over. From there, I'll publish it to it's new home - whether that's HubSpot, Medium, or other client publications.
The last part to mention is it's also a free tool on desktop and one you can try with low risk and high reward.
If you're looking for other ways to stay focused and productive check out our article How to Improve Your Focus at Work.