Delivering projects and jobs on time and within budget is the best way for freelancers to build a good reputation. While this is easy if you're working on one client or your first job, it's much more difficult if your work and time are spread across multiple projects. Once your business grows to this point, you need a project tracking system to keep everything moving smoothly.
There are loads of easy criticisms of freelancers. Here are a few:
Freelancers are unreliable and don't deliver work on time.
They don't communicate at all, or they talk too much.
No one knows they are overloaded until the freelancer burns out and ghosts the client.
One thing these all have in common is how easy they are to fix. As a freelancer, you need a project tracking tool to help you track projects. This will ensure you deliver on time, create status updates efficiently, and balance your own working schedule to avoid burnout.
We're going to show you what project tracking is, how you can use it to help your business, and some of the apps you can work with to make it easy.
Before we dive in, we want to save you some reading. If you need a way to organize tasks, communicate with clients, and improve your freelance admin work management, then check out Indy. Indy gives you a full digital toolkit for your freelance business for less money every month than two of your favorite pumpkin spice chai latte orders.
Now, let's get into project management and tracking.
What is project tracking?
The term "project tracking" refers to a technique used in project management for keeping tabs on the progress of specific work. To ensure that your project is completed on time and under budget, monitoring its progress is essential.
Staying up to date on a project's progress allows managers and stakeholders to see what tasks have been completed, what resources have been put toward their completion, and what the earned value of the project is thus far.
Project tracking tools and methods for managing projects are essential for keeping tabs on progress. A Gantt chart is a useful tool for this since it gives managers an overarching perspective of the project's tasks, individual workload, and milestones at any stage in the life of the project. Extra information on the project's deliverables, risks, and performance may be gathered and reported in status reports. The data collected in this manner can also be shared with the project's team and any other relevant parties.
Two fundamentals of excellent project management
Project management and tracking rely on two basic things: planning and tracking within constraints. Planning happens before the project begins and makes it possible to track progress. Without a plan, it is impossible to know if a project is progressing correctly. Tracking within constraints refers to keeping an eye on the boundaries of your project. It can't go over budget, be delivered late, or work on things outside its scope.
Let's take a quick look at these two things in more detail.
Use solid project planning to enable you to track progress
No one can track project progress properly if they don't know the goals of the work. Project tracking software is brilliant, but it is also a comparison. It compares the work done to the work that's supposed to be done. If there is no plan, then comparisons are meaningless.
So, what goes into a good project plan?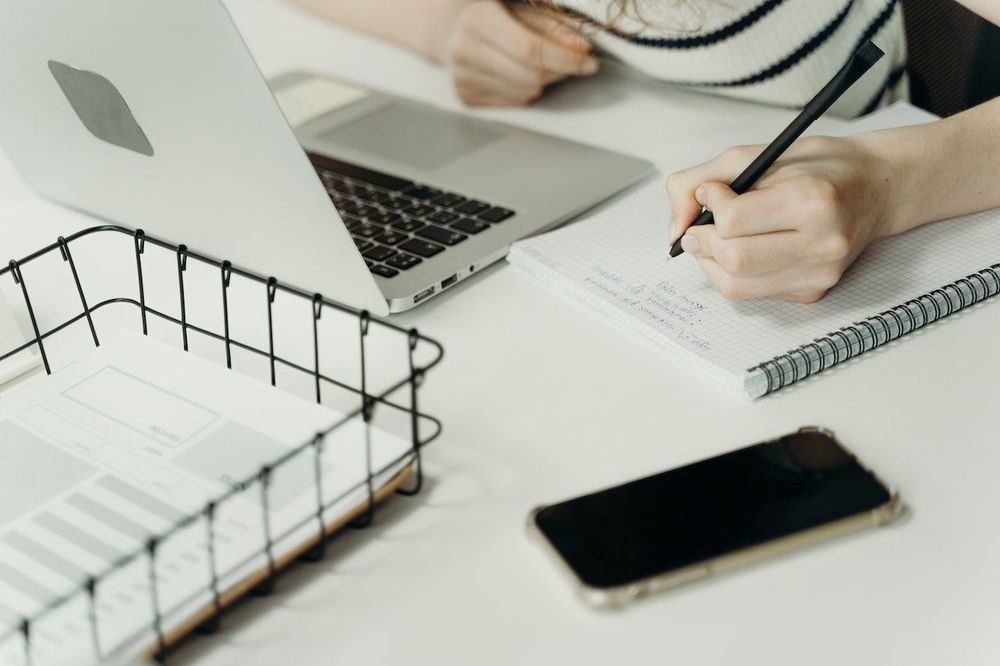 Set goals and means of measuring success
The first step in writing a project plan is to describe what your project is, including its goals, specifications, and objectives.
Making the effort to clarify the scope of your project is crucial. This will help make sure that the rest of your project plan moves your project in the direction you want it to go. But it's just as important to decide what metrics you'll use to make sure you're on track.
Clarifying what your project is, what its overall goal is, and how you'll evaluate its progress sets the stage for the rest of your project plan, so make sure you take the time to define each of these things from the start.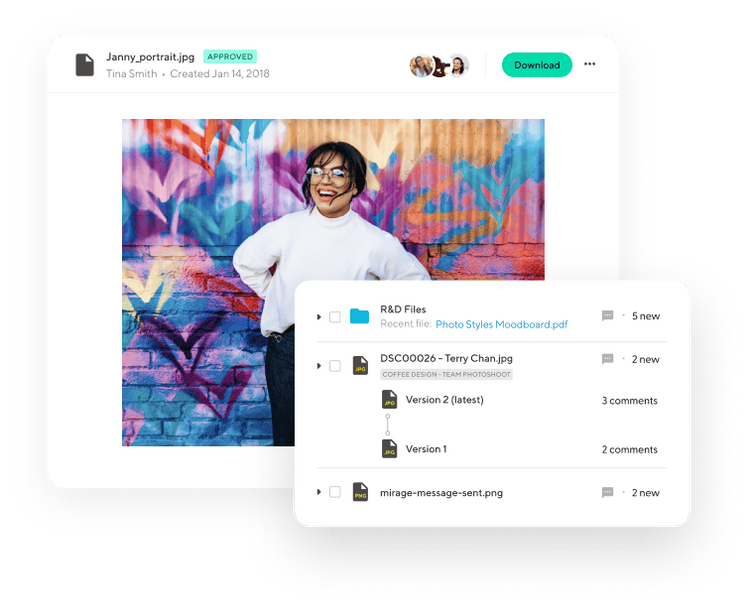 Want to look more professional in your work?
Use Indy's full set of freelance tools to make your proposals, contracts, invoices, and projects look and work more professional.
Join Indy. Free Forever.
Identify the most important stakeholders
After defining the project's goals, objectives, and measurements, the next step is to determine who will be crucial in seeing the project through to completion.
It's not enough to just know who needs to be engaged in the project; you must also consider how they need to be involved and to what degree.
It's common practice to divide the people who have a vested interest in the project into categories based on their roles and responsibilities, such as the decision-makers, managers, and creatives who will be working on the campaign's deliverables.
Determining who must be engaged in the project and how they will be involved sets the stage for the remainder of the project plan development process (this is especially true for task management).
Clarify your deliverables
Identifying the reason for your project is the first stage in developing a strategy. However, identifying a project's purpose is more abstract. To ensure that your project succeeds (and that you accomplish your goals), you must go beyond the abstract and into the concrete.
If you want your project to be successful, you need to make a list of all the things it will have to do, or deliverables.
Before going on to the next stage, you must define the tangible objects you need your project to produce. This will allow you to imagine the tasks that will be required to make those objectives a reality.
Make a task list
When you have clearly defined the objectives for your project, the next step is to break those deliverables down into actionable tasks, which you can then delegate to the members of your team.
After you have broken down all of your deliverables into tasks that are more manageable and can be assigned, the next step is to pay attention to the ways in which each of those activities interacts with the others. This will allow you to plan, allocate, and add deadlines in a manner that is appropriate.
Assign your tasks and set deadlines
Assigning tasks to team members and specifying due dates is the next step after creating a comprehensive list of to-dos.
You need to keep the project moving ahead at a consistent rate, but you also need to keep your workers enthusiastic and engaged with their work. When creating your project plan, it is important to establish timelines for activities and deliverables that are both reasonable and doable. Prioritize deadlines that cannot be moved and consider work dependencies. Include checkpoints or milestones so you can track your development and appreciate your accomplishments.
Assuming you've done a good job of outlining your duties and setting reasonable timelines, you should now have a good idea of how your project will come together, and you may consider the first draft complete.
Request feedback and prepare for adjustments
Share the plan with your project team and the people who are most important to the project. Ask for feedback so you can make changes and improvements.
After you get feedback from your team and make any changes that are needed based on that feedback, your project plan is done.
But as your project goes on, things may shift or emerge, so it's essential to be adaptable and consider alterations and modifications whenever necessary.
Prepare to modify your plan as you learn more, as your needs and deadlines change, and as you get feedback and learn from your mistakes. By using your project plan to guide your work and keep track of your progress, you'll be able to make tweaks to tasks and deadlines as the project goes on.
That's how you create a project plan. But keeping a project on track also relates to three big boundaries.
Manage projects within the three major project constraints
Project tracking is all about keeping a project within its fundamental boundaries. These are time, money, and scope. Projects that are late, too expensive, and irrelevant are ultimately unsuccessful. That's why a project manager monitors progress on these three things.
Let's quickly define each one and then move on.
Project timelines
Every project has a deadline. This might come from the client or management, or it might simply be the amount of time you can devote to getting it done. Be clear about the deadline right from the beginning. Then, add specific milestones to your project timeline, so you know if you are making the right progress.
Budget
Every project also has a budget. There is an amount of money the client can spend or is willing to pay you to get the work done. Effective project management keeps you within budget, and everyone stays happy.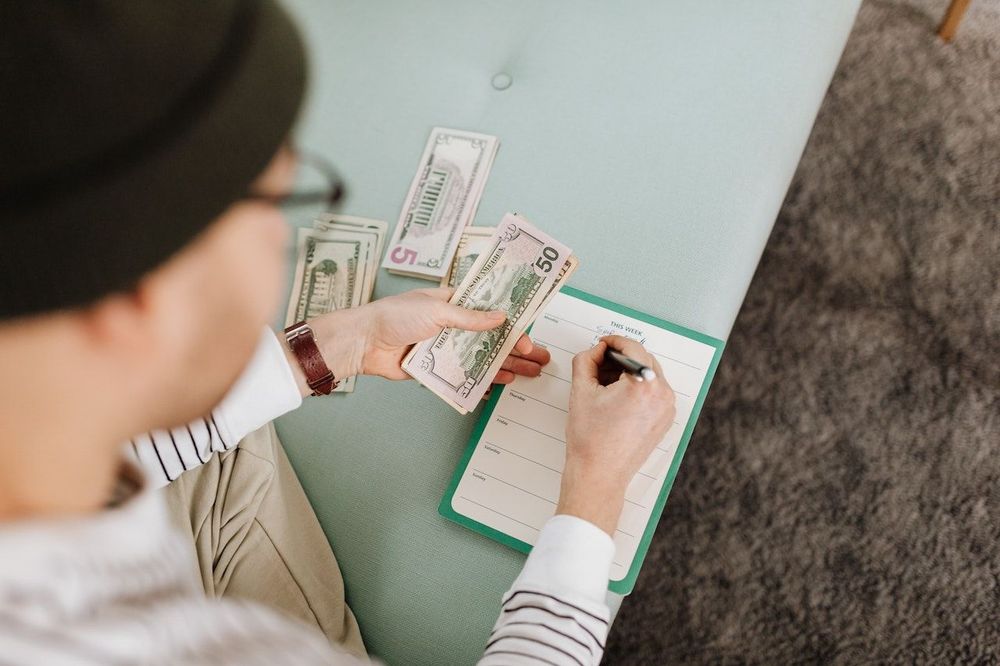 Project scope
Avoiding scope creep, or the slow change of a project's goals during the project, is super important because scope creep hurts both the timeline and the budget. So you've got to clarify the project's scope and then resist any attempts to change it.
Now we've covered the basics of project tracking. Let's inspire you with three of the major benefits and then move on to the features you'll want in the best project management software.
The benefits of tracking project progress
Tracking progress can be a lot of work. But it comes with significant rewards, too. Here are three major benefits of staying on top of your work.
Avoids project management fixation on task management
Sometimes project management gets stuck in the details of looking after every specific task. But taking a step back to assess progress toward the overarching goals of the project avoids being surprised when something falls behind.
Makes resource management clearer to avoid risks
A quick snapshot of the big picture will help you quickly identify risks to your project. Maybe a person needs a sick day, or a specific task runs over. The best project tracking software will show you these changes and how they affect the rest of the project. Then you can change your plans accordingly.
Allows project status reports and sharing
A good project management tool also lets you create a status update and share it easily. This is important for keeping all the people connected to your project informed about its progress. Being able to create reports easily is a major benefit for project managers because it avoids time wasted on creating multiple updates for different stakeholders.
Now that we know what project tracking is, how to do it, and how it helps, let's combine those things into a shopping list to help evaluate the best project management software.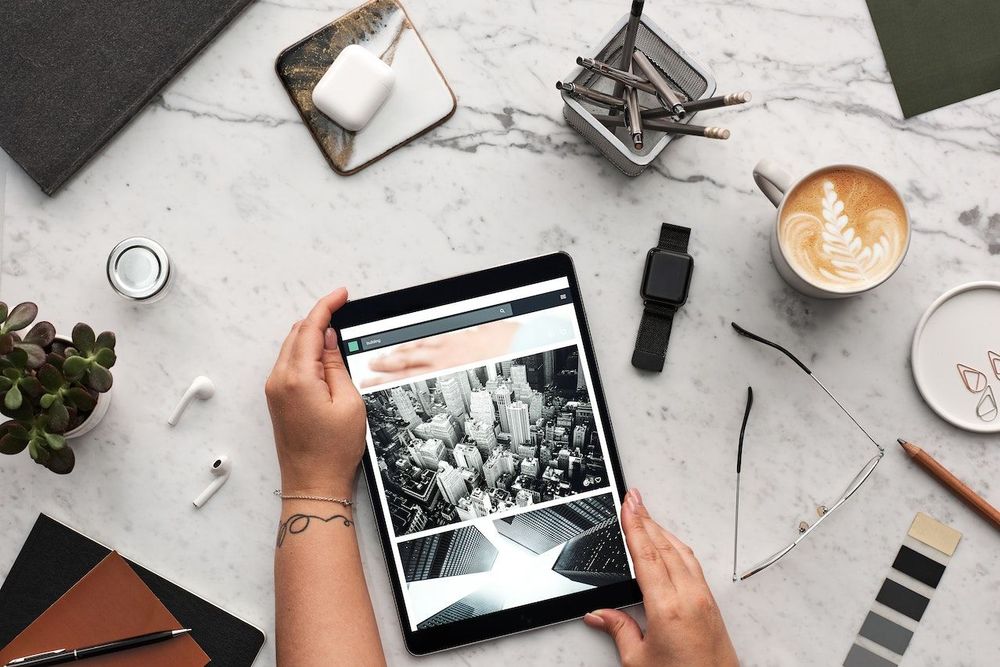 6 key features project tracking tools must include
You could manage projects with a pencil and some note cards. People have done this for centuries. However, to get the most advanced project management capabilities, you're going to want a great project management solution. The best ones have these six features.
Data and sync in real time
Accurate data collected in real-time is essential for monitoring initiatives. It's impossible to make informed conclusions based on out-of-date data. However, if you have access to real-time information, you can act swiftly to address problems and prevent them from escalating.
Clear and customizable dashboards
A dashboard's primary function is to quickly and easily provide an overview of a project's status using visual representations of that status, such as charts and graphs. These metrics provide a quick picture of the project at a given point in time.
Flexible project reporting options
You'll need a reporting function that can provide in-depth reports on project variation, progress, and more when you want to dig into the data. If the reports can be quickly distributed and filtered to display just the information that is relevant, it's even greater.
Gantt charts or something similar
Gantt charts are graphical planning tools that may do more than just show where things need to be and when. Teams may be monitored, and their progress on assigned tasks can be monitored. The data you provide concerning budget, manpower, and due dates serves as a benchmark against which actual results may be evaluated.
Time tracking for tasks and people
Having an integrated timesheet function has other benefits beyond just making payroll simpler. Timesheets may be a useful tool for monitoring project development since they detail the amount of time dedicated to various activities by team members and allow you to compile reports based on that information.
Alerts and notifications for events
To avoid falling behind, use a project monitoring application that can provide automated notifications. To ensure that everyone is on the same page, it is preferable if the alerts may be created in response to changes made to the tasks, approaching deadlines, or even comments. Email or in-app notifications are recommended.
Now that we've got our shopping list, let's take a look at the top ten project management software options.
Top 10 project management tools for tracking your projects
1. Indy
Indy was developed specifically for freelancers and small businesses, so it includes everything you'll need to run your own show. Indy knows the value of building tools that can assist your work from beginning to finish. It's simple to keep track of tasks, bills, and hours worked.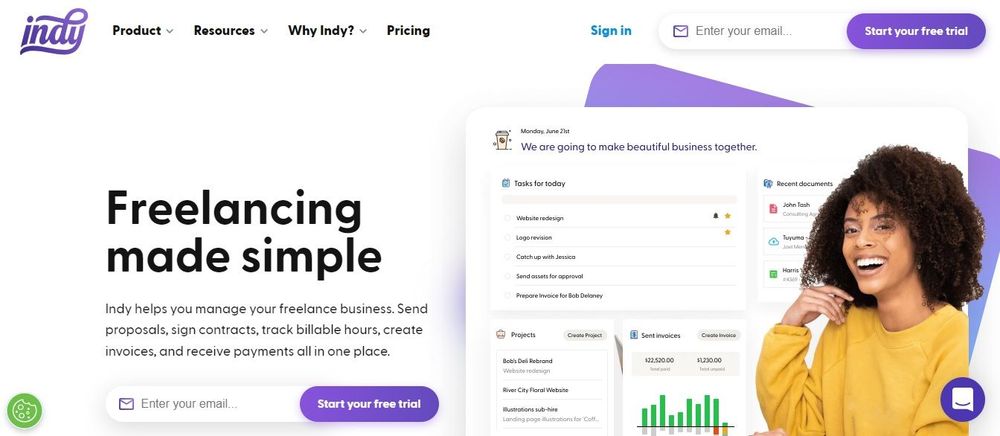 Let's see how Indy's nine powerful tools serve you at every stage of the project process:
New customer acquisition and onboarding may be facilitated by making use of pre-made proposals, contracts, and form templates. Quickly add in the information you need with these customizable templates that include your company's name and logo. If more information is required for a template, it may be expanded with little effort.
Task boards and lists, file sharing, group conversations, a customizable calendar, and time-stamped notifications all contribute to a more simplified project management process.
In conclusion, after work on a project is complete, an invoice may be made in a matter of seconds, complete with your company's name and logo. You may either send invoices whenever you need to, or schedule them to send automatically. A wide variety of payment methods, such as PayPal, Stripe, Zelle, direct transfer, and others, are also available.
Indy offers two distinct price options:
Free Forever: Free unlimited access to all the basic tools you need to manage your business.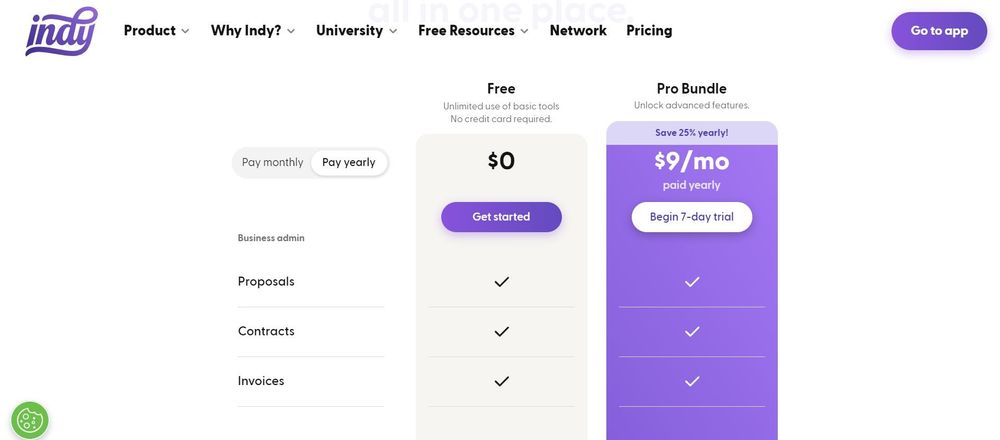 Pro Bundle's monthly fee of $12 gives you affordable access to all of Indy's tools.
Is there a more compelling advertising than one made by freelancers, for freelancers? Indy's website has a plethora of resources to help you learn about the many tools at your disposal.
2. ProjectManager
The greatest tools for managing projects, such as Gantt charts, Kanban boards, project dashboards, task lists, and many more, are all available via ProjectManager. Both project managers and regular members of the team will appreciate how easy it is to utilize these powerful tools.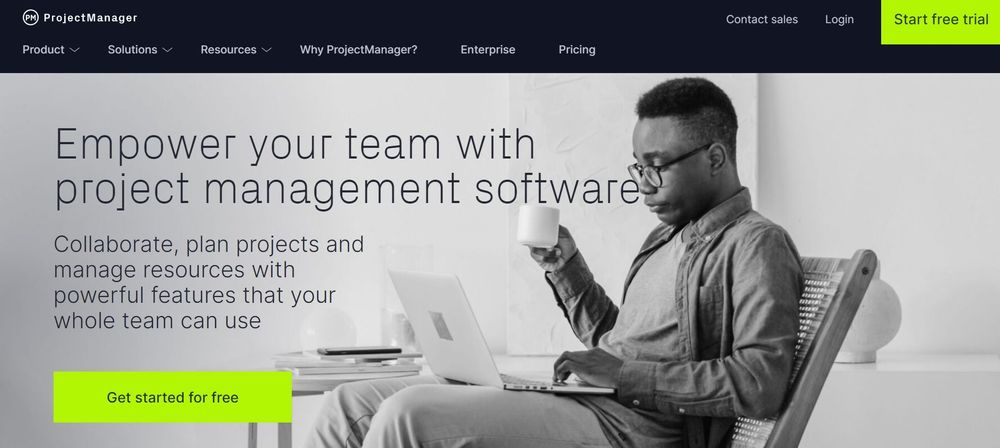 Here are some of ProjectManager's key features:
Online project dashboards: Find out right now whether your projects and teams are on schedule.
Gantt charts: The most robust, dynamic, and user-friendly Gantt chart capabilities available.
Kanban boards: Move cards around and create new columns to better organize your tasks.
Task management: Provide your team with straightforward project management tools they can use on all their initiatives.
Project planning: Make online project plans with different perspectives to show to your team.
Project schedules: Plan out your team's workload across all of your projects and monitor their progress.
Pricing:
Free 30-day trial
Team plan costs $16/month per user but doesn't include advanced features.
Business plan calls for $28/month per user and includes everything most will need.
Enterprise plans are available with even more features.
3. Monday.com
Monday.com promotes itself as a "work operating system" (Work OS) that improves a group's capability to confidently and effectively manage projects and processes.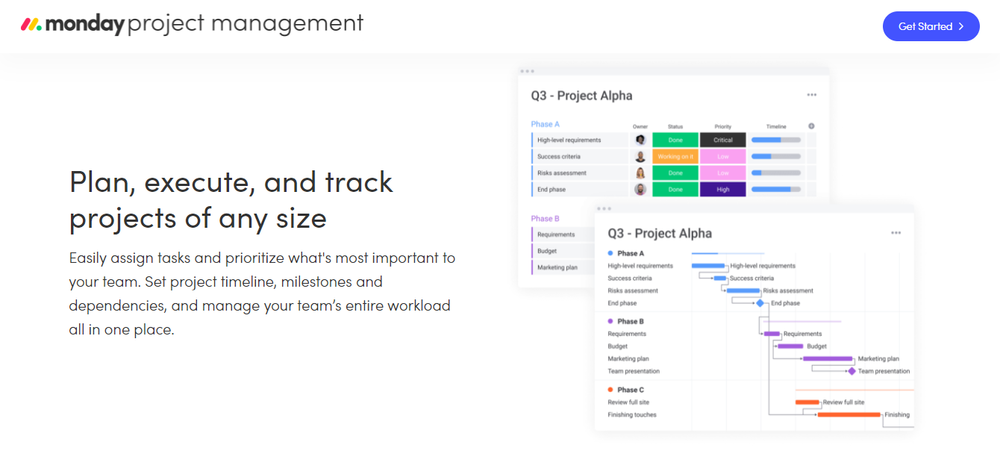 It's a no-brainer of a solution that allows groups to simplify their operations for maximum efficiency, interact with one another no matter where they are, and eliminate tedious, time-consuming manual processes.
As a result of everything being in one place on Monday.com, including your work, procedures, tools, and files, collaboration is instant and reliable.
Here are some of Monday.com's key features:
Dashboards: Improve your judgment with up-to-the-minute data.
Integrations: Gather all of your professional resources in one location.
Automations: Don't waste time doing the same thing over and over again.
Gantt: Make project deadlines and interdependencies visible.
Kanban: Arrange your workload in order of importance and consider your limits.
Docs: Transform ideas into actions, and work together in real-time.
Files: Tasks may be given further context by uploading files of any kind.
Pricing:
Monday.com offers five pricing tiers. Here they are, along with Monday.com's description of what each one is designed to do.
Individual: Free. "Plan & keep track of your own tasks."
Basic: $8 seat/month. "Manage all your team's work in one place."
Standard: $10 seat/month. "Collaborate & optimize your work across teams."
Pro: $16 seat/month. "Streamline complex workflows at scale."
Enterprise: Contact Sales. "Get exclusive features for your organization."
4. Smartsheet
Smartsheet is a robust framework for managing work that facilitates efficient planning, rapid project completion, and increased team output.
Planning even the most complicated projects is a breeze with the help of Smartsheet's task management, which provides a bird's-eye perspective of all activities in progress at any given moment.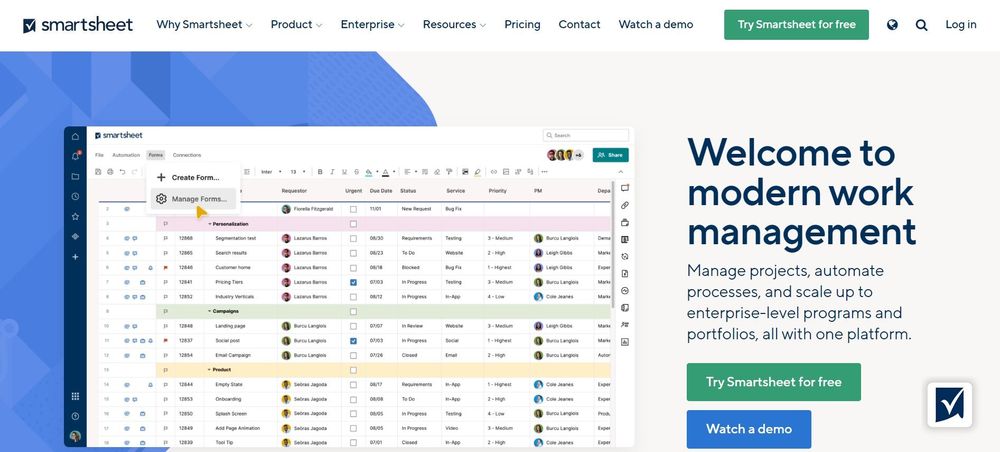 Everything you need to organize, monitor, automate, and report on your projects is available in a single, easy-to-use platform.
The next steps that need to be taken to keep a project on track are crystal clear to all parties, thanks to multiple project views. And with a bird's-eye perspective of all projects, you can quickly assess the state of your company and make accurate projections.
Here are some of Smartsheet's key features:
Team collaboration: Join the team together on a single platform.
Workflow automation: Faster completion of goals via automation of routine activities.
Content management: Achieve consistent content production and quality.
Process management at scale: Bring scalable consistency to your projects and procedures.
Secure request management: Eliminate bottlenecks in the request and ticketing systems.
Integrations: Improve productivity and effectiveness by coordinating efforts across channels.
Streamlined business apps: Create user-friendly business applications quickly.
Governance & administration: Set global parameters and manage global settings.
Pricing:
You may try out Smartsheet for free for 30 days before committing to paying the $7 per month for the Pro tier or $25 per user per month for the Business plan features. The cost of the enterprise plans is available on request.
5. Jira
Jira is an Agile work management suite that facilitates communication and coordination between individuals and groups at every stage of the development process, from ideation through delivery to the end user. Jira's solutions and deployment choices are tailored to meet the needs of a wide variety of software development, IT, business, and operations groups.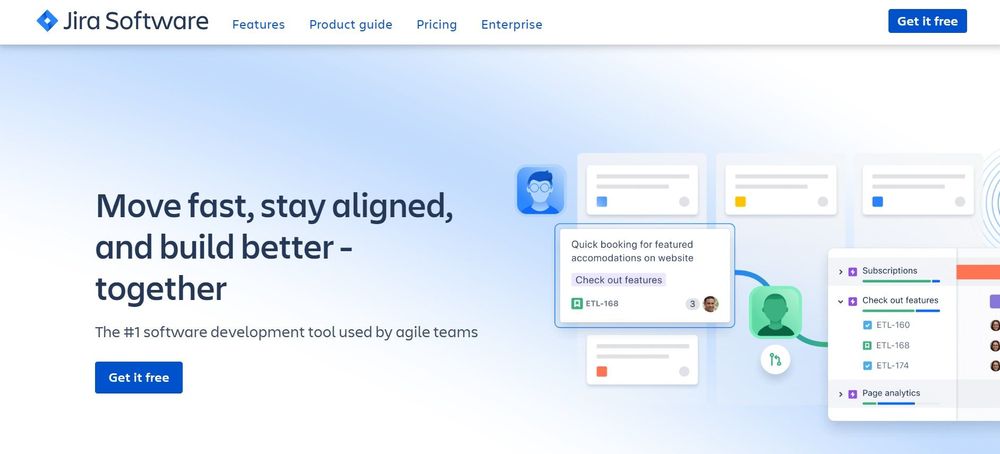 To further facilitate Agile methodologies like Scrum and Kanban, Jira Software has developed extensive feature sets tailored to these approaches. When you hear words like "boards," "estimation," or "cards," you should start considering how Agile may improve your workflow.
Using Jira alone won't make your team really Agile since Agile is a mindset and a culture of work. So, it's a tool made to assist your team in reaching its goals.
Jira enhances the efficiency of Agile teams. If you're a freelancer, it might be overkill unless you are working with Agile teams that use Jira.
Here are some of Jira's key features:
Scrum boards: Scrum boards assist Agile teams in splitting complicated projects into smaller chunks so they can ship quicker.
Roadmaps: Stay on track using roadmaps. Full visibility helps teams make rapid choices while aligning with larger aims.
Reports and insights: Out-of-the-box reports and dashboards in Jira provide crucial information to keep your teams informed and successful.
Project flexibility: Team or company-managed projects available. Jira is workflow-centric. Customize processes for every work style.
Drag and drop automation: Prioritize your tasks. Automate the rest. Jira automation is easy, but powerful.
Pricing:
Jira's free plan is very generous, allowing up to 10 users. The features included are also good. Many smaller software teams never pay for Jira. But some teams have specific needs and opt for the standard and premium plans.
Free for a maximum of 10 users
Standard is $7.50 per month for up to 10 users
Premium is $14.50 per month for up to 10 users
Enterprise pricing available on request
6. Asana
Asana manages team work, tasks, and projects online. It helps teams plan, manage, and monitor complicated work assignments. Workflows, views, and processes may be easily designed. Asana helps teams accomplish tasks, contact more consumers, enhance efficiency and revenue, and produce better products.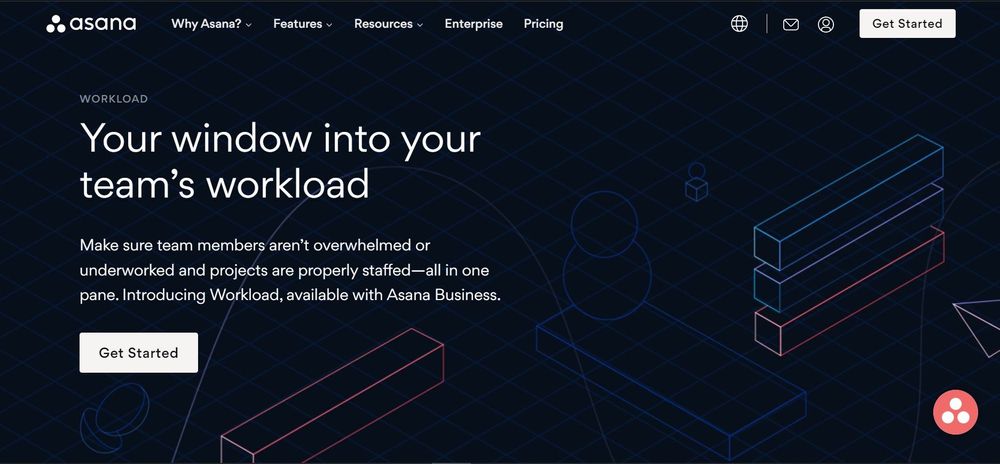 Asana provides teams with a shared workspace and sophisticated capabilities like different work views. List view simplifies task organizing. Timeline shows length and progress. Board view focuses on day-to-day chores and processes. Calendar view allows teams to check for conflicts or activities.
Subtask and task management, milestones, due dates and times, dependencies, project tracking, portfolios view, and custom templates are also available.
Here are some of Asana's key features:
List view: With lists, teams know what to accomplish, which tasks are priorities, and when work is due.
Timeline: Manage dependent, overlapping, and unplanned jobs to develop dependable plans.
Boards: Help your team concentrate on immediate responsibilities. Define each work step to understand what's vital and where things stall.
Automate routine work: Automate the tedious tasks so that you can focus on your strengths.
Project overview: Ensure clarity and context early on. Share objectives, resources, and more to align your team.
Pricing:
Asana has three pricing tiers, including a free option. As the cost goes up, so does the number of features available. This helps larger teams and businesses more than freelancers.
Free plan with unlimited tasks, projects, and messages.
Premium plan costs $10.99 per user every month and includes more view options, dashboards, and the workflow builder.
Business plan costs $24.99 per user each month and adds in features designed for managing a portfolio of projects.
7. Clickup
ClickUp is enterprise collaboration software. It is used for communication and job completion. Tasks may be assigned, completed, and resolved. If you set alerts, only critical messages will reach you. Mentions guarantee that important messages are not overlooked. To correct inaccuracies, edit a comment.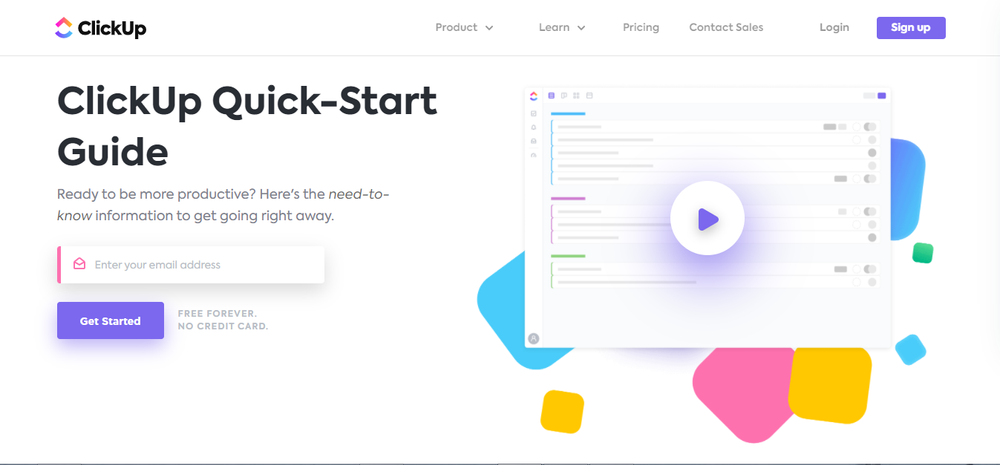 It may be used by both individuals and organizations. The 2.0 version has a user interface that saves time. ClickUp's free forever plan includes features seen exclusively in more expensive competitors. Email alerts, Android/iOS applications, task dependencies, and file attachments are all possible. ClickUp isn't as well-known as other project management tools, but that's OK. ClickUp's designers are regularly releasing new versions and updating them.
Here are some of Clickup's key features:
Tasks: Create manageable, individualized steps for each job, no matter the size.
Docs: Make beautiful documents and link them to actions.
Goals: Keep tabs on progress in relation to strategic goals.
Whiteboards: Visual collaboration may help your team bring ideas to life.
Dashboards: Check up on your progress at any moment.
Chat: Engage in simultaneous collaboration with your team.
Pricing
Free Forever: Free
Unlimited: $5/month per user
Business: $12/month per user
Business Plus: $19/month per user
Enterprise: Custom pricing
8. Basecamp
Basecamp looks to take a more generic approach to project management by providing a hub for collaboration among agencies, freelancers, consultants, and remote workers. However, it lacks useful functions like time tracking and simultaneous board views.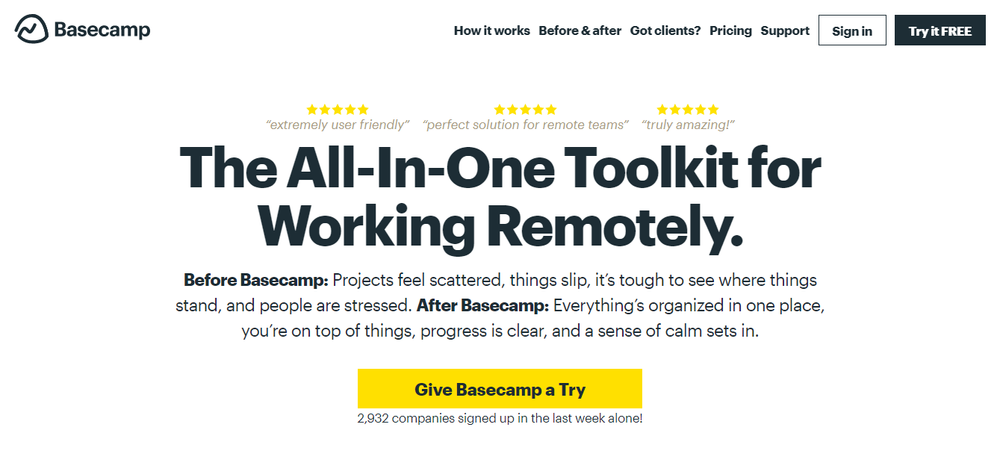 Basecamp's greatest strength is that it centralizes all of a team's communication, organization, and documentation needs. However, the site is static and provides just a brief summary of your active projects.
Here are some of Basecamp's key features:
Home Page: An easy-to-use, brief outline of your work, commitments, and timetable, all on a single page.
Messages: The hub where major debates may take place. Used instead of traditional project emails.
To-dos: The most effective method of keeping tabs on tasks, due dates, assignments, outcomes, and more.
File sharing: A well-structured place to create and talk about documents, files (both local and online), and pictures.
Chat: With Basecamp's built-in group chat, you can rapidly hash out any issues and move on.
Schedule: Dated tasks, due dates, milestones, and important events are all shown in the project timeline.
Pricing:
Basecamp has a pricing package called The One and Only, and it's $11 per user per month. There is a free trial, and discounts are often available for new users.
9. Kintone
Kintone is an adaptable platform for the modern workplace that facilitates centralized information, task, and communication management across teams. With Kintone, you and your coworkers can easily keep tabs on and discuss your various projects thanks to the platform's task and data tracking capabilities. Kintone may be used to keep track of any information that is vital to your team, whether it be sales leads, client quotations, or a staff database.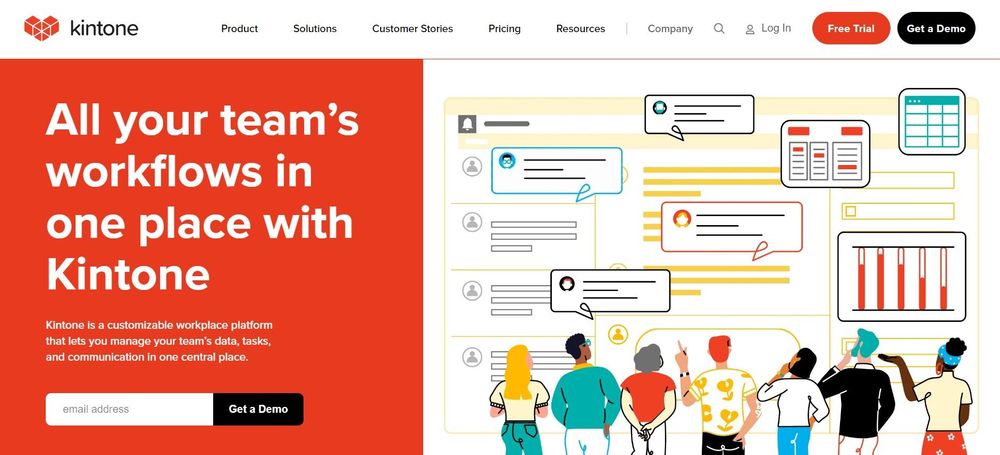 Workflows may be easily created and managed using Kintone. You could spend less time on administrative tasks and more time on the things that matter, thanks to automatic reminders, approvals, and job handoffs. All team members may access, modify, and manage data in real-time from any computer or mobile device with an internet connection.
Here are some of Kintone's key features:
Spaces: Make a place to keep track of everything related to your projects, like files, data, and conversations.
Managing work flows and processes: With the process management tools that come with Kintone, you can set up workflows for your tasks and projects. Get the structure and visibility you need for your projects, so you always know how things are going.
Reminders and alerts that you set yourself: Set up automatic reminders to let your team know when deadlines are coming up. People also know when it's their turn to work on something because of notifications.
Report quickly and easily: With just a few clicks, you can use custom charts and graphs to see how your project is going, how busy your teammates are, and what tasks are still open.
Pricing:
Kintone offers one plan that costs $24 per month for each user, but requires a minimum of five users. This makes Kintone ideal for freelancers who are managing others, such as a freelance digital marketing expert who uses multiple subcontractors to get projects done.
10. Rocketlane
Rocketlane is a tool for collaborating on the onboarding of new customers.
Rocketlane reduces time-to-value, streamlines implementation efforts, and improves customer experience throughout onboarding. Rocketlane offers a one-of-a-kind experience that integrates the features of project management, live document collaboration, and communication tools all into one cohesive package.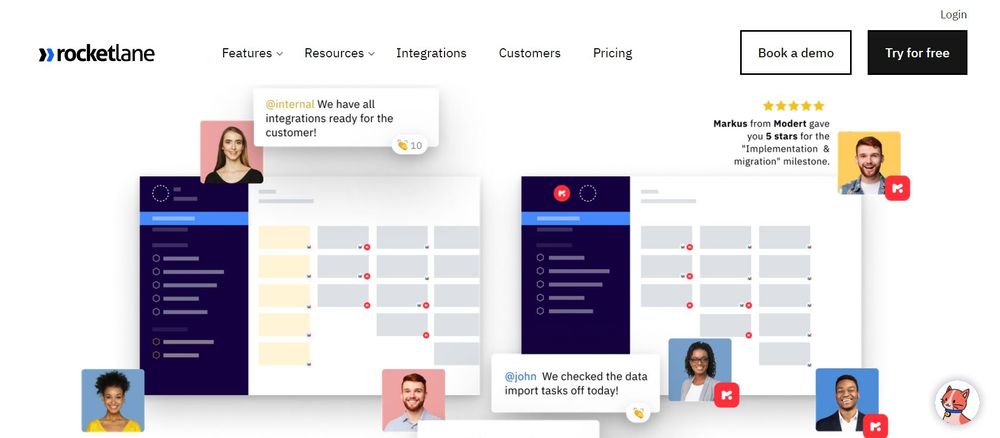 Rocketlane is a tool that may help you amaze your customers, hold them responsible along the journey, establish playbooks that are thorough and repeatable, get on-demand insight into onboarding projects and client attitudes, and boost the efficiency of your implementation teams.
Here are some of Rocketlane's key features:
Visibility: When you can avoid having to put out fires, why do it? Check the status of your projects at all times. Determine who needs to be helped.
Communication with customers: Gain your clients' trust with a solid strategy. Cooperate with clients and provide them insight into the project's progress from beginning to end.
Consistency: Do the work once, and utilize it indefinitely. By creating project and document templates that are reusable, you can ensure that your finest work is being used again. Stop wasting time and start being consistent.
Cooperation and outcomes: Collaborative effort is required for a successful onboarding process. Hold real-time document and project collaboration sessions with your clients. Communicate in real-time, both internally and with your consumers.
Pricing:
Rocketlane, like Kintone, has a minimum of five users. The most affordable plan is just $19 per month for each user if you use annual billing. The Premium plan goes up to $49 per user if you opt for annual billing. An enterprise level plan is also available.
Rocketlane focuses on customer onboarding. This makes it a specialized project planning tool. It will work best for freelancers whose jobs revolve around regular customer contact and working within a network to accomplish something specific.
Conclusion
Project planning is crucial for success because it is what sets the foundation for proper project management. These apps will help anyone get started with planning their next project, whether it's a small job for a single customer or a large portfolio of projects for multiple clients.
For freelancers, the best choice here is probably Indy. Indy has all the project management tools you need as well as options to help you manage proposals, contracts, invoices, and customer feedback. Get started today for free.