In recent years, coworking spaces have revolutionized the traditional workplace model. While the first official coworking space was launched in 2005 in the Mission District of San Francisco, they have exploded in popularity since the rise of the gig economy and have quickly become a viable option for freelancers and entrepreneurs who seek flexible and cost-effective office solutions.
In this blog, we'll explore what a coworking space is, how it differs from traditional office spaces, the average cost for a workstation, the things you need to consider, and why it's become a popular choice for many professionals.
What Are Coworking Spaces?
Imagine an office space where you aren't confined to a cubicle or a single room, but rather a communal workspace where you can network, collaborate, and share ideas with like-minded professionals. This is the essence of a coworking space.
A coworking space is a shared workspace that provides individuals and businesses with flexible office solutions, without the commitments and overheads of traditional office spaces.
Coworking spaces come in various shapes and sizes. Some are large, modern, and luxurious, while others are small, cozy, and rustic. They can be found in urban areas, suburban neighborhoods, and even in rural communities. A coworking space can range from a simple desk rental to a full-service office with amenities such as meeting rooms, conference rooms, and high-speed internet.
Coworking spaces offer an alternative to the traditional office model, where businesses sign long-term leases and commit to a fixed amount of space. Unlike traditional offices, coworking spaces offer flexible office solutions that allow businesses to scale up or down as needed. They also provide a community-driven environment, where individuals can network and collaborate, making it an ideal space for entrepreneurs, freelancers, and startups.
5 BIG Reasons Why Freelancers Should Join Coworking Spaces
It's no wonder the coworking movement has skyrocketed in popularity around the world. They provide a flexible space for freelancers to rent on a short-term basis, without the need for a long-term lease. This makes it a cost-effective option, as freelancers only pay for the space they use, and don't have to worry about the overhead costs of a traditional office.
Here are 5 other major benefits of joining a coworking space:
1. Networking Opportunities
One of the biggest benefits of coworking spaces is the opportunity to network and collaborate with other professionals. You'll have the chance to meet like-minded individuals from a variety of industries, and you may even find potential clients or partners.
2. Increased Productivity
Working from home or a coffee shop can be distracting, with constant interruptions from roommates, pets, or the general hustle and bustle of a busy coffee shop. A coworking space provides a distraction-free environment, with all the amenities you need to be productive and focused.
3. Access to Professional Amenities
Most coworking spaces offer a range of amenities, including high-speed internet, printing and scanning facilities, meeting rooms, and private phone booths. These amenities can save you time and money, as you won't need to invest in your own equipment or office space.
4. Flexibility
Your schedule may be unpredictable, and you may need a flexible work environment to accommodate your needs. A coworking space offers flexible membership options, with day passes, monthly memberships, and even the ability to rent a private office space on a short-term basis.
5. Work-Life Balance
Working from home can blur the line between work and personal life, leading to burnout and fatigue. A coworking space provides a clear separation between the two, allowing you to focus on work during work hours and leave work behind at the end of the day.
So, if you're looking for a more productive, professional, and social work environment, a coworking space may just be the perfect option for you. Who knows, you might even make some new friends and business connections along the way!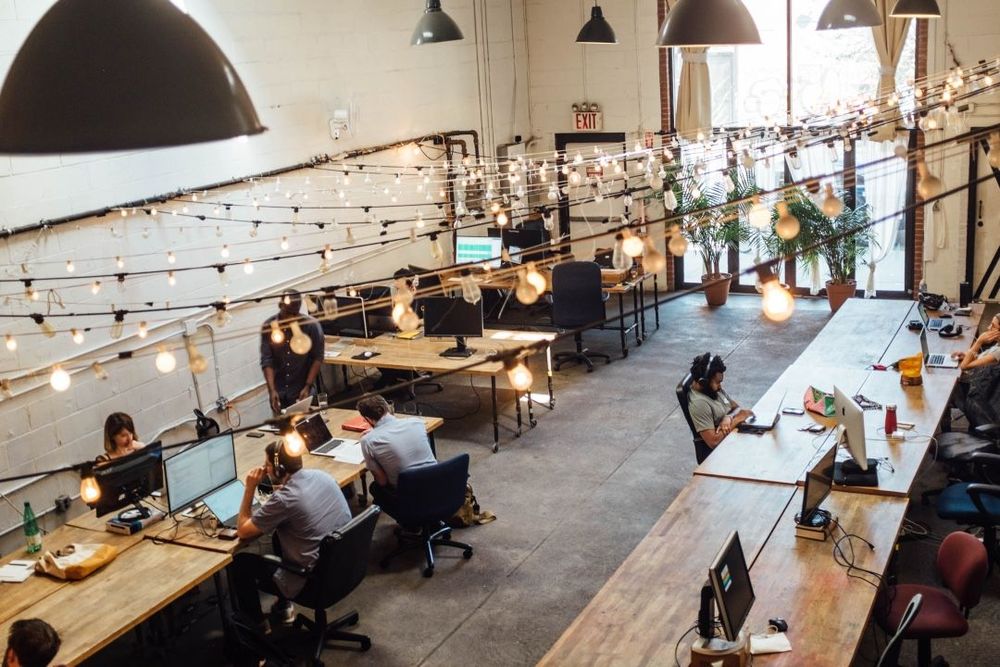 Are There Any Downsides to Coworking?
While coworking spaces offer numerous benefits to freelancers, there are some potential disadvantages that you may want to consider before committing to a coworking space. Here are some of the most common disadvantages of working in a coworking space:
Limited Privacy: While private workspaces are available in most coworking spaces, they can be more expensive than shared spaces like hot desks. Additionally, even in a private office, you may still be able to hear conversations from neighboring offices.
Cost: While coworking spaces offer flexibility, this convenience comes at a cost. Monthly membership fees can be high and add up over time, especially if you opt for a private workspace. (We'll dive deeper into the costs down below!)
Competition for Space: Depending on the popularity of the coworking space, you may find yourself competing with others for hot desks, conference rooms, or other amenities. This can be frustrating and may affect your productivity.
Lack of Control: In a coworking space, you have less control over the environment. For example, you may not be able to control the temperature or lighting, which could affect your comfort and productivity.
Noise: Coworking spaces can be noisy, especially if you are in an open workspace. Noise-cancelling headphones can help, but they may not be enough to block out all the sounds.
Overall, while coworking spaces offer many benefits for freelancers, they may not be suitable for everyone. Before joining a coworking space, you should consider the potential disadvantages and determine whether they outweigh the benefits for your particular situation.
What Are the Types of Coworking Spaces?
Coworking spaces have a wide range of office solutions for professionals of all types. Here are some coworking space options you might encounter:
Open Workspaces
Open workspaces are the most common type of coworking space. It's a communal work area with multiple workstations, which are typically not assigned to specific individuals. This creates a collaborative and dynamic work environment, where professionals from different fields can interact, exchange ideas, and build relationships.
Open workspaces are ideal for freelancers, startups, and entrepreneurs who work in creative fields, such as design, marketing, and advertising. They provide a stimulating and inspiring work environment, where individuals can bounce ideas off each other, receive feedback, and collaborate on projects.
Private Workspaces
Private workspaces are an excellent option if you require more privacy and confidentiality – perfect for those who work for a law firm, a financial institution, or as a healthcare provider, just to name a few. These spaces are fully enclosed and may feature a mix of individual offices and meeting rooms.
Private workspaces give you a dedicated space, where you can work in peace, away from the noise and distractions of an open workspace. They also allow you to customize the space to your specific needs, creating a more personalized work environment.
Hot Desks
The most flexible office space option. Hot desks are unassigned workstations that can be used on a first-come, first-served basis – ideal for professionals who need a workspace on an as-needed basis. Hot desks are the perfect solution for freelancers, remote workers, and entrepreneurs who need a workspace for short periods and don't want to deal with long-term commitments.
These are typically unassigned workstations, which can be rented on a daily, weekly, or monthly basis.
It's also cost-effective, as you only pay for the time you use the workspace, allowing you to work in a dynamic and stimulating environment.
Virtual Offices
Virtual offices are ideal for those who require a professional address and a business phone number, without the need for a physical workspace. They are perfect for anyone operating remotely, as they provide a professional image without the need for a physical office.
Virtual offices typically offer services such as mail handling, call answering, and meeting room rentals, providing you with the resources you need to operate professionally.
What Amenities Should You Expect from a Coworking Space?
Along with providing a dynamic and flexible work environment, a coworking space offers a range of amenities to enhance the productivity and comfort of its members. Here are some of the most common amenities you can expect from a coworking space:
High-Speed Internet
A fast and reliable internet connection is essential for any modern workplace. Coworking spaces typically offer high-speed internet access, with the latest technology and security protocols, to ensure a seamless and secure online experience.
Meeting Rooms
Many coworking spaces come with fully-equipped meeting rooms, which can be rented on an hourly or daily basis. These rooms typically feature the latest audio-visual technology, comfortable seating, and whiteboards, making them ideal for presentations, workshops, and team meetings.
Private Phone Booths
Sometimes, you need to make a private phone call or conduct a video conference without interruptions. That's where soundproof phone booths come in handy, where you can have a private conversation or make a video call without disturbing others.
Kitchen and Refreshment Area
Taking breaks and refueling is essential for maintaining productivity and creativity. A lot of coworking spaces provide fully-stocked kitchens and refreshment areas, where members can grab a coffee, tea, or snack, and socialize with others.
Printing and Scanning Facilities
Despite the digital age, printing and scanning documents is still a necessary part of many businesses. Coworking spaces typically provide high-quality printing and scanning facilities, with the latest equipment and technology, saving members the expense and hassle of purchasing and maintaining their own equipment.
Fitness and Wellness Facilities
Many coworking spaces now include fitness and wellness facilities, such as gyms, yoga studios, and meditation rooms. These amenities allow members to take care of their physical and mental health, promoting a healthy work-life balance.
It's fun looking through all the different options available (many spaces even have a fun theme to get you in a good vibe!), so be sure to look around at all your nearest options to see which will put you in the most productive work mode.
Finding the Perfect Coworking Space: What Freelancers Need to Consider
So you're thinking that coworking is the right move for you? Congrats! Coworking is an exciting step toward advancing your career and growing your freelance business. But with so many options out there, how do you choose the right one?
Here are some things to consider:
Location, Location, Location
The first thing to consider is the location of the coworking space. Is it easily accessible from your home or other places you frequent? Is it in a safe and desirable neighborhood? Consider your transportation options, such as public transportation, biking, or driving, and choose a space that's convenient for you.
Membership Options
Coworking spaces present a range of membership options, from day passes to monthly memberships to private office spaces. Consider how often you plan to use the space and what amenities you need, and choose a membership option that fits your budget and schedule.
Amenities
Speaking of amenities, think about what you need in a coworking space. Do you need high-speed internet? Meeting rooms? Printing and scanning facilities? A kitchen or cafe? Make a list of your must-haves and choose a space that meets your needs.
Community
One of the biggest benefits of coworking spaces is the sense of community and collaboration they provide. Consider the type of community you want to be a part of, and choose a space that aligns with your values and interests. Do you want to be part of a creative community? A tech community? A wellness community? Look for a coworking space that caters to your interests.
Culture and Atmosphere
The culture and atmosphere of a coworking space can make a big difference in your overall experience. Some spaces may be more casual and laid-back, while others may have a more corporate or professional vibe. Consider the atmosphere that will help you be most productive and comfortable, and choose a space that fits the bill.
Price
Finally, consider the price of the coworking space. While coworking spaces can offer many benefits, they can also be expensive. Make sure you choose a space that fits within your budget and won't leave you financially strapped.
Choosing the right coworking space may take some time and research, but it's worth the effort to find the perfect fit. Consider the location, membership options, amenities, community, culture, and price, and you'll be well on your way to finding your new professional home away from home!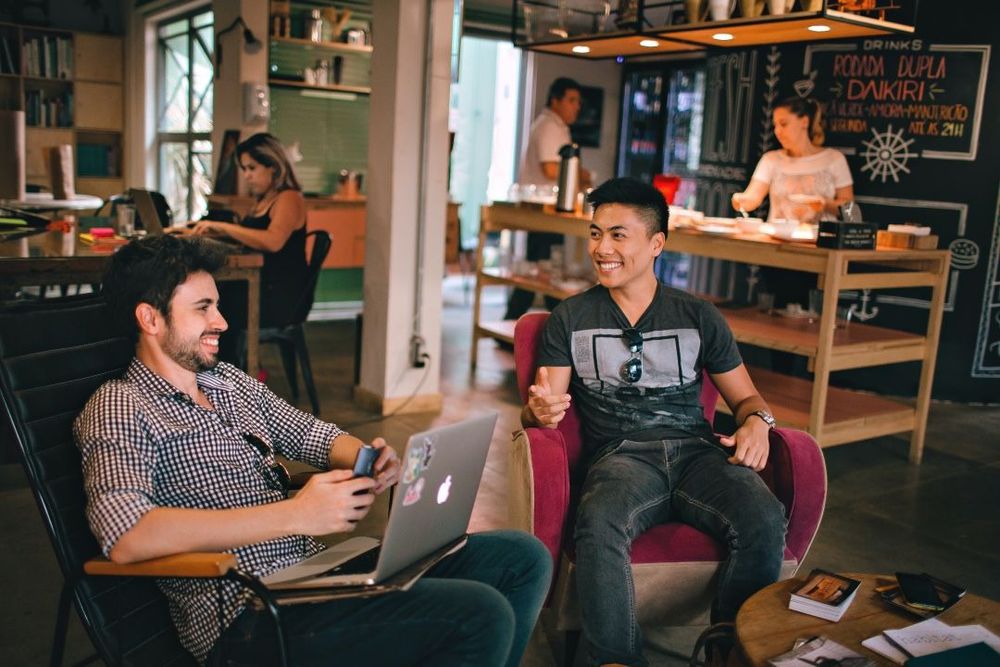 How Much Do Coworking Spaces Cost?
Pricing can be tricky when it comes to coworking as the average starting cost of a coworking space can vary greatly depending on location, size, amenities, and membership options. But you'll find that there's a general estimate that you can expect for each coworking option.
Open Workspaces
The cost of an open workspace can range from $200 to $500 per month, depending on the location and amenities offered. Some coworking spaces provide part-time memberships, day passes, or discounted rates for longer-term commitments, so be sure to explore your options to find the best deal.
Private Workspaces
The cost of a private workspace can range from $500 to $1,500 per month, depending on the size of the office, its design and furnishings, and the location of the space. Some private offices come with a variety of perks, like kitchen facilities, on-site parking, and access to networking events. The type of membership you choose will also affect the monthly rate, such as a part-time membership or a day pass.
Hot Desks
The average cost of a hot desk starts around $195 per month but will depend on the level of demand, amenities offered and, of course, the location.
Dedicated Desks
While a dedicated desk is more expensive, the cost of having your own desk space may be worth it if you don't want to worry about a desk being available or not. It's a relief knowing that you'll be able to have a space to get work done when you need it most! Dedicated desks start at $350 per month and cost upwards of $700.
Virtual Offices
The cost of a virtual office can range from $50 to $100 per month, again, depending on the location and services provided. Some virtual office packages even include additional services, such as coworking space access or administrative support.
As you can see, the cost of a coworking space can vary widely depending on the variety of factors mentioned. However, with a range of options available, you can easily find a coworking space that fits your needs and budget. Consider elements like location, amenities, and membership options, and don't be afraid to shop around and compare prices before making a decision.
Additionally, some spaces offer part-time memberships, day passes, or discounted rates for longer-term commitments, which can help you find a plan that fits your budget.
With the benefits of coworking, such as increased productivity, networking opportunities, and a sense of community, the cost can be a worthwhile investment in your career or business.
Coworking Spaces vs. Shared Office Spaces: Is There a Difference?
Are coworking spaces and shared office spaces the same thing? While they may seem similar on the surface, there are some key differences between the two. Let's take a closer look.
First, let's define what we mean by each term. A coworking space is a flexible and collaborative work environment, where individuals or teams from different companies work in a shared space. Shared office spaces, on the other hand, are typically more traditional office setups, where multiple companies share a single office building, floor, or suite, but may not necessarily interact or collaborate with one another.
One of the most significant differences between a coworking space and a shared office space is the level of community and collaboration. A coworking space is designed to promote networking and interaction between members, with communal areas and events that encourage members to connect and collaborate. This setup makes it a powerful option for freelancers who want to expand their network. In contrast, shared office spaces may offer more privacy and independence, with each person working in their own private office space and not necessarily interacting with other tenants.
Another key difference is the level of flexibility and amenities offered. Coworking spaces typically offer flexible membership options, such as day passes or monthly memberships, with a range of amenities to keep you comfortable and productive. Shared office spaces may offer less flexibility and fewer amenities, with tenants signing longer-term leases and managing their own office amenities.
Finally, there is a difference in the atmosphere and vibe of the two spaces. Coworking spaces are often designed to be more vibrant and creative, with open workspaces and modern decor. Shared office spaces may have a more traditional office feel, with closed offices, cubicles, and a more corporate atmosphere.
So, while coworking spaces and shared office spaces may have some similarities, there are also significant differences between the two. Ultimately, the choice depends on your individual needs and preferences. Whether you prefer a collaborative and flexible work environment or a more traditional office setup, there is a space out there for everyone!
Are Coworking Spaces Worth It?
We think so! But it all depends on what you're looking for and whether the productivity and networking benefits outweigh the cost for you. Some people work better from home, and others thrive in a more professional atmosphere, energized by the collective motivation of those around them.
So, if you're looking for a supportive and inspiring environment, opportunities to network, and flexible membership options, a coworking space may be worth the investment. However, if you're on a tight budget or prefer to work alone, it may be better to explore other options.
Final Thoughts
Coworking spaces worldwide offer a variety of benefits for freelancers, entrepreneurs, and remote workers. From networking opportunities and increased productivity to professional amenities and a sense of community, coworking spaces can provide a more productive and engaging work environment than working from home or a coffee shop. Think about the location, membership options, amenities, community, culture, and price of potential coworking spaces, and choose one that aligns with your goals and values.
Once you've made a decision about your perfect coworking space, the next step is to make sure you have all the tools required to do your job. Here's where Indy can help! Indy comes with nine powerful tools that will help you save time and money, including contracts, invoices, proposals, and automatic time tracking.
FAQ
Where can I find coworking spaces?
Coworking spaces can be found all over the world! Most cities have at least one coworking site available, but major cities will have an abundance of options to choose from. The good news is, we made it easy for you! We've rounded up the best coworking spaces from some of the most beautiful locations to work from, including New York City, Miami, Los Angeles, San Diego, Toronto, Orlando, Dallas, Indianapolis, Philadelphia, Seattle, Barcelona, Atlanta, Houston, Las Vegas, San Antonio, Nashville, Manchester, Glasgow, London, Sydney, Chicago, Madrid, Bristol, New Orleans, Denver, San Francisco, Oxford, Birmingham, Edinburgh, Brighton, Charlotte, Boston, Austin, Canberra, Portland, Auckland, Porto, Lisbon, and Leeds. So whether you live in a popular destination or are looking to move to one, check out the cities that catch your eye. Happy coworking!