Maximizing productivity is one of a freelancer's key skills. The better someone's productivity is, the more time they spend working and earning money. When you're self-employed, you don't have the luxury of appearing to work and sitting around an office all day getting paid to be there. You have to ensure you work hard and meet deadlines, as you only get your payment on results.
We've worked on a list of helpful tips to boost productivity, so you can spend more time on that deep focus work that requires plenty of attention. We've also put together some of the best productivity tools on the market, so you can decide what ones will help you maximize your time.
Tips for increasing productivity as a freelancer
When you're working as a freelancer, your time is your top commodity. It can be challenging to find enough time in the day to complete jobs, manage tasks, respond to emails, liaise with clients, and market yourself on social media and freelancing websites.
We've put together a list of helpful tips that will help you maximize the time you spend working and boost productivity.
Work to a schedule
Working to a set time will keep you more productive. So set a schedule and stick to it. You can decide the time you need to get up, set an alarm and get ready in the morning as if you're going to work.
Have a coffee, eat breakfast, and get ready for the day. Then when you sit down to go to work, you'll feel more awake and refreshed. Know precisely when you aim to finish work. Having a set time to aim for will keep you productive as you'll be working towards an end goal.
Take regular breaks
Remember to take breaks during the working day so you don't burn yourself out. Step up from your desk and away from the computer, and look at something other than your screen for a while.
As a freelancer, it's easy to get swamped with essential routine tasks. You can put off breaks, thinking it's more important to stay at the screen and finish your work. But working endlessly with no breaks is doing yourself more harm than good.
Eat something, go for a walk, but whatever you do, make sure it's away from the computer.
Minimize distractions
Working remotely from home can be a distracting environment. Whether it's children, household pets, or the doorbell constantly going off, it seems like there's something always pulling you away from your computer screen.
Finding a quiet space to work is essential to eliminating those annoying background distractions. If you can, create an office space in your house that you designate your working zone, and if possible, have it be a separate room so you can close the door on all those external distractions.
Additionally, social media can be the main interruption in our working lives. If you have your social media accounts logged into your work computer, turn off notifications so you don't have irritating messages popping up when you're in the zone. Some computers come with the option to turn on 'work mode,' which prevents notifications from appearing. Keep your phone somewhere else so you're not tempted to scroll.
Set goals
When working on all your projects, set short-term goals such as writing X amount of words by noon or finishing creating copy by 5 pm to keep you motivated during the day. You can specify more long-term goals for the week, so you know how much work you intend to complete before switching off. Doing so gives you something to work towards and is an excellent tool for maximum productivity.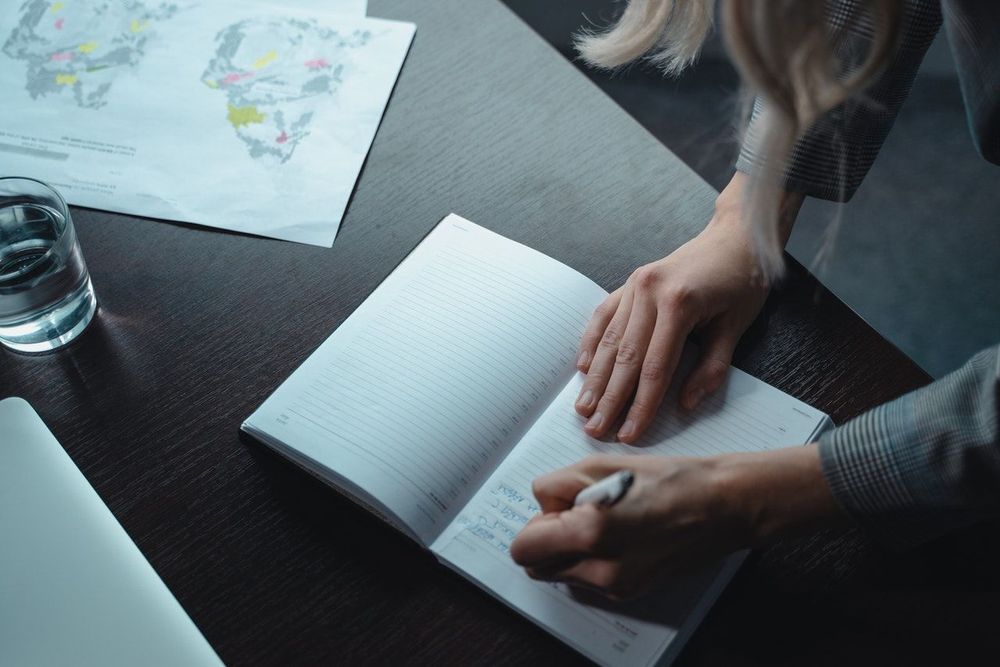 Use to-do lists
Create to-do lists based on the goals you've set. You can create one at the end of the day to prepare for the next day or sit down in the morning over a cup of coffee and write it down. Ticking off your daily tasks can be incredibly cathartic, and it's a visual tool to see how much you've done for the day.
Always ensure to keep your to-do lists up to date. You can use them to cover routine tasks, daily tasks, or even set a to-do list for the week and revisit it every day.
Manage your time
Time management is a critical freelancing skill. When you're working on all your projects, you need to track time spent on each task and monitor how long it takes to complete repetitive tasks to quote more accurately for future work.
We recommend using a time tracking tool or time management app to automate this process for you. We'll be going into some excellent productivity tools that include time tracking later in the article.
Focus on finishing one job at a time
When managing your work across all your projects, it can be overwhelming to decide what to focus on. To stay organized, we recommend finishing one job at a time before moving on to the next one. That means, when you finish off a piece of work, you'll know you don't need to return to it.
Leaving behind a bunch of half-finished jobs isn't conducive to staying productive. You'll feel much better about work if you can completely finish one piece before moving on to the next.
Organize your desktop
A cluttered desktop can be representative of a cluttered workload and mind. If you keep your computer files organized, it'll be easy to access documents when you need them. You can create your own filing system on your computer to ensure you always know where everything is and can access things in just a few clicks.
Use productivity apps to help
One of the best ways of staying productive is to bring on the help of productivity tools. Plenty of project management software and productivity apps can support you with different aspects of your work.
Whether it's simple time tracking software, needing to schedule meetings, keeping on top of emails, or managing projects, you'll be able to find a productivity tool that suits you.
Best productivity tools to help freelancers
There are plenty of useful tools built to maximize productivity for freelancers. So we've put together a list of the best productivity apps available on the web to help you with work management.
Each tool focuses on a different aspect of working remotely, so you can use multiple apps if that suits you. Let's look at some of the top productivity-boosting tools you can get.
Indy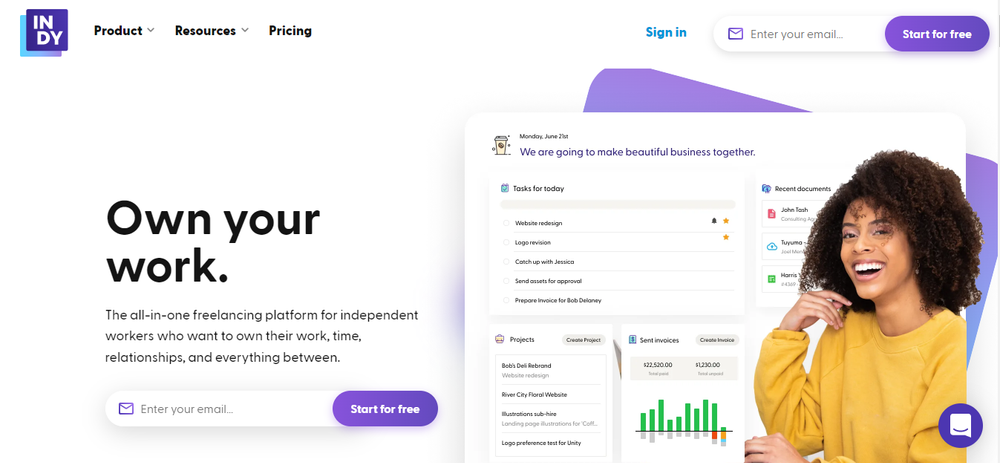 Indy is a comprehensive project management tool available for freelancers. It's the perfect desktop app for working remotely.
They've got a chat function for real-time communication with clients, which means you'll always be able to ensure you're on the same page. There's also a variety of proposal templates to help you land the jobs that matter and simple time tracking software to keep track of billable hours. Additionally, their calendar integrates with others like Google calendar and will enable you to manage meetings and deadlines from one helpful app.
Indy also helps you create professional invoices and contracts and has extensive task management software. The wide variety of functions available makes it one of our favorite apps.
Pricing
Indy is affordable for freelancers. The free forever plan is a perfect opportunity to try out its features. It has access to two of each of the following: invoices, contracts, proposals, forms, and a 1GB file storage option. Users can time track 15 tasks and set up two forms. They can also fully access the task management, calendar, and chat functions.
The pro plan is only $4.49 per month when paid yearly, and users get access to three free months. It allows you to have unlimited invoices, contracts, proposals, 500GB of file storage, and full access to all the other functions on this excellent project management tool. You can also customize profiles and add your branding to invoices and templates.
Asana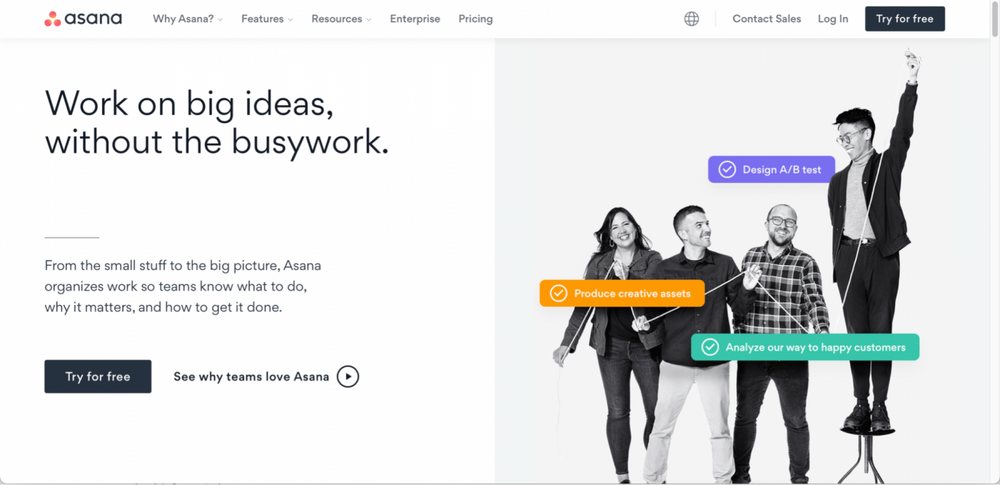 As a productivity tool, Asana has everything a freelancer needs. There's a workflow builder to coordinate your workload, and the timeline is compatible with Gantt charts. They have Kanban boards to track tasks and a shared calendar for teams. They also have analytical reporting capabilities, strategic goals, forms, templates, and the ability to automate more routine tasks and reduce errors as you streamline processes. Additionally, they have a desktop app and a mobile app so that you can use the project management tool on all your devices.
Asana also has excellent third-party integrations, working with various apps like Google workspace, Salesforce, Microsoft Office, Slack, Dropbox, Google Docs, Zoom, Google Drive, and Microsoft Teams.
Pricing
Their basic plan is free forever and ideal for individual freelancers or project management teams just starting. There's access to unlimited tasks, projects, messages, and file storage, and users can view the calendar, project overview, assign tasks, and integrate with mobile apps.
The premium plan gives additional access to a timeline, unlimited dashboards, and their new workflow builder feature. You can also set forms, rules, task templates, and milestones. It costs $10.99 per user per month.
Asana has a business plan that adds in goals, custom rules, portfolios, proofing and approvals, and advanced integrations and costs $30.49 per user per month. Finally, their enterprise plan is individually quoted and aimed at teams and agencies. It has priority customer support, custom branding, data export and deletion, and access to user provisioning.
Trello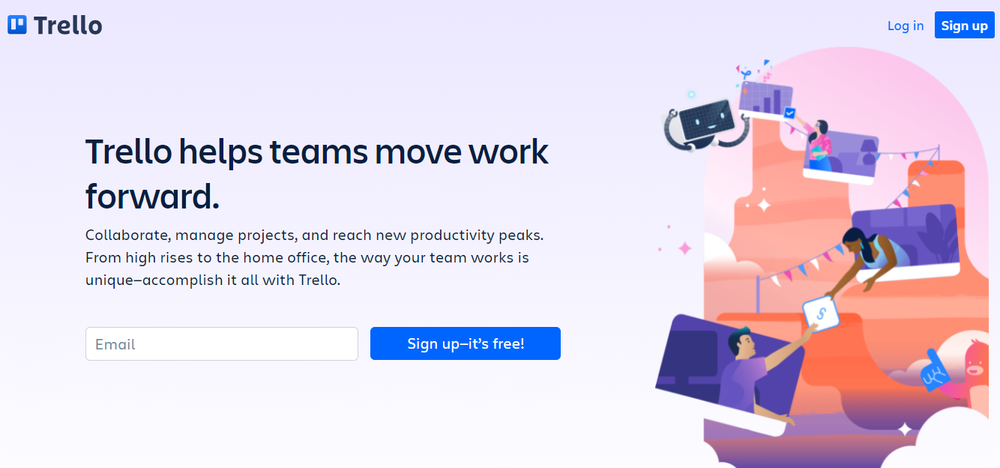 Trello is a task management tool that helps remote workers keep on top of their workload. Users can create tasks, assign tasks to other team members, and manage the team's productivity. It's an excellent tool for team collaboration, allowing users to see what everyone's assigned tasks are easily.
It also comes with various templates available for users to copy in design, sales, and marketing. Another handy feature is the butler, which automates routine tasks in your project so you can focus on more important things. You can set up rules, calendar commands, and due date commands. They also have a mobile app so you can access it on the move.
Trello boards have a kanban board project management system, meaning you can have to-do lists, create lists for different tasks, and integrate them with Microsoft Office, Slack, and Dropbox.
Pricing
Their free plan is suitable for individuals and gives access to unlimited cards, ten boards per workspace, and power-ups. There's unlimited storage and 250 workspace commands available, as well as custom backgrounds and an unlimited activity log.
The standard plan is $5 per user per month, with access to move advanced features like saved searches, unlimited boards, checklists, custom fields, and more workspace commands.
Their premium plan is aimed at teams of up to 100 people and has a dashboard and timeline view. There's also access to a calendar and map view, admin and security features, and more priority support. It's $10 per user per month.
Finally, the enterprise plan is for large organizations, and the price depends on how many users you'll be using. It has access to the highest level of features, including single sign-on, public board management, unlimited workspaces, and multi-board guests.
Toggl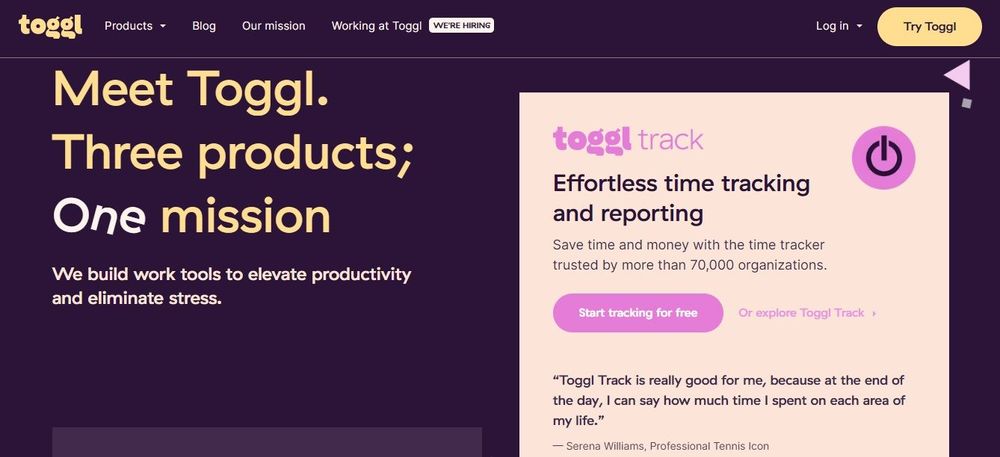 Toggl markets itself as a time tracking and project management software. They have three apps, Toggl plan, Toggl track, and Toggl hire. We'll focus on the first two as they're more relevant for freelancers.
Toggl track allows freelancers to manage their productivity with a time tracking app that enables project budgeting and better reporting. You can set goals and work toward them using their software. It integrates with popular tools like Google workspace and Microsoft office. They have mobile apps, too, so you can set them up on all your devices.
Toggl plan is a project management system that works for team collaboration to ensure projects are delivered on schedule. You can set deadlines, assign tasks, use Gantt charts, and set work timelines. This productivity tool is aimed primarily at teams but is also suitable for freelancers too.
Pricing
Toggl track has a free plan suitable for up to five users with unlimited time tracking, projects, clients, and tags. Users can use the mobile apps and desktop app, get reports, a Pomodoro timer to help boost productivity, and track time in third-party integrations.
Their starter plan costs $9 per user per month and has billable rates, time estimates, saved reports, project templates, and the ability to view tracked time in calendars. They also have a premium plan which gives team time tracking reminders, centralized control of billable rates and labor costs, single sign-on, integrations with Jira and Salesforce and audits. It's $18 per user per month and is suitable for agile teams.
Toggl plan pricing offers a 14-day free trial. It then has a team plan at $8 per user per month with unlimited team timelines, workload management, unlimited plan boards, notifications, recurring tasks, timelines, and 100MB of file storage. Their business plan is $13.35 per user per month. It gives additional features like priority customer support and single sign-on as well as data exports and everything users have access to in the team plan.
Evernote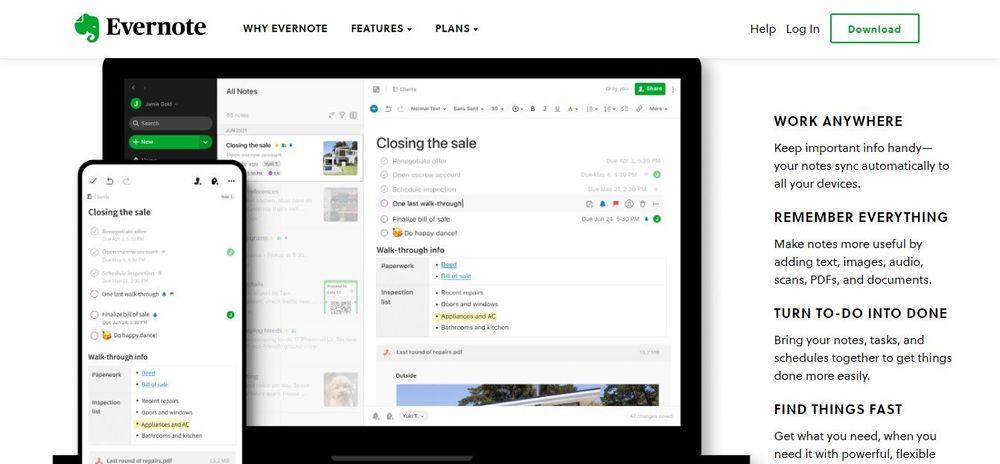 Evernote is a note-taking app allowing freelancers to sync and organize notes on this online word processor. Evernote users can manage their own tasks using their notes and to-do lists and create templates from the notes they've made. They also have a calendar and the ability to clip notes from other web pages.
They've got a document scanning option, allowing freelancers to quickly scan paper documents, load them to the web, and manage routine tasks with due dates and reminders. You can keep your clients on the same page by never missing a deadline. This app helps organize your life and make sense of all the chaotic notes you might save.
It integrates with Google Drive, Slack, Microsoft Teams, and other apps on both mobile and desktop.
Pricing
They have extensive pricing options; the personal plan allows the ability to sync from all your devices, customize home dashboards, connect to Google calendar, add due dates and reminders to tasks and use the note-taking software. It costs $7.99 per month.
There is also a free plan which allows users to take notes, sync across two devices and use the in-note tasks options. You can also attach PDFs and receipts.
The professional team is their more expensive option. Still, it gives access to additional features like all the widgets, personal and workspace Google calendar accounts, assigning tasks to other team members, creating tasks, and managing your own tasks. You can also find content based on locations and export notebooks. It's $9.99 per month.
Basecamp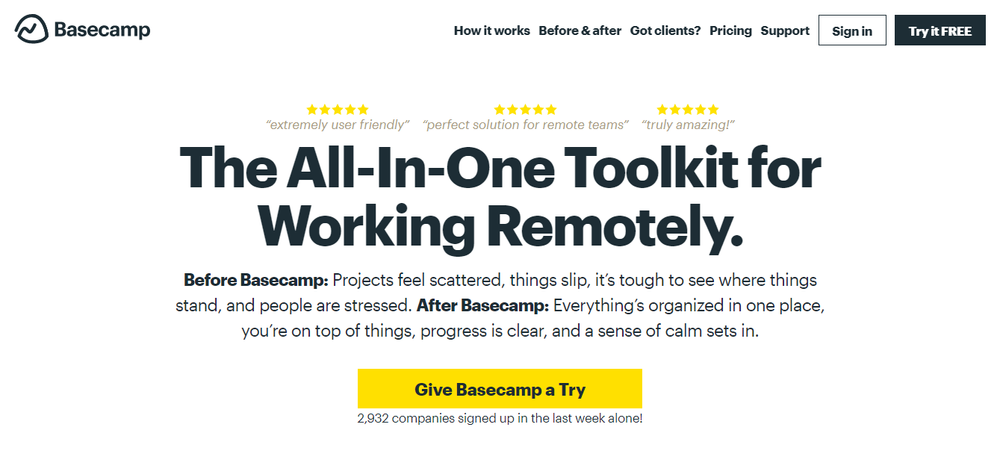 Basecamp markets itself as the all-in-one project management software for remote workers. They have a project app that allows you to have all tasks related to that project in one place. That includes files, meetings, documents, and all the people involved to make it easier when assigning tasks.
Inside the projects, there are different sections, such as to-do lists and collaboration tools, to ensure your team is on the same page. They also have a document and files section to store all the essential files, a scheduling area for meetings, and a group chat for real-time updates. The meetings app also integrates with Google apps like Google calendar and other apps like Outlook.
You can access a 'my stuff' menu that lets you see all the different tasks you have across different projects, allowing you to manage your schedule. Basecamp is an excellent tool for project tracking and one of the top project management tools available.
Pricing
Basecamp has two plans, a personal one and a business one. The personal plan is free and can handle up to three projects and 20 users, and gives 1GB of file storage space. It is a limited plan but ideal for people who aren't working as part of a team.
The business plan costs a $99 flat fee and has unlimited users. It gives access to unlimited projects, 500GB of file storage, team projects, unlimited clients, project templates, and priority customer support.
SmarterQueue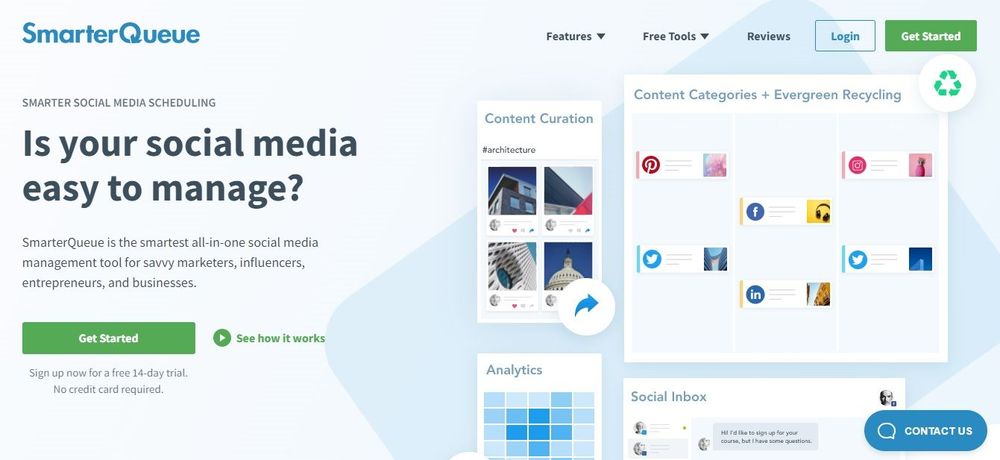 SmarterQueue is a social media app that allows you to create and schedule posts across your social media profiles. Its website is full of people talking about how much time it's saved them, as they no longer need to access the individual sites to post and can do it all from one user-friendly dashboard. That frees up time to focus on your personal tasks and due dates.
You can create content, boost engagement, and use their detailed reports to analyze what content works and what doesn't. It also gives you the option to read and reply to messages across all profiles from the dashboard. So you won't have to try and manage apps on multiple devices anymore.
Pricing
SmarterQueue has a few different plans. The first one is specifically aimed at bloggers, freelancers, and start-up companies. It's called the solo plan and costs $16.99 per month when you pay annually. It can handle up to four social media profiles and do ten posts per profile a day. There are ten content categories and the capability to queue up to 500 posts. They also provide a basic analytical report.
The business plan comes in at $33.99 a month for smaller teams. You could have ten social media profiles on this plan, create up to 20 posts per profile a day, and queue 1000 posts. It would also work well if you were a freelancer in marketing and managing social media profiles across multiple devices.
Their most extensive plan is aimed at agencies and priced at $67.99 a month. You can have up to 25 profiles, create 40 posts per profile a day, and divide content into 50 categories. It also can queue 2,500 posts and has detailed reports so you can analyze your social media performance.
SmarterQueue also comes with a custom plan that you can tailor to exactly what your requirements are. This could be another valuable tool for freelancers.
Clockify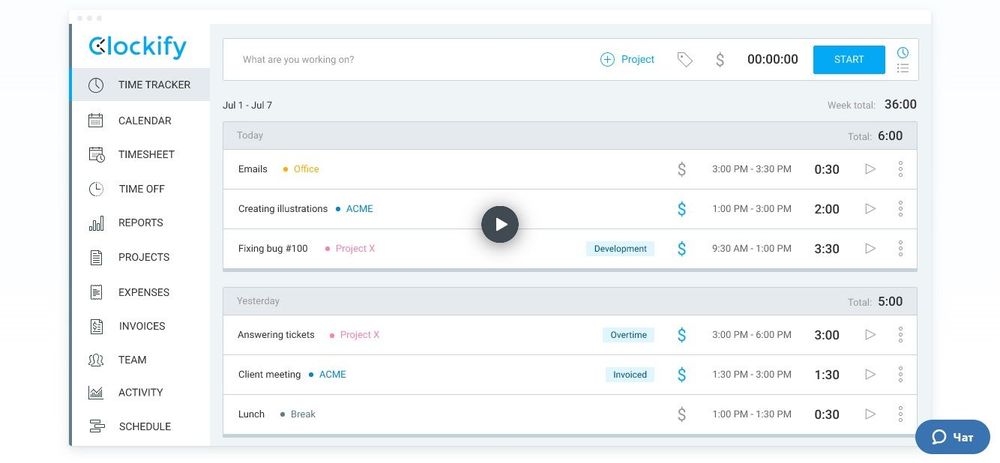 Clockify is an excellent time tracking tool so you can manage your time spent working on certain projects. You can track your hours, manage your time via a calendar, and use their visual breakdowns of your time reports. They have timesheet capabilities and the option to set reminders and connect them to your Google calendar.
You'll be able to manage your time from one user-friendly dashboard. If you're a team member and you all use Clockify, you can also check what other team members are working on. Clockify also has excellent reporting capabilities, analyzing your time management and giving you visual graphs and charts to see your productivity.
They also allow you to manage time off, place holiday requests and track available days and hours. So it's a helpful tool for measuring a team's productivity too.
Pricing
Like many apps, Clockify has a free forever plan that allows users to access their basic time tracking features at no cost. However, they do have a range of plans for people to use. If you're a freelancer at home, the free plan gives you all the features you need to track time. The first starts at $3.99 per user per month and allows users to complete time audits, view historical rates, edit profiles and add time for other users. Their standard plan costs $5.49 per user per month, includes timesheet and billing, and allows for creating manager roles, targets, and reminders. It also integrates with Quickbooks.
The pro plan also includes scheduling, expenses, and GPS tracking. There's also an option for labor cost and profit and budget and estimates. It comes in at $7.99 per user every month. Finally, their top plan is for more significant enterprises and costs $11.99 per user per month. It includes single sign-on features, a custom subdomain, the ability to control different accounts, and an audit log.
Proposify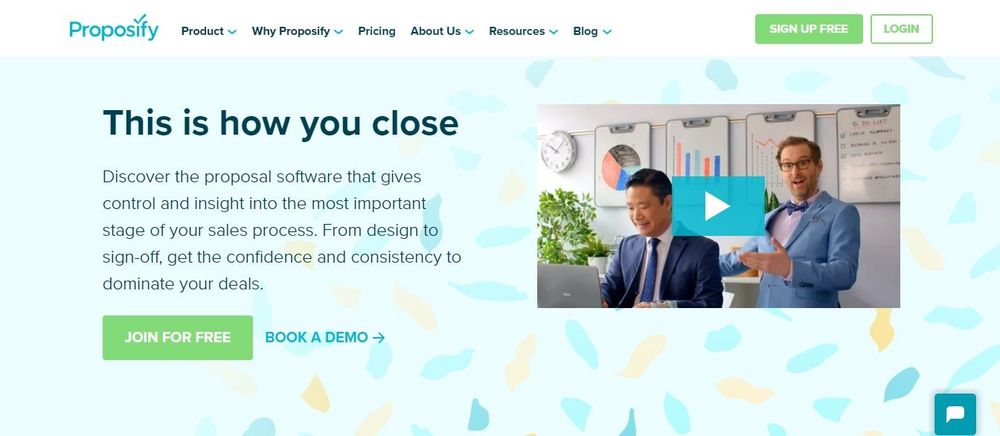 Proposify is an excellent productivity tool for freelancers because it supports you with some of the most routine tasks that come as part of the job: creating proposals to get new clients.
Proposify is all about helping you seal the deal and get more jobs. They have several proposal templates suitable for various projects and industries, so you can work from a professional proposal template to send to future clients. The productivity app also supports quotes, contracts, and electronic signatures. So everything you need to streamline the proposal process is at your fingertips.
They are also built for teams, branding themselves as suitable for sales, marketing, or operations teams and helping to improve team productivity.
Pricing
While they have a free trial that allows users access to their team plan for 14 days, Proposify doesn't have a free plan. Their team plan starts at $49 per user per month, which can be billed quarterly or annually.
However, the team plan gives access to unlimited documents and templates, with interactive quoting options and the content library. You can analyze your proposals, view your success rate, and create electronic signatures. PDF downloads and a standard set of integrations to third-party apps are also available.
Their premium plan costs $590 per month and is built for larger teams. Additional support options include integration with Salesforce, an approval workflow, and a workspaces feature.
This plan would not be suitable for freelancers, as it's too costly to justify the benefit. Still, the original team plan could be beneficial for people looking to create eye-catching proposals more likely to land them the gig.
Final thoughts
Using a productivity tool can help you stay focused on the essential work to your career. As a freelancer, you want to be able to automate some of the routine tasks and spend more time on the parts that make you money.
There are plenty of different productivity tools out there to help freelancers manage their own tasks and workload. Many of these tools focus on different things, like calendars and deadlines, to-do lists, scheduling meetings, task management, and project management. Every individual has their own set of individual needs and requirements, so the only person who knows what tools will benefit you is you.
However, when looking for a productivity tool, we would recommend going for an all-in-one project management tool, like Indy, that encompasses several different needs at once. You can avoid paying extra for different apps when you could use one for all your freelancing needs.
Whatever you decide, we hope it helps you boost productivity. Remember, work smarter, not harder!