When I was in journalism school, I dreamed of life as a high-flying magazine writer. To me, the future was clear: I would travel from Barbados to Borneo, reporting the kind of hard-hitting stories for which the top magazines pay top dollar. When I shared these vivid visions with one of my battle-hardened professors, he affirmed, to my delight, that everything I dreamed was indeed possible.
"If you're writing in 1980," he added with a heartbreaking chortle.
And like that, my dreams were shattered.
Kind of.
The truth is, I have managed to make a living as a journalist, albeit without the first-class tickets to report in Borneo. Nevertheless, I've carved out a respectable career as a writer for publications like Texas Monthly, The Daily Beast, The Texas Observer and many other well-regarded magazines and websites. My secret is writing, but not the kind you expect.
When I'm not nose-deep in a feature, I'm usually writing copy for an ad agency.
It turns out there's a lush market for people who know how to do all of the things we journalists are good at: conduct research, concise writing and eye-grabbing storytelling. Many ad agencies -- particularly the smaller shops -- are eager to hire journalists even if they don't have years and years of ad writing experience. Best of all, the extra income I earn by copywriting gives me the freedom to pursue those journalistic passion projects that keep us engaged and motivated -- even if they don't pay all of the bills.
Writing a magazine feature requires different skills than copywriting, but having a basic talent for writing makes the transition easier than you might expect. If you're a journalist looking to create new and reliable revenue streams (or simply try something new) here's how you can support your career with copywriting.
And like that, my dreams were shattered.
Read, Read, Read
A good journalist is a great researcher. Use those same skills to study up on copywriting. Learn everything you can about rates, the craft, and the nuances of a career in copywriting. Then, when you think you have learned enough about it, read even more.
Just like the beginning of a major feature; you want to become as much of a subject matter expert as possible before taking on too many clients. It's vital to establish your rates before reaching out to prospective freelance partners, but it's equally essential to learn the differences between the various kinds of copy.
For instance, it's okay if you've never written SEO copy before, but if a prospective client asks you if you know how to write SEO, you'll want to be able to say "yes" with confidence. The internet can be an incredible resource, but your friends and connections can be even better. If you don't already know a few copywriters, search for recent grads or alumni from the university you attended. There is a good chance your fellow J-school students are now using those skills to write copy, so offer to buy them coffee and pick their brains about the industry. In fact, that strategy helped me land my very first copywriting client.
When you think you have learned enough about it, read even more.
Utilize Your Network
You're probably already adept at pitching and shopping stories, so this will be like second nature for you. Employ LinkedIn to search for ad agencies in your area, and chances are some of the small-to-midsize companies are looking for extra help with writing or proofing. I've landed several gigs by messaging chief creative directors or principals at agencies in my home city. Fortunately, even in a big city like mine, the ad world is small: If you impress one client, they'll probably drop your name to their buddy who also needs some copy. As always, it's important to publicize your work on LinkedIn and anywhere else you have an active presence. Sharing some B2B copywriting samples can easily catch the eye of someone searching for that very thing.
Enhance Your Website
I've sold stories and landed journalism gigs without a proper display of clips, but I've never scored a copywriting gig without first sharing my personal website. Marketing folks love a well-done website, so take an afternoon to start a website or fine-tune the one you already have. I had already been working as a journalist for a few years before I finally buckled down and created a website via Wix, and soon afterward, I had the best two years of my career. I even added a webpage for "Copywriting" without having much work to showcase, which brings me to a larger point: It's okay to cast a wide net. As you start landing clients and churning out copy, you may feel the need to focus on certain industries or types of copy, which leads me to my next tip.
It's okay to cast a wide net.
Specialize...But Be Flexible
In your journalism work, you may have a "beat" or specific topic you love to cover. However, as freelance reporters know, you often take on assignments even if they are far outside your wheelhouse. It can be valuable to develop a speciality in B2B copywriting or writing for the retail industry, but being open-minded is an asset every creative director and freelance client will covet. For instance, I recently wrote hours and hours of web copy for a business that sells natural, healthy hair products to women. As a bald male who barely knows the difference between shampoo and conditioner, this was a challenge. Nevertheless, I said "yes", then dove into the research the project required. Stay flexible, friends.
Set Aside Days for Copywriting
I've only recently started implementing this strategy, and it's already paid dividends. Barring any pressing deadlines, I set aside weekends for copywriting and weekdays for journalism. Of course, the two often meld together, and you never know when your sources will be available for interviews. That said, imposing some kind of order on the chaos that is life as a writer has been a boon for my mental health.
Learn to say "no"
This is perhaps the most important tip. I'll admit it: I'm still learning this, and most days, it's a struggle. My lips can form the words, and my fingers can hover over the right keys, but when it comes time to actually send that word into the realm of existence, I fail. There's always a reason to say "yes", and usually it's money. After all, it seems like we as freelancers either have too much work or too little; there's no middle ground. But when you're building a career as a journalist and a copywriter, there will inevitably come a day (or, if you're lucky, many, many days) where you have to say "no." Know your limits, and always remind yourself that you can't do your best work when you're burned out.
You can't do your best work when you're burned out.
Supporting your journalism career by copywriting is fun, attainable and manageable. If you follow the steps above and always mind your mental health, you can do it.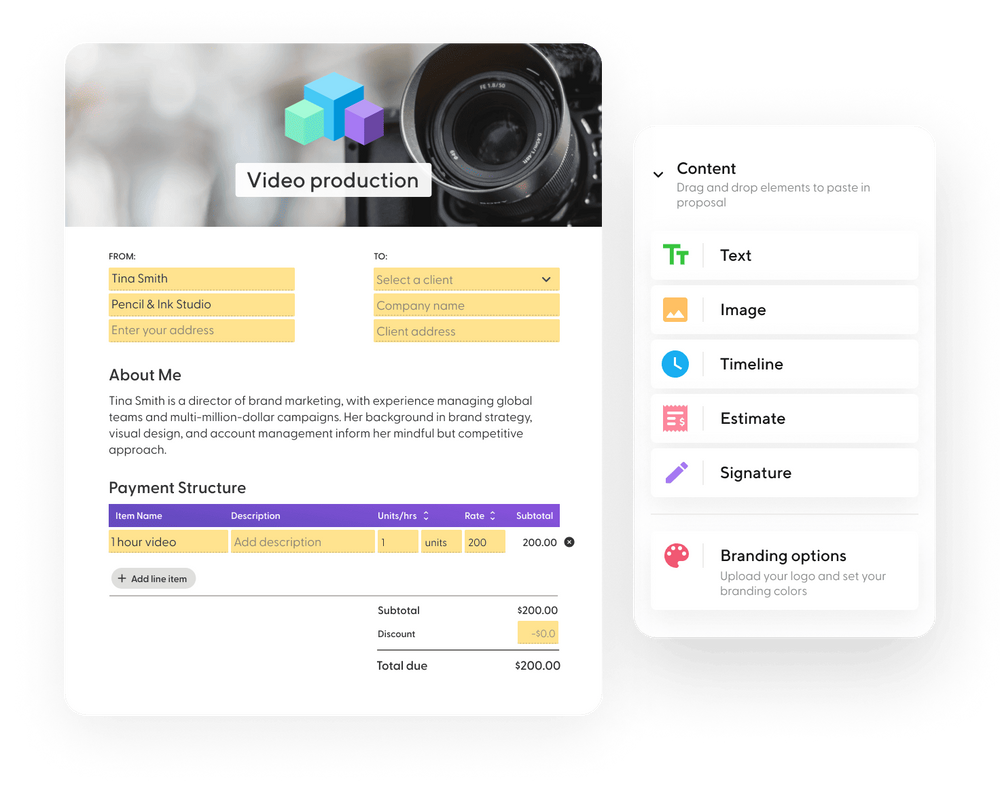 Need a proposal for a potential client?
Create a professional proposal in minutes with Indy's Proposals tool. Use your logo and branding, add terms, and include portfolio items.
Try Indy for free
If you're a journalist looking to get into copywriting, often the processes are different to secure those jobs. Sometimes they require formal proposals or contracts that you might not be used to sending. Use Indy's tools to make that easier and more efficient!